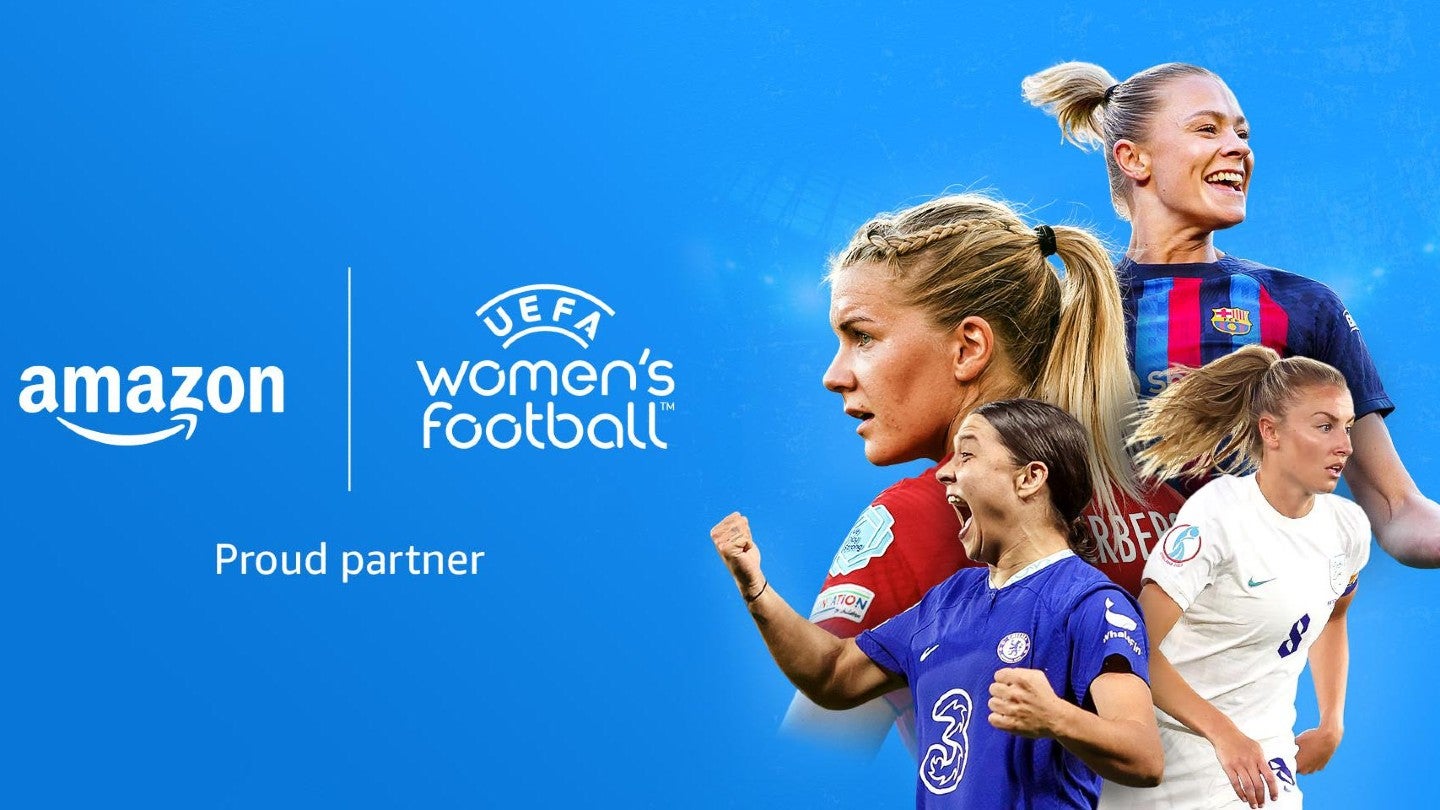 Amazon, the global tech and retail giant, has today (June 2) been unveiled as an official partner of UEFA women's soccer competitions in a multi-year agreement.
The deal will see the company sponsor various competitions including the Women's Euro 2025, Women's Champions League, Women's Finalissima, Women's Futsal Euro 2023, and Women's Under-19 Championships.
In addition, Amazon will collaborate with UEFA on an Amazon Web Services (AWS) solution "to support the growth of the sport and by developing the first-ever official UEFA Women's Champions League online store."
The Women's Euro 2025 tournament will mark the e-commerce giant's first sponsorship of a major international sports tournament.
UEFA marketing director Guy-Laurent Epstein said: "UEFA is very happy to further extend its collaboration with the Amazon Group through this sponsorship agreement.
"We are looking forward to working together to enhance the online fan retail experience, as well as bringing further innovations to football fans all around the world. Amazon with its global footprint is an ideal platform to support the continuous growth of the women's game worldwide."
Sanjay Balakrishnan, vice president of the Amazon Prime streaming service in Europe and of marketing, added: "UEFA Women's Euro 2025 will be our first major international sports tournament sponsorship and comes with a commitment to create a meaningful impact on the women's game.
"We are committed to using our scale as a force to drive even more momentum for the women's game, and plan to support the associated communities, improve fan experiences, and work with UEFA to continue the incredible growth achieved in the women's game, so far."
Amazon becomes the latest global sponsor in the UEFA Women's Football commercial program, joining Adidas, EA Sports, Euronics, Grifols, Heineken, Hublot, Just Eat Takeaway, PepsiCo, PlayStation, and Visa.
Tom Subak-Sharpe, associate analyst at GlobalData Sport, commented: "UEFA's addition of Amazon to its portfolio of sponsors for many of their women's competitions highlights how attractive elite women's competitions are becoming for world-leading brands. It is no surprise that UEFA is delighted to be partnering with a brand that has a vast global footprint, to support further strong development of women's soccer across Europe.
"Amazon is currently involved in various multi-million dollar deals with major sporting properties including the PGA Tour, NASCAR, and the Los Angeles Clippers. This is the brand's first deal with a major women's sporting competition, which suggests a shift in Amazon's sponsorship interests that may result in more deals with major women's competitions over the next few years.
"With Amazon clearly identifying the commercial benefits of associating its brand with women's competitions such as the Women's Euro 2025 and UEFA Women's Champions League, this deal could also significantly influence other highly valuable brands to secure deals with key events in the continued growth of women's sport worldwide."