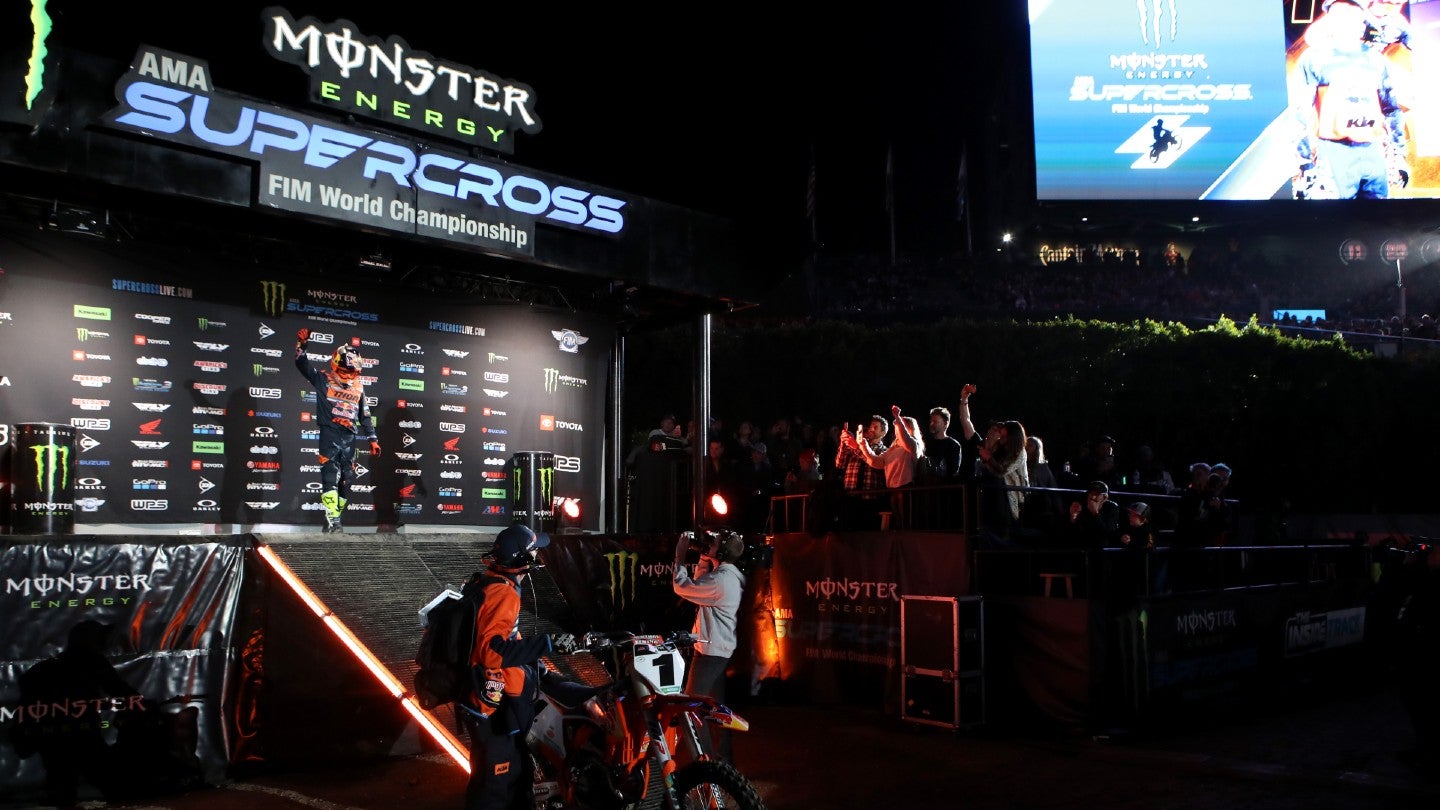 Monster Energy, the energy drinks brand, has extended and expanded its relationship with off-road racing's Supercross to include the SuperMotocross World Championship Finals through 2025.
The brand was already the official energy drink of Supercross and Pro Motocross, and title sponsor of Monster Energy Supercross. The partnership dates back to 2007.
Monster Energy will serve as presenting sponsor of the SuperMotocross World Championship Finals throughout the last three rounds.
This year marks the inaugural year of the SuperMotocross World Championship, which will feature playoff events in Concord, North Carolina, on September 9 and Joliet, Illinois, on September 16. The World Championship Final will take place on September 23 at the Los Angeles Memorial Coliseum.
As part of the extension, Monster will maintain a significant presence on track at the events, as well as on broadcasts with NBC and Peacock. It will also continue to have a retail presence at all Supercross events.
Dave Muye, vice president of global partnerships at Feld Entertainment, Supercross' production company, said: "We are excited to continue our relationship with Monster Energy at Supercross and welcome them as partners on the SuperMotocross World Championship Finals.
"As we continue to evolve and elevate the sport, it is important to have engaged, long-term, and supportive partners like Monster Energy that can share in its overall vision and growth."
Dave Gowland, vice president of motorsports marketing at Monster Energy, added: "Since our partnership began in 2007 and Monster Energy became the official energy drink and title sponsor, we have collectively been promoting and growing the sport all over the world.
"With that, we are very enthused that Monster Energy will continue as the title sponsor of Supercross through 2025 and will also be part of the newly-created SuperMotocross World Championship."
The brand will additionally continue consumer engagements at both the Supercross and the SuperMotocross World Championship Finals. This includes freestyle motocross exhibitions, BMX big air competitions, skateboarding, MMA events, and Monster sampling opportunities.
Earlier this year, sports infrastructure, technology, and media rights business TGI Sport was appointed by SX Global, the Australian sports business group that promotes the FIM Supercross World Championship, to expand the series' sponsorship portfolio.
This represents Monster's second sports partnership this month (April) after signing with Powerboat P1, the organizer and promoter of international powerboat racing's UIM Class 1 World Championship.
Image: Ari Perilstein/Getty Images for Feld Entertainment, Inc.