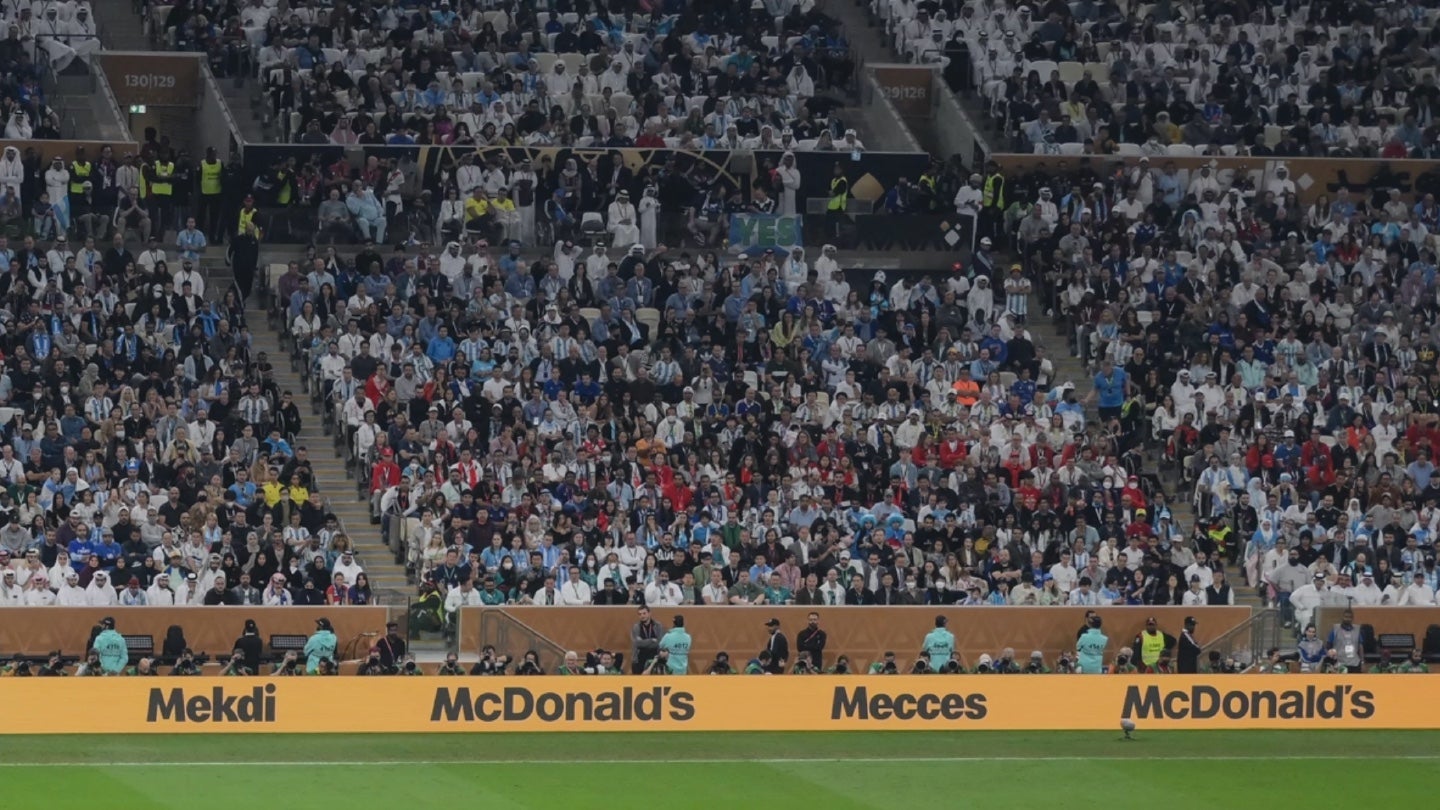 Global fast-food giant McDonald's has extended its major commercial relationship with soccer's international governing body FIFA through 2026.
McDonald's will serve as the official restaurant sponsor of both the FIFA Women's World Cup 2023 (in Australia and New Zealand), and the FIFA World Cup 2026, set for the US (McDonald's birthplace), Mexico, and Canada.
The renewal will see the brand continue to sponsor the flagship tournaments, with access to LED advertising hoarding branding and exclusive naming rights for each tournament's Fair Play Trophy.
McDonald's will be prominent in terms of visibility at both FIFA events and will also have access to premium tickets and hospitality opportunities.
It has been a FIFA tournament partner since 1994.
Romy Gai, FIFA's chief business officer, said: "McDonald's has been a valued partner of FIFA for many years, and we appreciate their continued support for our landmark tournaments. McDonald's shares our passion for football and our commitment to promoting the sport's values, and we look forward to working together to make these tournaments unforgettable for fans around the world."
Morgan Flatley, executive vice president and chief marketing officer for new business ventures at FIFA, added: "This continued longstanding collaboration with FIFA … offers McDonald's a unique opportunity to bring people together and to promote our values beyond borders with communities worldwide.
"The magic of our business is our global iconicity paired with local fandom, and there are no bigger global moments to celebrate with our fans around the world than these two tournaments."
Of the motivations for the renewal, GlobalData Sport's head of analysis Conrad Wiacek commented: "FIFA renewing its partnership with McDonalds shouldn't be seen as a surprise given the long-established relationship between the two. With the next World Cup taking place in McDonalds' home market of the US – and key target market – continuing the long-established partnership for the next rights cycle makes sense. With a global audience of billions, the FIFA World Cup is only comparable to the Olympics as a global marketing vehicle, so the attractiveness of continuing the relationship for McDonalds Is evident.
"Given the growing focus on women's sport and FIFA's desire to commercialize the women's tournament as effectively as it has the men's, using this agreement to cover both tournaments is commercially attractive to the brand and the governing body and reinforces the commercial appeal and growth of women's sport."
Last Friday (May 12), international consumer products giant Unilever was announced as a commercial partner of this year's Women's World Cup, which will be held across Australia and New Zealand between July 20 and August 20. That deal also covered the men's 2026 tournament.
April saw Australian logistics and transportation firm Team Global Express and Australian wine brand Jacob's Creek also named as Women's World Cup sponsors, meanwhile.
However, in March soccer's governing body dropped plans for a sponsorship agreement with Saudi Arabia's tourism board Visit Saudi covering the women's tournament in the wake of a backlash from both host nations, as well as from several high-profile players.
FIFA's top-tier commercial partners are sportswear giant Adidas, soft drinks brand Coca-Cola, and Chinese conglomerate Wanda Group.