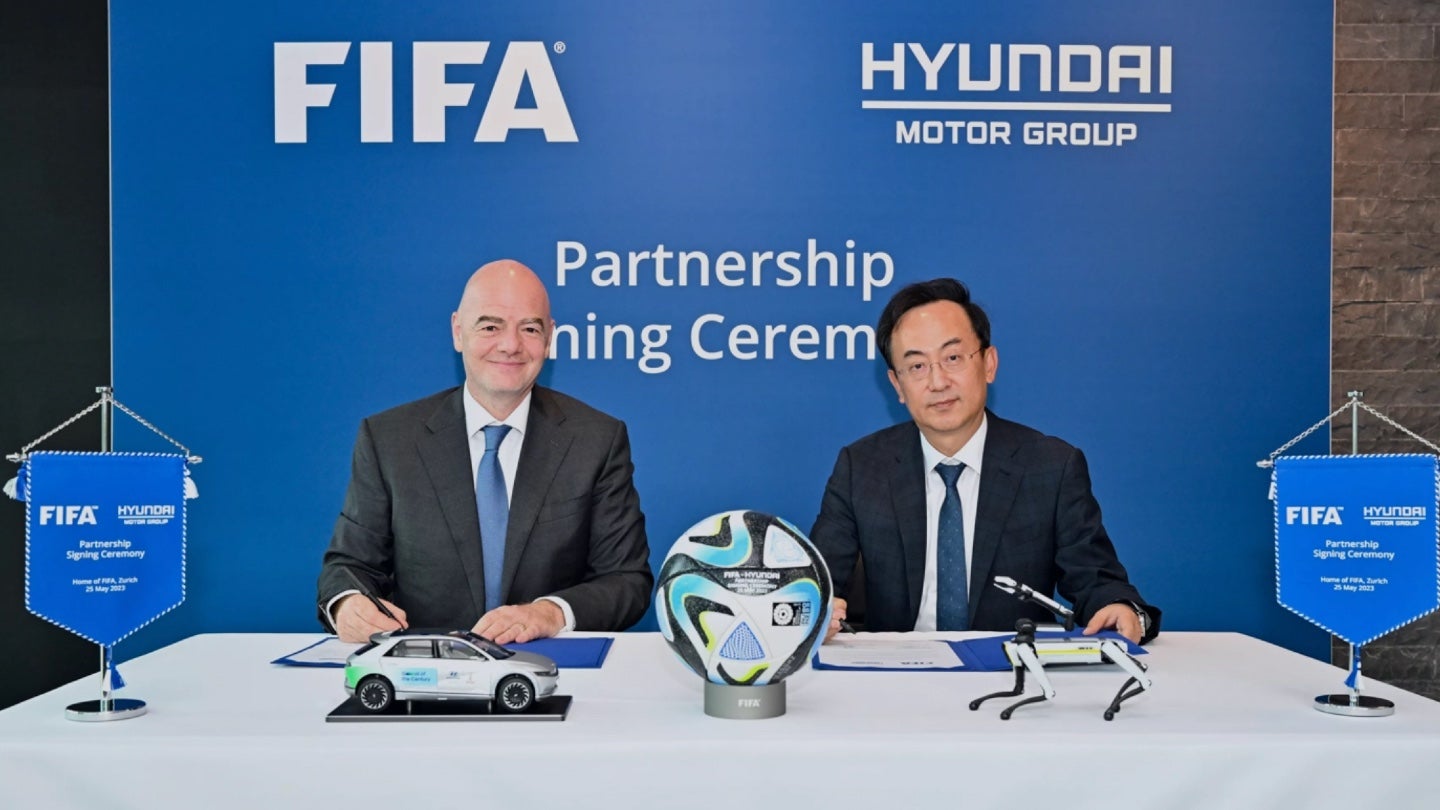 Global soccer's governing body FIFA has extended its commercial relationship with Hyundai and Kia, the major South Korean automotive brands, until 2030.
Through the agreement, announced today (May 25), the car brands (both part of the wider Hyundai Motor Group), will continue as FIFA's official mobility partners for the next seven years.
The agreement also sees Boston Dynamics and Supernal, two other Hyundai Motor Group subsidiaries, join FIFA as commercial partners. Boston Dynamics is the group's "primary affiliate in robotics" while Supernal is an advanced air mobility unit.
The deal sees these properties attached to FIFA's sponsorship roster for a time period encompassing major events such as this year's Women's World Cup and the men's World Cup 2026.
The last deal between FIFA and Hyundai Motor Group was finalized in November 2010 and ran out after the 2022 FIFA World Cup in Qatar. That deal, which covered the 2015-22 period, is estimated by GlobalData Sport to have had a total value of $220 million.
As the soccer body's mobility partners, Hyundai and Kia will continue their involvement in transportation operations across FIFA's worldwide events and competitions. Their global distribution networks will enable vehicle line-ups that "will fulfill all of FIFA's transportation requirements."
Boston Dynamics and Supernal, meanwhile, will benefit from "exciting opportunities for the future mobility brands to showcase their expertise, technologies, and sustainable approach to innovation."
Gianni Infantino, FIFA's president, said: "We're thrilled to continue our long-standing partnerships with Hyundai and Kia. Over the years, they have consistently demonstrated their commitment to supporting FIFA, and we value their dedication to enhancing the overall experience at our tournaments.
"As we enter this new era together, we're excited about the prospects that lie ahead with the addition of Boston Dynamics and Supernal."
Karl Kim, president of Hyundai Motor Group, added: "As we embark on this renewed collaboration, we look forward to showcasing the capabilities of our mobility solutions and partner brands on a global scale. Together with FIFA, we aim to inspire and unite fans around the world through the power of football."
This extension follows hot on the heels of FIFA renewing its major commercial relationship with global fast-food giant McDonald's through 2026.
McDonald's will serve as the official restaurant sponsor of both the 2023 Women's World Cup (in Australia and New Zealand), and the 2026 men's World Cup, set for the US (McDonald's home market), Mexico, and Canada.
On May 12, meanwhile, international consumer products giant Unilever was announced as a commercial partner of this year's Women's World Cup.