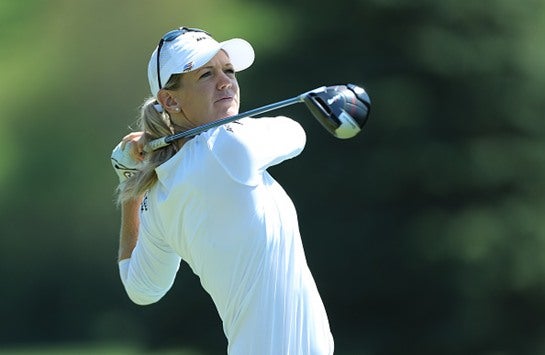 IMG Arena, the betting arm of the international sports and entertainment giant, has today secured betting data and streaming distribution rights to the top-tier Ladies Professional Golf Association (LPGA) Tour.
The partnership, set to begin in the next few months, will see IMG's Golf Event Centre (GEC) deliver real-time shot-by-shot data and information to a series of worldwide sportsbooks.
Live streaming video and interactive course visualizations will also be sent out to partners through the GEC, which over the last 12 months has performed a similar role for other top-tier golf tournaments.
Initial partners, IMG has said, will include bet365, BoyleSports, and TipSport.
The GEC is a front-end solution that was launched in 2020 off the back of IMG Arena's deal with the US' PGA Tour to distribute official scoring data to betting operators in North America and international markets.
Max Wright, senior vice-president of commercial at IMG Arena, said: "Bringing women's golf to the Event Centre has long been an ambition of IMG Arena. The LPGA Tour features some of the most talented athletes in the world and weekly tournaments of the finest quality, which will deliver a vast and compelling range of data-led sports betting content for operators and their players."
Brian Carroll, senior vice-president of global media distribution at the LPGA, added: "With the full LPGA Tour covered, this is a significant commercial partnership that helps grow the game with thrilling content reaching new audiences and driving fan engagement around the world."
IMG has said the partnership "will mark a step-change in the presentation of data-led content from the LPGA Tour…comprising more than 30 tournaments each year, with flagship events across North America, Europe, Asia, and Australia."
IMG Arena's first major move into golf data distribution to bookmakers via the GEC came in May last year when it acquired rights for data from the PGA Championship, which took place in South Carolina at the end of that month.
IMG Arena distributed the data and live-streaming content from two par-three holes at the Championship through the GEC, with the data being collected by ShotLink, the PGA Tour's scoring system.
The betting arm of the agency then secured similar data distribution rights for last September's Ryder Cup, the iconic men's teams competition between Europe and the USA.
IMG Arena worked with that event's rights-holders, the PGA of America and Ryder Cup Europe, to package and present the data.
In addition to the PGA Tour and the European Tour, IMG Arena's clients include tennis' ATP, mixed martial arts' UFC, and soccer's English FA Cup and Italian Serie A.