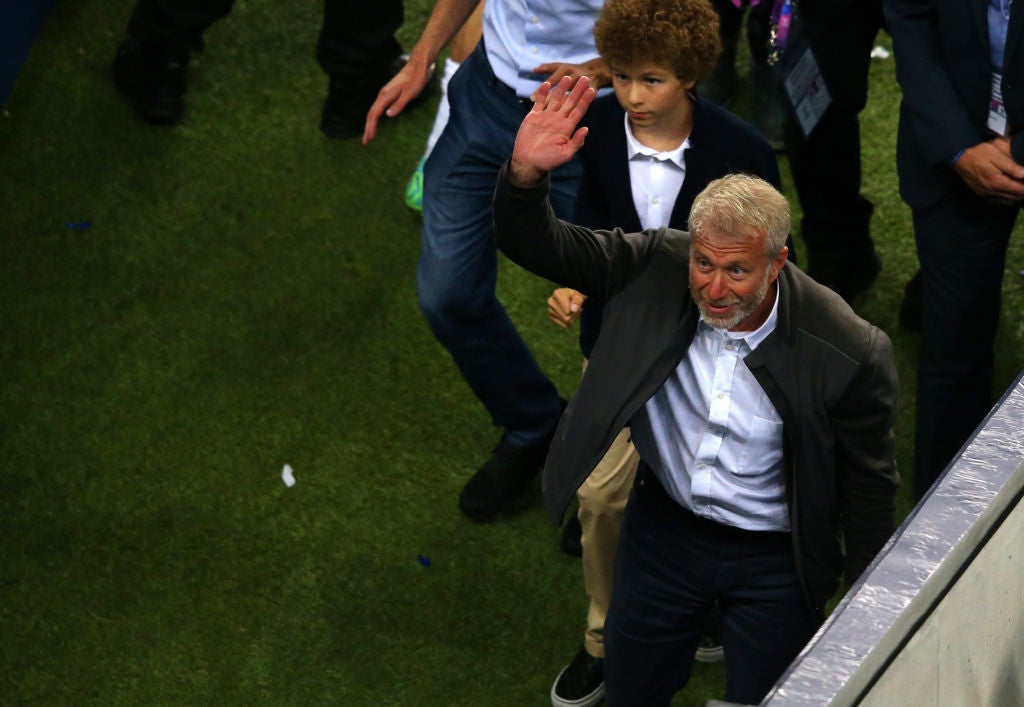 Russian billionaire Roman Abramovich has confirmed plans to sell English soccer giants Chelsea as he faces potential sanctions by the UK government following his country's invasion of Ukraine last week.
Abramovich announced that the club has been put up for sale in a statement released yesterday (March 2), claiming that his decision is "in the best interest of the club, fans, employees, as well as the team's sponsors and partners".
He has also written off his £1.5 billion ($2 billion) loan to the Premier League club and stated that the proceeds from the sale will be donated towards the "victims of the war in Ukraine."
It is believed that there is already strong interest from a consortium fronted by billionaires Hansjörg Wyss from Switzerland and American Todd Boehly.
Reports suggest at least one other group is preparing to make an offer for Chelsea this week.
The Raine Group, a US financial advisory firm that has worked with Abramovich in the past, has been tasked with managing the sale of the West London-based club.
In his statement, Abramovich said: "The sale of the club will not be fast-tracked but will follow due process. I will not be asking for any loans to be repaid.
"I have instructed my team to set up a charitable foundation where all net proceeds from the sale will be donated. The foundation will be for the benefit of all victims of the war in Ukraine.
"This includes providing critical funds towards the urgent and immediate needs of victims, as well as supporting the long-term work of recovery."
Abramovich's plan to sell the team was first revealed yesterday by Wyss, who told Swiss newspaper Blick that the Russian "wants to get rid of Chelsea quickly" and presented him with an offer to buy the team.
The 86-year-old stated that he would need to wait "four or five days" before making a move to buy the club, claiming that Abramovich "is currently asking far too much".
The Chelsea owner is reportedly seeking as much as £3 billion ($4 billion) for the reigning European champions.
Initially, Abramovich announced last Saturday (February 26) that he was handing the "the stewardship and care" of the Premier League side to Chelsea's charitable foundation but it is believed that the trustees were unwilling to take control.
Wyss and Boehly are now heading up a consortium featuring multiple investors, with all interested parties invited to submit official bids by March 15.
Boehly, worth an estimated $6.7 billion, is already a prominent sports owner in the US, with stakes in Major League Baseball franchise the Los Angeles Dodgers and NBA basketball's Los Angeles Lakers.
He is reported to have had a £2.2 billion ($2.9 billion) bid for Chelsea rejected in 2019.
Jim Ratcliffe, chairman of petrochemicals company Ineos and one of the UK's richest men, also reportedly failed with a £2 billion ($2.7 billion) offer to buy the club in 2018.
Swiss businessman Wyss, who has a reported net worth of around $5.8 billion, insisted that he is not prepared to purchase Chelsea alone and would only do so with "a consortium consisting of six to seven investors".
The Swiss is the founder and the former president and chairman of Synthes Holding, a medical device manufacturer, while Boehly is the co-founder, chairman and chief executive of US private equity firm Eldridge Industries, which invests in the media and sport sectors. The pair have previously worked together at Eldridge.
Interested parties are looking to move swiftly in case Abramovich is sanctioned by the UK government, at which point it is unlikely a sale would be permitted.
Abramovich's future as Chelsea owner was increasingly in doubt after his attempt to hand over control to the club's trustees amid growing calls in parliament to sanction him.
The 55-year-old, who purchased Chelsea in 2003 for £140 million (now $188 million), is alleged to have strong ties to Russian president Vladimir Putin, which he has previously denied, and has been the subject of increased UK speculation in recent weeks.
Last week, Chris Bryant, an MP of the UK's Labour political party, told the House of Commons he had a leaked Home Office document that suggested Abramovich should not be able to base himself in the UK and said the government should remove his ownership of Chelsea and seize his assets.
On Tuesday (March 1), Bryant claimed that Abramovich is hastily selling his UK properties and assets to avoid potential financial sanctions.