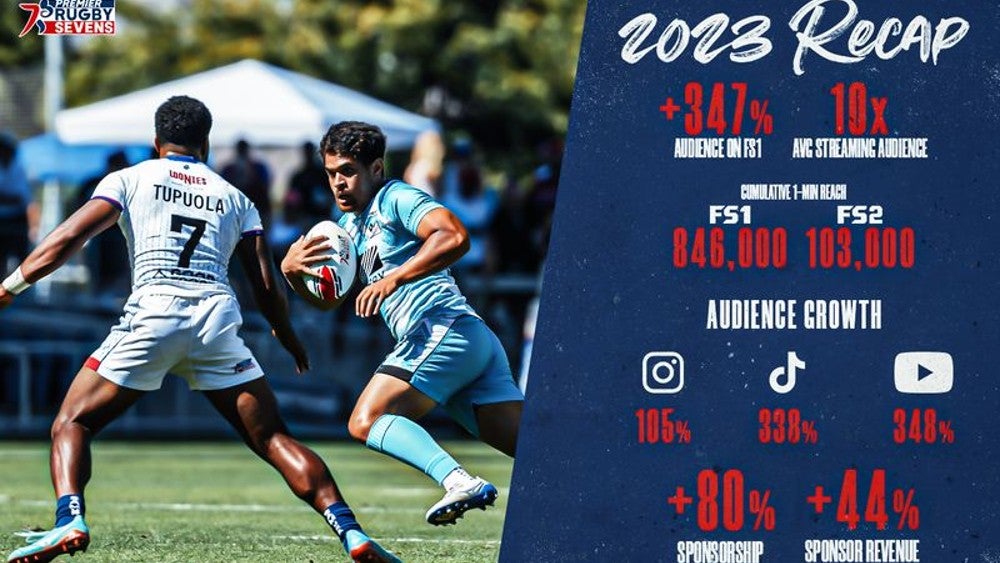 Premier Rugby Sevens (PR7s), the men's and women's rugby league launched in 2021, has announced significant commercial and audience growth during its 2023 season.
This includes a 347% increase in its linear live championship audience on the Fox Sports 1 (FS1) channel compared to its audience on the same channel in 2021, with a ten-time increase in its average streaming audience on DAZN, Tubi, YouTube, and Facebook when compared to the 2022 season.
In terms of social media audience, PR7s experienced ‍a 105% follower growth over last season on Instagram, 338% on TikTok, and 348% on YouTube.
Commercially, PR7 has seen an 80% increase in total sponsors, a 44% increase in sponsor revenue, and a 21%‍ increase in attendance, setting a single tournament attendance record in Austin, Texas.
Additionally, PR7 staged the first-ever professional rugby events in Minneapolis and Pittsburgh.
Owen Scannell, chief executive of Premier Rugby Sevens, said: "By any measure, this year was a fantastic success thanks to the tremendous support of our fans and the amazing work done by our players, coaches, staff, and partners.
"Rugby sevens has found its new home, with the world's biggest stars entertaining audiences across the country and our eight franchises putting down roots across North America. We've cemented our position as the new must-watch American sports league and the tip of the spear for rugby audience growth in the United States.
"On the field, our athletes from around the globe competed in one of the most thrilling and wildly uncertain competitions, showing American fans why sevens is the perfect spectator sport at the perfect time.
"Off the field, we grew our audiences in the stands and at home through partnerships with CBS Sports Network and FS1 that put rugby sevens on primetime TV in the U.S.
"Our fans are some of the most engaged in all of sports, and the demand to associate with our franchises and our brand continues to heighten. We are excited to build off this incredible momentum into 2024, where sevens will return to the Olympics to captivate the world."
The 2023 PR7s season was made up of 40 internationally broadcasted matches culminating in August with the 2023 PR7s Championship in Washington, D.C., airing live on FS1.
In terms of collaborations during the 2023 season, PR7s partnered with the Pardon My Take podcast for a watch-along telecast during the championship, as well as with teams from American football's NFL, baseball's MLB, soccer's MLS and NWSL, and basketball's WNBA to introduce the sport to other athletes and fanbases.
The PR7s championship also featured a performance by musician Paul Russell, a top 3 trending artist on TikTok.
PR7s sponsors include Samurai, GoodSport, Rhinos Rugby Academy, Sperry, C4 Performance Energy, Kane Innovations, Yuengling, and the United States Coast Guard.
DAZN was the league's 2023 European broadcast partner, while domestic coverage was undertaken via partnerships with national networks CBS Sports and Fox Sports.