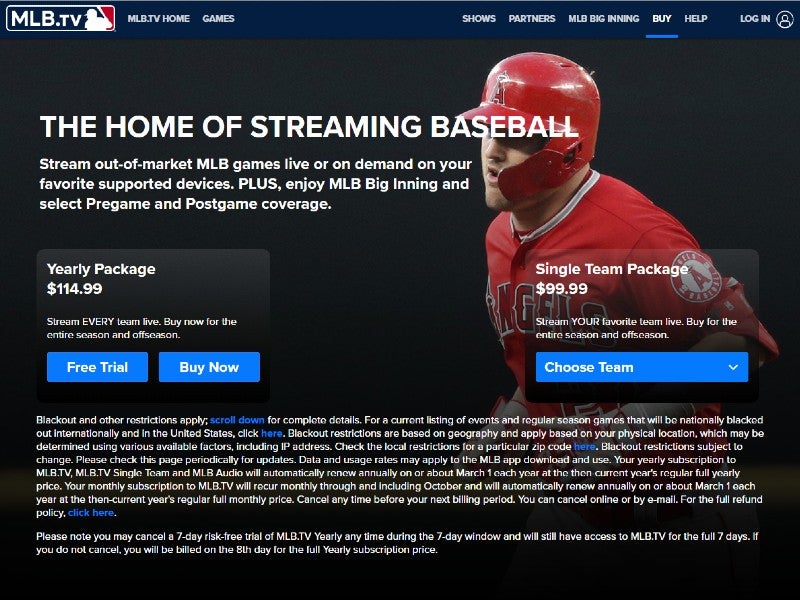 MLB.TV, the out-of-market streaming service of North America's Major League Baseball, has set several new records at the start of the 2022 season as fans flock to watch new content.
More than 2.8 billion minutes of live games were consumed by viewers between April 7 – Opening Day – and May 16, marking the most-watched 40-day period in the platform's 20-year history.
Total games watched increased 9% compared to last season's record over the same period.
MLB.TV also registered its three most-watched days ever on April 12, 8, and 9, respectively, as well as its three most-watched individual games on the platform, led by the Boston Red Sox – New York Yankees clash on April 8.
In total, nine of the 10 most-watched days and seven of the 10 most-watched games on the streaming service have occurred at the beginning of the 2022 season.
The league said its newly introduced companion programming has also seen significant viewership increases. The Big Inning channel saw a 653% jump in minutes watched while viewing for pregame and postgame shows increased 104% and 84%, respectively.
Content consumption on MLB's YouTube account is up 53% from last season, meanwhile, after the video streaming giant renewed its exclusive live-streaming with MLB, for this season, in April.
That renewal saw the return of the MLB Game of the Week Live on YouTube, with 15 fixtures to be shown live and for free on the platform across 182 countries throughout the season.
Other key digital products, including the league's flagship MLB mobile app, the venue-focused Ballpark app, the MLB Play predictive gaming, and its YouTube channel, all saw interaction increases during the same 40-day period.
The digital growth follows similar increases seen across the league's business activities, including sponsorship and media rights, following an agreement with its Players' Association (MLBPA) on a collective bargaining agreement in March.
Last month, MLB released details of its new uniform sponsorship patch program, to begin next season, and announced major sponsorship deals with Mexican beer brand Corona and finance holding company Capital One.
Ahead of the 2022 season the league also struck rights deals with BeIN in France, Sky in Italy, and domestically with Peacock in the US.