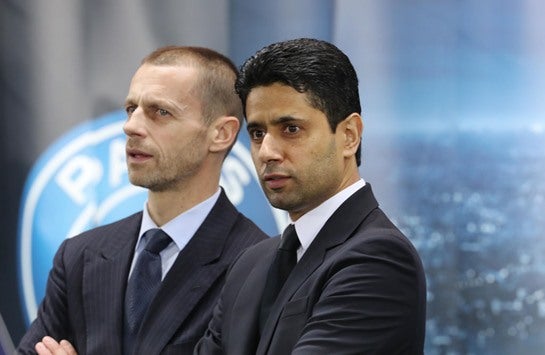 By Martin Ross
Exclusive media rights to both the Uefa Champions League and Europa League have been retained by BeIN Sports in the Middle East and North Africa until 2021 in a key agreement for the Qatar-based subscription broadcaster.
BeIN, which currently pays just under $100 million per season for the rights to both properties, has had to dig deep to keep hold of two of its prized properties, fending off competition from potential new players in the region and sending a message to its other sports clients in the process.
Rights from 2018-19 to 2020-21 were awarded to BeIN by Uefa and its appointed Team Marketing agency after just one round of bids lodged ahead of Monday's deadline.
BeIN Sports is to show every match live and exclusively across its 20 sports channels available in Arabic, English, Spanish and French.
The tender was launched at a particularly sensitive time in the MENA region, with viewers of BeIN Sports in the likes of Bahrain, Saudi Arabia and the UAE having been affected to some extent by the fierce political dispute between Qatar and other Gulf nations.
Team went to market with governments and media authorities in different countries considering the establishment of new broadcasters in the region, including a proposed Saudi Arabia-based broadcaster entitled PBS Sports that has been working with leading media rights industry figures on plans to purportedly launch five channels on the Arabsat platform.
Indeed, there is understood to have been an offer of $200 million per season for the Uefa club competition rights from a new government-backed start-up, meaning that BeIN is likely to have paid more than double its current outlay to retain the Champions League and Europa League.
UAE-based rivals Abu Dhabi Media and OSN are thought to have come together to bid for the Uefa rights.
BeIN said that the acquisition reaffirms its position "as the undisputed market leader" and demonstrates Uefa's "faith in BeIN Sports and its award-winning sports coverage."
The BeIN deal followed some questions put to the broadcaster by Team and Uefa, which, following a day of deliberations, chose to award the rights to the incumbent.
The choice of the rights sellers to keep faith with BeIN despite the uncertain political circumstances and the current knock-on effect on sales and distribution in some countries is sure to soothe concerns of other sports rights-holders.
Various Gulf states have cut diplomatic relations with Qatar over alleged support for terrorism in the region, accusations which have vehemently denied, with Qatar describing the actions as "unjustified" and "based on baseless and unfounded allegations."
Authorities in Saudi Arabia and Bahrain announced a ban on the import of receivers and the sale and renewal of subscriptions to BeIN Sports, following on from the channels going off air on IPTV operators in the UAE (BeIN Sports remains available via direct-to-home satellite television in the country). Meanwhile, Egypt's competition authority last week took a stance against BeIN.
Nasser Al-Khelaifi, chairman and chief executive of BeIN Media Group, said today: "This acquisition confirms the strength of our relationships with rights-holders such as Uefa and adds to our best in class football offer, available exclusively on BeIN Sports."
Guy-Laurent Epstein, Uefa's marketing director, commented: "BeIN Sports delivers extensive coverage for the competitions to all football fans in the region with broadcast innovation and programming at the very highest production standards. BeIN Sports continues to be great global partner of Uefa, with agreements in over 30 countries around the world, and we look forward to working closely with BeIN Sports for another cycle of Uefa competitions."
Today's award of rights further dispels any notion or fears that Team may have had that BeIN's loss of rights in France to Altice would impact on it its appetite for rights in its other regions. BeIN and Mediapro, the Spanish sports rights agency, recently retained Champions League and Europa League rights in Spain until 2021.
Separately, BeIN will have been further motivated to retain its European club competition rights in the Middle East and North Africa after ZDF, the German public-service broadcaster, failed to retain its rights beyond the end of the 2017-18 season.
BeIN has taken a strong stance against ZDF's satellite overspill and had the public-service broadcaster been successful in the German tender, it could have impacted on the outlay on rights fees BeIN would commit in other markets from 2018-19 onwards, including in the MENA region.
Sportcal