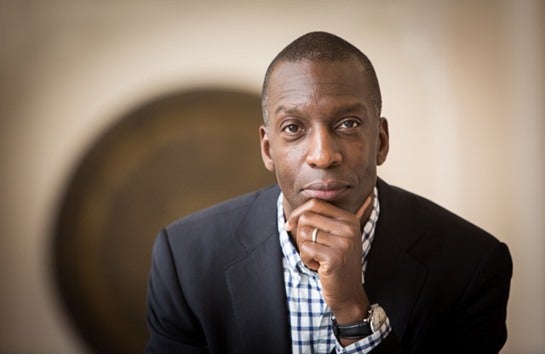 It's the 4 x 400 metres relay final at the Sydney 2000 Olympic Games. The camera focuses on each of the first-leg runners in turn, as they're introduced. There's the usual cheek-puffing, chest-beating posturing from the athletes. Two of them aim their batons at us, like a gun. One or two raise a hand to acknowledge the crowd as their names are read out.
All of them react, do something. All except the runner from USA, Alvin Harrison. He stares upwards; then he looks sideways, a dreamy half-smile on his face. Not once does he look at the camera, or attempt to engage with the viewer. He is unseeing.
At the first handover the stagger is still unwinding and Harrison passes the baton to the second runner, Antonio Pettigrew, with the US team in second place, but by the time of the third handover, to Alvin's twin, Calvin Harrison, they're in the lead. Calvin gives the baton to the great Michael Johnson, running the anchor leg, with a lead of perhaps 20 metres, and you just know they're home and dry.
This is Johnson's last race, in his last Olympics, and his leg is a valediction. He looks completely relaxed. With his unique running style, chest thrust out, head held back, he has defied sprinting orthodoxy to become a national and international hero and poster boy for athletics – in as much as athletics, even then, had such things.
He already has four gold medals – in fact, gold is the only colour of Olympic medal he's ever won. He won the 4 x 400 relay at Barcelona 1992; the individual 200 and 400 metres at his home games in Atlanta in 1996; and here in Sydney, he's already won the individual 400 metres, at the advanced age (for a sprinter) of 33.
So when the US team finishes first, their celebrations are relatively subdued. It's expected. The Nigerians, who finish second, are ecstatic, though. They can't stop laughing, dancing and embracing.
Seventeen years later, I'm interviewing Johnson on the sidelines of the recent SportAccord convention in Aarhus, Denmark, where he's appearing as an ambassador for Los Angeles' bid to host the 2024 Olympics, and where, as well as glad-handing IOC members and other sports leaders in the LA 2024 cause, he conducts a coaching session for local kids.
We're here to talk mainly about athletics – its future as well as its past – along with sports broadcasting (nowadays he's probably better known in the UK than in his native country, thanks to his regular appearances as a relaxed, popular and knowledgeable pundit on the BBC's Olympic and top-tier athletics coverage).
I'm also keen to talk to him about his own background, as a black kid growing up in Dallas, Texas, the son of a truck driver and a schoolteacher. How does such a kid find his way into and through track and field – then, as now, regarded as a minority sport in USA? I'm aware that this is sensitive territory, though, so I'm holding those questions back for the end of the interview, when I hope he'll have relaxed and opened up.
So why the BBC? Why hasn't NBC, the US Olympic rights-holding broadcaster, come calling to reclaim one of its own (Johnson says he did do some work with NBC for a couple of years after retiring)?
"There's no doubt track and field is more popular outside USA," he explains. "I worked for NBC for two years, but the BBC format fitted me better. In the US you pretty much have to be full-time, but NBC doesn't have enough coverage to compete with the BBC. There was a time when we [the BBC] produced more coverage of the World Championships in one day than NBC did in the whole championships. Also, NBC doesn't have a version of the BBC's studio show, probably because they don't dedicate as many hours to it. [Track and field] is not as prominent in the sports landscape in the US."
---
I don't believe the Nitro series really addresses the issues facing the sport: how it's presented, with events that are too long, with too much going on at once
---
Athletics might still be more popular in the UK than in USA, but it's been on a downward curve in its former heartland of Europe for years. Yet Johnson is concerned that the recent launch of the Usain Bolt-backed Nitro athletics initiative, which aims to reverse that trend, is potentially dangerous because of the threat that it will split what is already a small audience for the sport.
The Nitro series, launched in Melbourne in February, pitched six teams (Bolt's All Stars, England, China, Japan, Australia and New Zealand) of 24 athletes participating in non-traditional events, such as 150m sprints, a three-minute distance challenge, mixed gender relays and hurdles relays. Teams could call in a bonus round to double their points tally from an event, while penalty points were imposed for false starts.
The problem of dwindling audiences for athletics is, says Johnson, "a major issue stemming back to when I was competing. It's continuing to lose market share, and is not being marketed in a way to gain fans. That's something that is still an issue and still needs to be addressed."
But, he continues, "I don't believe the Nitro series really addresses the issues facing the sport: how it's presented, with events that are too long, with too much going on at once. You can fix that without creating a new version of the sport, which is a major undertaking. It's dangerous when track and field is already losing a share of the pie and now it's going to divide into two versions of the sport, one of which has no link to the biggest event, the Olympics.
"Now there are a lot of [new] rules, and it will take time and resources to educate people in the team concept. If it [Nitro] has any level of success it starts to divide the thin sliver of pie into two. Those resources would have been better spent on the sport we know, presenting it in a more entertaining and modern way."
Asked how he thinks this can be achieved, Johnson cites "minimising the number of events, creating consistency among different events [meetings], and communicating to fans to understand how impressive these performances are." There is no "magic answer," he admits, but he proposes that, as in business, the IAAF conducts proper market research to determine which events are the most attractive, and then, he says, "you would consider which events to eliminate."
Previous attempts to streamline athletics meetings by scrapping some events have, not surprisingly, been considered as controversial, but Johnson insists, "You can't watch and focus on all of them. That the idea of eliminating some is sacrilegious is part of the problem. If you asked a potential fan they would have no problem in saying, 'why do you have this or that event?' In the Olympics, you keep all the events, but in the one-day version it doesn't make sense."
Johnson was born in 1967 and raised in Dallas in a neighbourhood in which, he says, "everyone played sport. I loved it from the very beginning. My brothers and sisters all played sports, and in primary school, sport was part of the curriculum. In mid school it was voluntary, but I continued. I only became aware you could even have a professional career in sport when I was 14 or 15 years old."
http://cms2012.sportcal.com/images/News/Web/2017/Apr/michael johnson aarhus.png
He only became aware you could have a professional sports career aged 14 or 15? Really? What about the stars of the NFL, or the NBA, or MLB? "I came from a neighbourhood where no one went on to do that kind of thing," he says firmly. "There were no role models, it was a different time and place where kids were playing sport and our parents weren't thinking about 20 years later. We were just in the moment, playing sport and having fun."
So what was his route into track and field? "We have the college and university system," says Johnson, who began running aged 10. "When I started to get attention, to get recruited by universities in the US, it became clear that it could be a career for me."
Johnson was courted by several universities but ultimately chose Baylor University, a private Baptist university in Waco, because, he says, Clyde Hart, the track and field coach there, who went on to coach him for the rest of his career, was the only one who didn't tell him he would have to change his running style. Johnson says: "He never, during the time he was recruiting me, mentioned my style, and he never tried to change it. He wasn't focused on the flawed logic that said because my style was different, it was wrong.
"Ultimately I did find it more beneficial. It's much more efficient for what you're trying to do as a sprinter. You're trying to produce downforce, and with my upright style I was able to produce more force and also minimise the differential between the fatigue versus the non-fatigue part of the race. For me, the differential was fairly minimal."
To many, athletics is now a sport in crisis, with those dwindling TV audiences compounded last year by the doping and corruption scandal that began with track and field in Russia but reached, if the McLaren report and French prosecutors are to be believed, to the very top of the sport's world governing body, the IAAF.
So had Johnson heard whispers of the conspiracy before those damaging allegations surfaced? "We all know a lot more now due to the investigations," he says carefully, "but frankly from my perspective, given that I'm not involved and am strictly focused for the most part as a pundit on athletes and athlete performances, I didn't spend a lot of time wondering if there was corruption in the IAAF."
Had he heard nothing of the malign influence of Papa Massata Diack then, the son of the erstwhile IAAF president Lamine Diack, the federation's former marketing consultant who has now been banned for life by the IAAF and is wanted by French prosecutors for questioning on corruption charges (the rest of us certainly had)? "In your capacity as a journalist you probably would," is Johnson's reply, "but my exposure is during two weeks of a championship. I've got a 52-person team to lead and competitors breathing down my neck. What's going on was a surprise to me."
I try again. Did he never look at some performances, especially those of Russian athletes, and ask himself if they were for real? "I don't know any Russian athletes," he says, straining credulity. "You have to put it into perspective. When crimes are taking place, those things aren't open. People think that if you have a prominent position, you have this insight, that athletes who are doping are going to come and tell me. What was going on was the best-kept secret you can imagine."
Well, yes, of course it was. No one would expect the dopers to line up to confess to Johnson, but you'd think maybe those that weren't doping might have confided their frustration and suspicions? But Johnson chooses to focus on a different aspect of my question: "Anyone who tells you they have the ability to look at a performance and judge whether an athlete is doping really needs to think if they can back that up," he says sternly. "No one has the ability to [make that judgement] with the naked eye."
Recently his old rival, Namibia's Frankie Fredericks, an IOC member, has been implicated in relation to corrupt payments, albeit nothing has been proven. Asked if he was, nevertheless, surprised by the allegations, Johnson says: "Nothing surprises me. When I look at the allegations I think the safest way to view them is to let the situation play out to its conclusion. I don't know Frankie that well. When we competed we were bitter rivals and we didn't spend much time together at that time. Since then, when I come across him we're much more friendly – 'how are you, how's the family?' – but put it this way: I don't have his number on my mobile."
So what's Johnson's view of how the IAAF is addressing the crisis and of the suitability of IAAF president Sebastian Coe (who after all was a vice-president throughout the course of the alleged conspiracy, without acting) to lead reform of the federation?
The IAAF has made "good decisions" in response to the crisis, Johnson says. "I supported the decision to ban the Russian team from Rio until they come into compliance." Despite the fact that it was whistleblowers, not the federation, that uncovered the doping and corruption scandal, Johnson also insists that "I think track and field has done a good job – probably better than other sports." He does add the proviso: "But I wouldn't stake my house on that."
As for Coe, Johnson says: "Someone has to lead the IAAF and if anyone can bring forth someone better, they'd still have to be willing to take the job. At this point you'd have a hard time finding someone who would take the job. We have to give him the opportunity to see what he can do."
We've seen top track and field coaches such as Alberto Salazar become implicated in doping allegations (Salazar continues to deny those allegations). Johnson's main activity these days – he says it takes up 90 per cent of his time – is running his company Michael Johnson Performance, described as an athletic development company with the mission: "To help every athlete reach his or her full athletic potential, regardless of age, gender, limitation, sport or natural ability." So what does it do to ensure that athletes on its programmes stay clean? Does the company provide anti-doping education?
"Our role is very different than the role of a coach," he replies. "We support coaches, athletes and sports organisations with consulting, training programmes, recovery programmes and so on. Those athletes and coaches do what they will those programmes. We are not in the role of personal coach of the athlete. Every athlete has their own coach. We support the coach more than the athlete.
---
I wouldn't say athletes have a responsibility to understand the anti-doping system and how the fight against doping is going
---
"We don't offer coaching in avoiding doping. You don't violate the rules. You don't need coaching on that. We do provide sports nutrition coaching, there is a demand for that. [Anti-doping] is a role for the federations, along with co-operation with WADA and others making the rules."
Let's return to that 4 x 400 metres final at the Sydney Olympics. The line-up was: Alvin Harrison, Antonio Pettigrew, Calvin Harrison, Michael Johnson. In June 2008, Pettigrew was implicated in the notorious doping trial of coach Trevor Graham, subsequently admitted to using performance-enhancing drugs and agreed to return his gold medal. Johnson said that he felt "cheated, betrayed and let down" by Pettigrew, who committed suicide in 2010.
In 2004, Alvin Harrison was banned for four years for doping, but returned in 2008 to compete for the Dominican Republic after a change of allegiance. Meanwhile, his twin brother Calvin was banned for two years for doping, also in 2004.
It's a similar story with the US team that won the 4 x 400-metres relay and a world record at the 1998 Goodwill Games, where Johnson's teammates were Pettigrew, Jerome Young and Tyree Washington. In 2004, the IAAF ruled that Young (who also took part in the heats and semi-final in Sydney) was ineligible to compete at those games because of doping, and stripped him of all his past relay results. In 2008, the world record was annulled by the IAAF, albeit it reverted to a previous record set in 1993 by a team that also included Johnson.
Although the Young decision was later overturned by the Court of Arbitration for Sport, Pettigrew's confession meant that any pretence that the Sydney victory was legitimate could no longer be sustained, and Johnson announced that he would return his own gold medal, saying: "I know that the medal was not fairly won and that it is dirty."
Read Johnson's book, Gold Rush, and you realise that this must have been a bitter, bitter decision for him to take. Having been favourite for his first individual gold medal in the 200 metres at the Barcelona Olympics, he had failed even to make the final as a result of food poisoning, and he never, ever took his medals for granted thereafter, despite his dominance.
In the book he says of the Olympics: "This is the toughest sports competition in the world, where the best athletes in the world challenge each other and themselves. As if that weren't enough pressure, this pinnacle of athletics competition only takes place every four years. If successful, your name will be in the history books for ever, and there is no sporting event with a richer history than the Olympic Games. Miss your opportunity, on the other hand, and you may never get another.
"I didn't want my career to be summarised as: 'Greatest runner in the 200 and 400 metres ever, but never won an Olympic gold medal'. I couldn't relax until I had an Olympic gold."
So just what's going on here? This is a guy who made his name from track and field and who is still paid to coach, write about, talk about and commentate on athletics. He is a victim of doping. He lost one of his five precious gold medals and a world record as a result of it. And yet he seems to know nothing, has no opinions about, has no interest in, or is just plain stonewalling over, the most catastrophic event in the sport's recent history, and the greatest threat to its future?
In an article in the Daily Telegraph after his decision to return the relay medal, Johnson wrote: "Now I realise that when I chose Clyde Hart, the only coach I ever had, because of his reputation for honesty and integrity, I would be shielded from the dirty and dishonest side of the sport and that everyone wasn't as fortunate to have a coach with such a solid reputation, conscience, and righteous moral compass.
"I am deeply disappointed in Antonio [Pettigrew] and in the sport of athletics. I now realise that there have been a significant number of athletes and coaches in this sport who have cheated and taken the short cut, and many of them knew who else was cheating."
At last year's Olympics in Rio de Janeiro, Johnson's 400-metres world record, which had stood for 17 years after being set at the 1999 World Athletics Championships in Seville, was finally beaten by South Africa's Wayde van Niekerk. I tell Johnson that I was surprised to hear van Niekerk say, in a press conference ahead of a crucial vote by the IAAF on whether to implement radical anti-doping reforms: "I haven't put too much mind to doping. It's important to keep myself clean, but I've never taken the time to educate myself [about doping] as much as possible."
Tellingly, Johnson's immediate response to this is to suggest that van Niekerk was simply trying to protect himself from any unwanted headlines. Pressed further on the responsibility of an Olympic gold medal winner and world record holder to be educated about, and to speak out over, doping, Johnson says: "What they need to be educated on and be intelligent about is their own responsibility for what they put in their body. I wouldn't say athletes have a responsibility to understand the anti-doping system and how the fight against doping is going. It's important that they understand their own responsibility, and that they are ultimately responsible. The sport should make sure they are educated on that."
---
I love Usain Bolt and he's fantastic but the idea we're looking for the next Usain Bolt is wrong
---
Yet asked what he would like athletics to look like in 10 years' time, Johnson has no hesitation in replying: "I would like to see the current cloud removed and credibility restored in the organisation that runs the sport. I would like to see the sport modernised in how it is packaged and presented so that young people want to be involved, and aspire to be track and field athletes, and that we can see true role models, global sports icons, multiples as opposed to one."
The 'one' Johnson cites is clearly a reference to Usain Bolt. I ask how the sport will fare after his imminent retirement, and he says: "I love Usain Bolt and he's fantastic but the idea we're looking for the next Usain Bolt is wrong. He is unique, and those only come along every now and then. If you argue that I was one of those, I would support that, but there were eight years [between Johnson's retirement and the emergence of Bolt] and the sport survived."
In the run-up to London 2012, Johnson fronted a documentary on the UK's Channel 4, 'Survival of the Fastest', based on the interesting premise that Afro-American and Afro-Caribbean athletes might be a product of 'unnatural selection', so to speak, with their power and speed attributable to the fact that only the fittest of their ancestors survived the brutal slave trade that brought them to the Americas.
I ask him what he concluded after interviewing a range of experts on the subject, and it seems I've struck a nerve as he refers sarcastically to those that have commented on the programme without actually watching it. A Daily Mail headline at the time read: "Olympic legend Michael Johnson says a 'superior athletic gene' in the descendants of West African slaves means black American and Caribbean sprinters will command the sport at the London Games."
Pressed further, all he'll say is: "That's the question I had. We spoke to scientists and historians who all had different philosophies. But it doesn't make any assertions. I'm still thinking. There's no concrete answer. Most of the documentaries I do are topics that don't have an answer."
The time has now come to broach that (other) awkward, sensitive question, and it's this: "Are black athletes still disadvantaged in USA in track and field?"
"Why do you ask?," Johnson says.
I explain that in recent weeks the issue of racial tension in USA has been widely reported in the international media once again, leading me to ponder the extent to which sport is affected.
"I still don't see why you're asking that question," he says, so I explain that in the UK (in my experience) most athletics clubs are run by middle-aged, middle-class white guys, and I wonder if it's the same in USA.
He looks at me, as if trying to read what I really mean and eventually says: "I think you're trying to trick me."
Michael Johnson. You don't become a multiple world champion and Olympic gold medallist, and then an international treasure in the UK, having lived 25 years and more of your life in the spotlight, without developing some defence mechanisms.