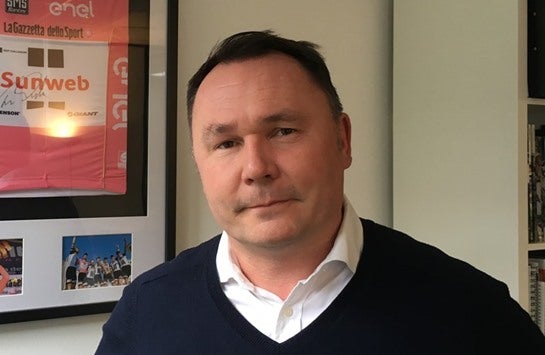 Graham Bartlett has a job on his hands, and it's this. He needs to persuade the rest of the ultra-conservative, closed-shop world of professional road cycling that Velon, and its spin-off Hammer Series of cycling events, is not in direct competition with the established race organisers that have a stranglehold on the sport – and its revenues.
Those organisers include the likes of ASO, which owns classic races like the Tour de France, Paris-Nice, Paris-Roubaix, the Critérium du Dauphiné… In fact, it pretty much owns professional road cycling in France, and is highly influential outside its home country as well, with the likes of the Vuelta a España and Tour of California also under its control, along with the next 10 editions of the revived Deutschland Tour, which is returning to the sport's calendar this year after a 10-year absence.
ASO's latest set of accounts showed annual revenue for 2016 of €220 million ($270 million) and profits of €45.9 million – and everything it says and does suggests it has no intention of ceding or sharing its dominant position with anyone else, any time soon.
But the thing is, Velon's Hammer Series, which debuted last year with a single event in Limburg, the Netherlands is specifically aimed at shaking up the established order in road cycling. This year, there will be three events in the series, with a newly-announced Hammer Hong Kong event and one in Stavanger, Norway complementing the second edition of the Limburg event.
Typically, Hammer Series events form part of a weekend
cycling festival, including a bike expo, a mass-participation ride, family
events and concerts.
---
The reason it [Velon] exists is, the economics of cycling are completely broken, totally fractured
---
And Velon's ambitions don't stop there. The plan is to stage 10 events a year, featuring some of the sport's top teams and riders, after last month's announcement of the addition of seven more teams to its line-up, which now comprises 17 teams. These include many of the best-known teams, Tour de France fixtures such as Sky, BMC, Lotto-Soudal, Quick-Step and Trek-Segafredo. Some of the 17 teams, including other big names like Dimension Data and Movistar, are not full shareholding members of Velon, but partner with it to participate in its data platform. Significantly, these also now include a top French team – Team Cofidis – after it was initially thought that French teams would not dare to defy their paymasters at ASO by doing business with Velon.
The international road cycling calendar is notoriously crammed. This year's Hammer Series kicks off in Stavanger on 25 to 27 May, before returning to Limburg on June 1 to 3 and finishing in Hong Kong on October 14. But Stavanger clashes with the Giro d'Italia (scheduled for 5 to 27 May); Limburg overlaps with ASO's Critérium du Dauphiné (3 to 10 June); and Hong Kong overlaps with the Presidential Cycling Tour of Turkey (9 to 14 October).
All of these races appear on the top-tier UCI WorldTour calendar, meaning they'll be drawing on the same teams and riders that Velon is targeting (this week's press release announcing Hammer Hong Kong explicitly promised to feature "the biggest and best UCI WorldTour cycling teams"). Yet, says Bartlett, Velon is not a breakaway (it regularly consults with the UCI, the sport's world governing body), and it's not a rival of the established race organisers. He has good reason to make this last claim. Those same organisers are customers and clients of Velon for services it is already providing and, Bartlett hopes, for new ones which Velon is close to introducing but which, frustratingly, he says he can't yet reveal.
So, if it's not a breakaway or a rival race organiser, and it's not, Bartlett insists, either a trade association (the teams already have one of those, the AIGCP, which Velon supports) or a lobbying group, what is Velon?
Speaking in the company's anonymous, serviced offices in London's Kensington (the company now has about 20 full-time staff, some of them based in another office in Zurich in Switzerland), Bartlett, Velon's chief executive, says: "Velon's a private limited company established in the UK. We're a joint venture owned by the teams, a commercial entity. Our role is to work on the business aspect."
Because it's a company, Bartlett continues, Velon "can enter into agreements and business relationships. That means we're a bit defined by what we do. We started as the 'cameras-on-bikes' company. But the reason it [Velon] exists is, the economics of cycling are completely broken, totally fractured. Everyone agrees it's wrong and we need to do it differently. Velon is a solution, although not the only solution. We centralise rights ideas and concepts, and amplify and try to make them more engaging, and put a business model behind them."
The long-term problem facing professional cycling teams is well-known: up to now they've had virtually no rights to centralise, apart from the jersey space they offer the team sponsors. Compare this situation with that of a professional soccer club (with a background as commercial director of Liverpool Football Club and, before that, head of business development at Uefa, it's a comparison Bartlett's happy to embrace). Soccer clubs are, effectively, their own event organisers, meaning that all of the rights surrounding their home matches, including merchandising, hospitality, event sponsorship, ticketing and, crucially, TV and other media, belong to them – albeit, in most (but not all) leagues, the clubs choose to centralise the sale of media rights, in the belief that they are more valuable as a complete package.
The present commercial structure seems to make little sense for top pro cycling teams. The contributions they receive from race organisers are negligible, and they also have little or no say over how international TV coverage, on which they are reliant for sponsorship exposure, is distributed. As a result, it's noticeable that many of the leading teams are either bankrolled by wealthy individuals (for example, BMC, Michelton-Scott and Katusha) or reliant on state support (Astana, Bahrain-Merida and UAE Team Emirates).
Arguably, to choose another sports comparison, the structure lags about 40 to 50 years behind that of Formula 1 motor racing, in which the teams, led by Bernie Ecclestone, gained a much greater share of the revenues and more say in decision-making during the 1970s and 1980s – albeit Formula 1 did have a consistent season-long product, the World Championship, that cycling doesn't have.
"What we're doing is what every other sport does," argues Bartlett, not for the first time, you suspect: "bring together rights holders and aggregate and maximise the rights, the same as every other sport in the world. There are two parts: the Hammer Series and Velon Live content, which we're sharing on a live race platform, and which is done in partnership with the race organisers. Data and video, behind the scenes coverage, race promotion and marketing: we bring a package to the race partner."
First, some of the teams themselves needed persuading that sharing their riders' performance data was a good idea and would not entail giving away valuable real-time information to rival teams, which, at least in theory, could use the data to gauge, for example, when their opponents are at their weakest, and choose that time to launch an attack.
---
What we're clearly about is entertainment and engagement. It's not about publishing things that could be used mischievously
---
"We've done a huge amount of work on sharing data," Bartlett says. "What we're clearly about is entertainment and engagement. It's not about publishing things that could be used mischievously. For power and heart rate, we use rounded numbers and graphic representations. Anyone who partners us sees the rules and has a say on how and where it's published. It's borrowed from the Formula 1 model. Each team gets its own true data, with exact numbers. But we publish aggregated and 'scrubbed' numbers."
Until recently, the technology had only been developed to enable selected riders in the peloton to carry these real-time performance monitoring and transmission devices (the reason, incidentally, that the technology has not yet appeared at the UCI world championships, which demand exact equality of race conditions for each rider). Initially, Bartlett says, the costs of producing the transmission boxes were such that Velon decided: "Until we get it right, we wanted to avoid a huge cash burn. You don't go to large-scale production until the last iteration. But soon we'll be able to offer it to every team in the race. It's hugely exciting. It's an offer; we don't compel teams to carry devices. What device goes on a bike is with the team, not with Velon (unless they aggregate). But now teams are content-sharing partners. If they like what we're doing, they will share, and we'll share the information back to them."
In a bid to maximise the opportunities, in 2016 Velon entered into what it termed "a revolutionary partnership with Infront Sports & Media," the Switzerland-based international sports agency now owned by China's Wanda Group.
At the time, Velon described the 10-year agreement with Infront as "a significant step towards Velon achieving its core goals," including bringing fans closer to the riders, races and teams through technical and media solutions and aggregating the rights of the biggest teams to improve the financial stability of the sport and thus benefit their staff and riders.
Infront, Bartlett says, is a "partner, not just an investor or an agency. They genuinely believe in us and have helped to shape all the things Velon is doing. We can draw on their sales force and their knowledge of creating and investing in events." Four dedicated Infront staff work on Velon's projects and the Hammer Series, with others being tapped for media sales and event organisation.
Velon was initially set up and funded by its shareholders, the cycling teams. Now, its revenues come from: its partnerships with race organisers; its own sponsors (until recently these included GoPro, the mobile video camera company, although that relationship is on hold as the company re-evaluates its marketing plans, plus sponsors of Hammer Series races, like Vittoria tyres); and Infront and another unnamed investor. Bartlett won't reveal Velon's annual budget, but says that we can draw our own conclusions from the fact that it is staging three Hammer Series races this year.
"For the first three years," he says, "we were establishing the rights position and creating the right environment to bring in our partner Infront. Now, we're starting to convert that into revenue streams. It's fair to say that the revenue and investment over the three years of Velon has been sufficient to make significant steps forward in the development of the Hammer Series and Velon Live platform. There are three different races, and you get no change out of €2 million ($2.45 million) [from each race]. You can't get all the best teams in the world and generate host broadcasters, sponsors and road closures for nothing."
Yet, he continues to insist, "we're not a race organiser. Hammer is a race concept co-owned with Infront. The race organiser is the franchise partner. The Tour of the Fjords is the partner for the Hammer race [in Norway]." Really? The Hammer Series, owned by Velon, comprises three races this year, has ambitions to grow to 10 races a year, and yet Velon is not a race organiser – and its motives are not regarded with any suspicion by the existing cabal of race organisers? "Suspicion is not the right word," says Bartlett. "I hope that everyone understands what Velon is. Velon is an offer. The race organisers are our partners: we have partnerships with ASO, RCS [organiser of the Giro d'Italia], Flanders Classics, the Tour de Suisse, Ride London…"
---
A lot of race organisers have strongly embraced us. They get and understand what we do
---
Velon will be involved in over 100 days of elite racing in 2018, having signed 19 agreements with race organisers (now 20, including the newly-announced race in Hong Kong), Bartlett says, adding: "A lot of race organisers have strongly embraced us. They get and understand what we do. The Abu Dhabi and Dubai Tours have come together. They want to partner with Velon in a new race.
"Some races need different things. Some want promotion, others technology. Others want a stronger field. We're flexible. For the Giro, it's all about the data: performance, position and speed. We're the only company in the world of sport delivering live performance data of the athletes during the event. It's early days. We can do better on the Velon Live platform. It still needs more work, it's still raw and fresh, and we're guilty of bombarding with numbers, as opposed to enlightening with performance data.
"Cycling is beautifully complicated. What we want to do is take the beauty and get rid of the complexity. We need better tools to get people to understand and give them a reason to watch."
One way that Velon has sought to allay the race organisers' suspicions is by not explicitly seeking a share of their jealously-guarded media rights revenues, the target of potential breakaways before Velon, including the short-lived World Series Cycling, with which Bartlett was associated in another previous role, as head of legal and business affairs at Sky Sports, the UK pay-TV broadcaster.
With Velon, Bartlett claims, "Everyone said, 'You'll demand a revenue share of the TV money'. We're not against that, but rather than keep making demands, let's bring together the things that are not done right now, like on-board cameras, which can only be done if you aggregate the rights and work with the broadcaster and race organiser. Let's gather the bits other people are not using properly that belong to the teams and create something new, exciting and engaging."
One or more of Velon's forthcoming announcements involve what Bartlett describes as "engaging with a bigger market." He continues: "The big thing people are missing is that cycling has a lot of people doing it, but the percentage of people doing it is not commensurate with fans of the sport. That's a clear fault line. Compare that with other sports. Go to any local tennis club, and on the TV screen will be the latest ATP event. Play tennis and you consume the elite end of the sport. It's not as clear in cycling.
"That brings us back to Velon Live. We can connect to your own experience. If I watch the Masters, I want to know how far [Jordan] Spieth hits the ball. Does he look at the hole when he putts? What can you take from Milan-San Remo or the Giro that will relate to you and your mates going out for a ride? How can we create a connection? We have several big ideas. Most we can't announce yet, but the key philosophy is we will make the data relevant to you, correlate the data to yours."
The new Hammer Hong Kong event, Bartlett says, is intended as a "one-off, one-day special" – partly, he admits, because closing roads in Hong Kong for more than a day is "practically impossible." Velon and Infront are partnering with Sun Hung Kai Properties Hong Kong Cyclothon, the biggest road cycling event in Hong Kong, backed by the Hong Kong Tourism Board, to stage the "iconic" event, which is set to generate an "enormous buzz," according to Bartlett.
"What we've created with Hammer is made for the fan," he says. "Take the best action and ideas, sprinting, climbing, chasing, and make it team versus team. Focus on an aspect no one else is looking at: who is the best team? First over the line wins. It's centred around the fan. Do the finish in the same place as the start; see teams passing 10 or 11 times. You can build a fan hub, an entertainment centre, something for people to be part of. We did the proof of concept in Limburg [last year] and got 3.2 million live cumulative views. It was hugely successful in terms of impact."
And now, at last, the gloves come off: "Team budgets generate less than 5 per cent of their revenues from race organiser payments," he says. "There's no cross-flow from the race to the teams. Race organisers say, 'Well, you get exposure and you can monetise that'. That's the same as every other sport, but every other sport also has a revenue share. Imagine what would happen if the Premier League said to Manchester United, 'We're going to keep your biggest source of revenue'. The smart organisers say there should never be a wall between the teams and the organisers."
Bartlett has a reputation as a tough negotiator. Ahead of the interview I spoke to an industry executive who knows Bartlett well and has conducted negotiations with him. "Very, very punchy" is how he described him, with a certain grudging admiration, before adding: "I really like him. He's punchy – but that's what they need." So I've been waiting for this – for Bartlett to drop his guard (continuing the boxing metaphor) and admit that Velon and the Hammer Series were created with the not unreasonable aim of enabling the teams to take their rightful place in professional cycling.
---
Fans follow sport on the basis of engagement. Riders come and go, athletes change, but teams don't and races don't
---
At present, he says, "They're at the rock bottom of the hierarchy. We need a fundamental change of the economic model. Their economic position is very small. They need to realise a lot of latent value and they need a proper way of sharing that revenue, so everyone benefits, a better model that also encourages them to develop and grow. What incentive do they have to stay in the long term? There's no revenue. What sponsorship deals last for 10 or 15 years, like a team sponsorship should do? That damages the sport. Fans follow sport on the basis of engagement. Riders come and go, athletes change, but teams don't and races don't. Long engagement goes on in other team sports, but it doesn't in cycling."
So who is the punchy guy who is leading this arguably long-overdue campaign? Bartlett was born in a village located between Liverpool and Manchester in 1970 and, not surprisingly with that heritage, grew up as more of a soccer fan than a cycling one (albeit cycling is also strongly rooted in the region). "I played everything, I was a jack of all trades, cricket, football…", he says. "I always loved playing more than watching. But then I went away and studied and ended up working as a finance lawyer in the city. I enjoyed the intellectual challenge of negotiations, but it was not something I saw myself doing in the long term, so I thought, 'What do I enjoy most?' It's sport."
Like so many others still working in the sports industry, Bartlett began his career at ISL, the sports agency which acted for the likes of the IOC and Fifa, and where he was vice president (weren't they all?) and head of business affairs in the soccer department, but which collapsed in 2001 amid a major corruption scandal. From there, Bartlett went to Team Marketing, Uefa's marketing agency, before joining Uefa itself, then working for Nike, Liverpool and, finally, Sky. So, you could say he's been around. You could say he knows a bit about the industry, albeit much of his experience until he began working on the World Series Cycling project at Sky was in soccer.
Given his background of working for the owner of road cycling's most dominant team, whose riders have won five out of the last six Tours de France, is he regarded with any suspicion by the other teams – especially, perhaps, the French teams which are apt to speak of an Anglo-Saxon conspiracy to take over 'their' sport (notoriously, you have to go back to 1985 for the last French Tour de France winner, Bernard Hinault)?
"I came from Sky, but I was sufficiently neutral because I never worked for Team Sky," Bartlett says. "I think they know and understand that I work on behalf of everyone in the group. I've spoken a lot to the French teams. What Velon is doing matters more to some teams than others – if, for example, they're state-funded and guaranteed a position on the Tour de France. We are a co-operative: if they don't want to work with us it's no problem, we're not attacking them. The irony with the Anglo-Saxon position is we've done more deals with French companies than any other."
So how does Bartlett respond to the criticism that Velon and the Hammer Series are simply seeking to stuff yet more events into an already crowded calendar? "I can't argue with [the charge of] creating more events," he admits, while claiming that "a lot of our growth will come from conversion" (by which he means converting people to become cycling fans, not relying on the existing, finite number of fans).
"There's clearly room in the market and desire for this product," Bartlett continues. "There were a lot of arguments in cricket when the Indian Premier League was created. But sport competes in the entertainment marketplace and it's got to give people what they want.
"If you stand still, you're going backwards. Everyone's looking at how to attract a fanbase. We're not trying to replace the Giro or the Ronde van Vlaanderen [Tour of Flanders, organised by Flanders Classics]. There's not just vanilla and chocolate, you can have strawberry as well."
It's true that the race calendar is crowded, but with top-tier WorldTour teams being made up of 25 to 30 riders, while only a maximum of eight riders are required per race (seven for the so-called 'Classics' and smaller stage races), it could be argued that there is spare rider capacity for more races.
---
Now I have a deeper understanding of how incredible these athletes are, how fantastic races like the Ronde are, with millions of Belgians going bonkers over a bike race
---
Has he become a cycling fan himself, since his own conversion to the sport? "Oh yeah, absolutely I've become a fan," he says, adding ruefully: "I used to bike a bit, but since I joined Velon that's reduced to virtually nil. I always had a passing interest, but now I have a deeper understanding of how incredible these athletes are, how fantastic races like the Ronde are, with millions of Belgians going bonkers over a bike race.
"There are also a lot of social things you don't get in other sports. The day before or the day after you can go and see if you can get up the Oude Kwaremont [the famous climb on the route of the Tour of Flanders]. The other aspect is how close and intimate the fans are with the teams, how exposed they are on the road, which is increasingly unique in sport. Cycling has a history of being intimate with its fanbase. There's enormous potential."
And the "very, very punchy" remark? Is it accurate? After all, Bartlett has an extremely delicate balancing act on his hands, keeping both teams and race organisers onside as Velon attempts its radical overhaul of the economics of the sport. Would a punchy guy be right for this? He smiles, before replying: "I like to think there's a little bit more to me than that. I've been in the business for over 20 years. I wouldn't claim to be shy, but you can't run a business and bring together such a diverse group of stakeholders, and not have a certain amount of diplomacy skills. You have to persuade in a manner that's befitting across different cultures."