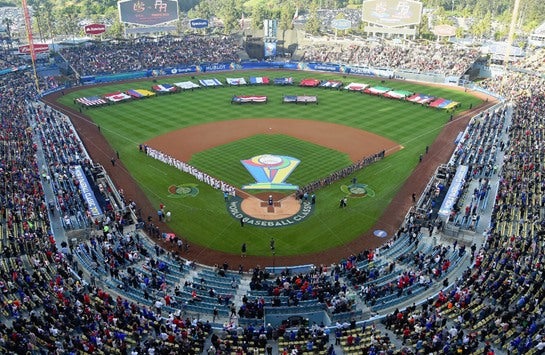 Within the analysed period, USA has accumulated a total score of 39,681, having secured no fewer than 48 major sports events, more than any other nation.
Recently-awarded events contributing to USA's score include the Winter Universiade 2023 (Lake Placid), WBSC Women's Baseball World Cup 2018 (Viera), FIL Women's Lacrosse World Cup 2021 (Maryland), Bobsleigh & Skeleton World Championships 2021 (Lake Placid) and the World Single Distances Speed Skating Championships 2020 (Salt Lake City). The addition of these events has more than doubled USA's lead at the top of the index to 3,112 points.
As the index spans a 14-year period from 2012–2025, the LA 2028 Olympic and Paralympic Games are yet to register and will ensure USA remains a contender for years to come.
GSI Nations Index – Top 20 (2012-2025)
Click here to see the full GSI Nations Index
The United Kingdom has held on to second place thanks to Birmingham securing the Commonwealth Games in 2022. Despite hosting 30 events in the analysed period, the United Kingdom has lost 2,487 points compared to last year, as high-scoring events such as the Rugby World Cup and IAAF World Championships have been and gone. With this year's index being the last to include the year 2012, the United Kingdom could find itself falling down the rankings as points from the London 2012 Olympic and Paralympic Games will no longer register.
China has climbed one position to third at the expense of Russia, having secured the FINA Diving World Cup 2018, UIPM World Championships 2020, IAAF World Indoor Athletics Championships 2020, World Wushu Championships 2019, World Rowing Championships 2021 and the 2017 UCI Urban Cycling World Championships.
Russia, despite being the subject of a major doping scandal and its subsequent ramifications, was awarded three major world championships in boxing, gymnastics (trampoline and tumbling) and swimming in the past year, keeping it inside the top five.
With the Rugby World Cup 2019 and 2020 Olympic and Paralympic Games approaching, Japan moves above Canada into fifth place. Similarly, France also climbs one position to eighth place, having been awarded the same events in 2023 and 2024, respectively.
Germany holds seventh place, while Italy falls to ninth, with Brazil remaining in 10th position.
Spain (+2), Switzerland (+1) and Qatar (+1) all rise within the top 20, while Austria and the Netherlands each fall two places.
Significant moves
Outside the top 20, Chile (+31) climbs the most places having been awarded the Pan American Games 2023.
The Philippines (+18) also makes a double-digit jump, having been awarded the FIBA Men's Basketball World Cup 2023 alongside co-hosts Indonesia and Japan.
Belarus (+9) also improves its position having secured the IIHF World Championships 2021 alongside Latvia as well as the IAAF World Race Walking Team Championships 2020.
Significant moves within the GSI Nations Index 2018
Panama (-27), Greece (-23), Serbia (-13), Costa Rica (-10) and Sri Lanka (-10) are the biggest fallers, having failed to secure any scoring events while the index moves forwards and events from 2011 no longer register.
Past and Future GSI Nations
Russia, which has 31 events scoring in the index, has already hosted 26 of them, meaning it has only secured five for future years. This places it on top of the Past Nations Index which ranks nations by the proportion of their total score attributed to past events.
Similarly, Brazil (sixth), Spain (ninth) and Korea (10th), all rank in the top 10 of the Past Nations Index, as the majority of their scoring events having taken place already.
Japan, however, tops the Future Nations Index with 11 of its 23 events set to take place between 2019-2025. The future events are also high-scoring with mega-events such as the Rugby World Cup and Olympic and Paralympic Games included.
Switzerland (fifth), Qatar (eighth) and Denmark (10th) are all placed high in the Future Nations Index because of the proportion of their total score being attributed to events yet to take place.
Some nations score high in both the Past and Future Nations Index thanks to their consistent hosting of major events throughout the 14-year period analysed. These include USA, United Kingdom, Canada, China, France and Germany.
Past GSI Nation – Top 10 (2012-2018) Future GSI Nation – Top 10 (2019-2025)
The GSI Nations and Cities Index is published in full exclusively within the GSI Report 2018 (Events & Bidding).
Now in its fourth year, the GSI Report is being delivered in several smaller volumes in 2018, providing a greater focus on each of the specific impacts generated by sports events worldwide.
The Event Hosting & Bidding volume focuses on the hosts of events held in 2017 as well as the bidding landscape during the same year. A total of 80 events that took place throughout 2017 are analysed within the report.
IAAF WORLD CHAMPIONSHIPS LONDON 2017 NAMED SPORTCAL'S GLOBAL SPORTS EVENT 2017
TOKYO TOPPLES LONDON TO BECOME GLOBAL SPORTS CITY 2018
You can pre-order your copy of the GSI Report 2018 (Events & Bidding) via Sportcal's Report Store at a special early-bird rate of £750 / CHF 1,000 / US$1,000. Contact clientservices@sportcal.com to find out more.
GSI Nations and Cities Index
The GSI Nations and Cities Index is based on in-depth analysis of major multisport games and world championships over a rolling 14-year period, covering seven years in the past (including the current year) and seven years in the future. In total, 88 nations and 587 cities have hosted, or are scheduled to host events during this period.
Bids awarded up to and including 2 April 2018 have been included in the April 2018 index.
Each event is given a weighting based on its Global Sports Impact (GSI) Event Rating – this rating is calculated using the latest event data across a range of indicators which measures the size, scale and impact of an event.
The GSI Event Ratings are then attributed to the host nations and cities, producing the GSI Nations and Cities Index. A time weighting is given, so that events in the current year are worth 100 per cent of the rating value, while events in previous or future years are worth less.
The April 2018 index further increased the number of events analysed with 683 events across 155 categories, in 81 sports, including summer and winter Olympic sports and Olympic 'recognised' sports.