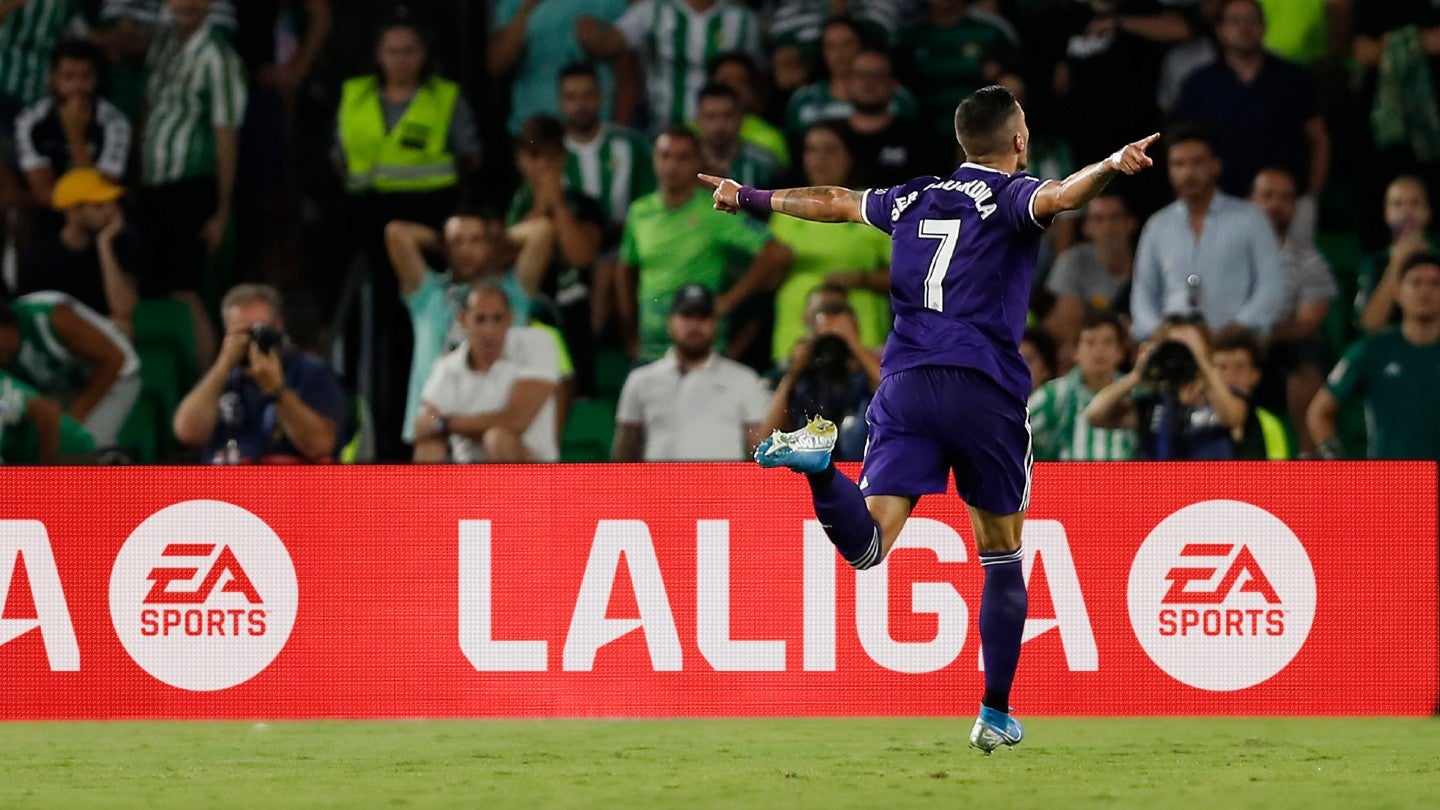 Spain's LaLiga and video game giant Electronic Arts (EA) are entering a new era, collectively and individually.
Together, the two parties are heading into the first season of a five-year title sponsorship agreement covering the top two divisions.
The top-flight will be called LaLiga EA Sports, while the second-tier will be known as LaLiga Hypermotion, in homage to the motion capture technology used by the developer for its EA Sports FC video game.
The leading games publisher becomes the first international partner to title sponsor the top Spanish competition which LaLiga states "is not a mere sponsorship, but an agreement at the forefront of the global sports industry."
The new league monikers come as LaLiga attempts to position itself to reach a younger audience.
EA Sports expanded its long-term partnership with the league in August 2022 to put its name to all the competitions it oversees – including LaLiga Promises, the annual youth tournament, and the eLaLiga esports competition.
The agreement strengthens a relationship that spans more than two decades. A 10-year extension was signed in 2020 with the growth in popularity of gaming and esports making EA Sports one of LaLiga's most important commercial partners.
The title sponsorship is a natural progression of the close ties forged by the respective organizations.
David Jackson, EA Sports vice president of brand, tells GlobalData Sport: "It's an important moment for us. We've had a relationship with LaLiga for over 20 years around licensing and rights.
"In recent years, we've done more with LaLiga. We find LaLiga to be an incredibly innovative partner. They like to try things and are not afraid to go out and explore the future world that we're trying to create with them.
"We noticed that was a big opportunity for us and some rightsholders can be more protective over their IP and what they're trying to achieve. But we've seen with LaLiga that there's a huge amount of innovation and creativity and we need more rights moving forward to be able to deliver on our promises to players."
EA takes over from Spanish bank Santander which had lent its name to the high-profile league since 2016-17, paying around €20 million (now $22 million) per year.
The deal with EA Sports is understood to be worth considerably more at around €30 million ($33.1 million) annually.
The naming rights agreement made sense for both sides and arrived at the right time.
"LaLiga came to us and said is this an opportunity that might make sense for you?" Jackson explains. "We think about global expansion and reaching and accessing millions of fans all over the world and LaLiga is followed not only in Spain but all over the world through the power of its clubs and the language.
"Aside from access and rights, the ability for us to find a partner who would be willing for us to try with them was really meaningful and frankly, they came to us, and we went to them, and it was a meeting of minds in the middle."
LaLiga and EA will "deepen their collaboration" through this new agreement. In addition to the naming rights element, the partnership will feature technology, gameplay enhancements and development, and real-world soccer highlights.
The duo will also collaborate on grassroots initiatives through the developer's FC Futures program, where it is seeking to invest in community-level soccer in global territories to grow the game.
Despite their huge followings, reaching more fans and further promoting their global brands is ultimately the name of the game for LaLiga and EA, with the enhanced partnership described as "a disruptive way of viewing football, breaking down barriers between the physical and the digital, and creating a unique product that will reach a much wider audience."
Asked what the long-term ambition is from the five-year deal, Jackson replies: "There are two things: growth and scale. That's always our job at EA on behalf of football fans everywhere, and we know LaLiga has got significant ambitions as well in terms of growing and scaling its platform. There's a reciprocal value in there.
"We're offering access to 150 million very hard to reach Gen Z football fans and LaLiga offers access to the incredible IP that it has, but also the innovative pursuit that it delivers to be able to reach more parts of the world. We're going to take some risks in specific areas in partnership with LaLiga."
LaLiga rebrand
While kicking off a new era with EA Sports as a strategic partner, LaLiga used it as an opportunity for a complete brand refresh.
The league's rebrand, announced in May, will see the inclusion of EA Sports in its logos, graphics, fonts, and other visual elements.
At a special launch event in Madrid earlier this month (July), LaLiga officially rolled out its new visual brand identity, swapping the prominent multi-colored wheel that has been featured on the organization's insignia for 30 years with a red LL, representing its initials.
The league said the change embodies its evolution over the past 10 years, expanding its international reputation and presence through the LaLiga Global Network, which has seen representatives scattered around the world since its launch in 2017.
The transformation includes "a major brand evolution, touching on strategy and positioning, but also extends to tangible changes in LaLiga's audiovisual broadcasting and digital ecosystem."
President Javier Tebas said: "We begin a new era that represents a revolutionary change for both Spanish football and the industry which has been in the making for the past 10 years.
"To get this far, we have had to adapt, move forward, and transform ourselves and it has been possible thanks to the efforts of clubs, sponsors, and partners. Our strategic partners have witnessed the evolution we have undergone in recent years and have supported and driven us forward.
"This is the case with EA Sports, which has been part of this change for a long time and now goes one step further to become our title sponsor and build with us the football of the future."
LaLiga has strategically developed a portfolio of commercial partners that includes Microsoft, Puma, Mahou San Miguel, and BKT, as well as several regional and local sponsors.
During the 2022-23 season, the Spanish top-tier generated €177.6 million in commercial revenue, which represents continued growth of over €25.8 million (up 17%) in gross revenue and €9.9 million (up 10.6%) in net revenue.
Ahead of the upcoming season, LaLiga recently announced a new partnership with digital sports platform and e-commerce company Fanatics to launch its first official online store.
As part of its new identity, LaLiga has also revamped its mobile app to offer a more personalized user experience, in line with users' tastes and with relevant information about their preferred clubs.
It will also feature a new social video experience focused on near-live content, which can be shared more easily on social networks.
The league will additionally roll out new broadcast innovations, with the graphics being updated to make them more "dynamic and animated" to provide a more "immersive viewing experience."
The innovations will feature certain elements from the EA Sports FC game, such as the augmented reality statistical graphics, which are intended to replicate those of the video game, both visually and in terms of camera angle.
EA Sports shift
EA itself is embarking on a new journey with its popular soccer title after ending a 30-year relationship with FIFA. The two parties agreed to part ways last year and make the FIFA 23 title the last under their long-standing licensing deal, which had been in place since 1993.
The popular FIFA-branded (and named) game was one of the most profitable franchises in video game history, having generated a reported $20 billion in sales over the last two decades.
EA recently unveiled details of the first product under its new EA Sports FC brand – EA Sports FC 24 – which will be released on September 29.
The parting of ways with FIFA brought an end to one of the longest partnerships in sports, with EA opting for a different direction.
"It comes down to the fact that for the longest time, we've had a very deep and analytical, very intentional understanding of the rightsholders that we partner with and we're assessing the value both in and out on a daily basis for all of our partners," Jackson outlines.
"Are we giving enough value to them? Are we redeeming enough value for the investment that we make and the fact that our players are either enjoying that experience or not?
"When you work through that, and the value that comes through the game, a lot of it is generated through club football today, and the reality with FIFA, who frankly we enjoyed a fantastic 30-year relationship with, the value versus the amount that we were investing and how often that IP offered value, didn't balance anymore.
"Every four years there's a World Cup, we now get them back-to-back with men's and women's and this year fortunately in FIFA 23 there have been two, which is massive value for us. But then you wait and, in that time, it's our responsibility to make sure that we're investing intentionally on behalf of our players and a phenomenal amount of that value comes through club football that FIFA couldn't furnish us with through the rights."
As well as LaLiga, EA has licensing agreements with several major clubs, leagues, and competitions around the world such as Italy's Serie A and Germany's Bundesliga.
EA Sports also announced exclusive renewals with the English Premier League and UEFA giving it licensing rights to its various club competitions including the UEFA Champions League for its upcoming game.
Despite its vast stable of rights, the video game heavyweight still believes it needs more to deliver the best version of its product.
"Football is a really fractured landscape, we know it better than most," Jackson says.
"We're probably the only platform in the world that can amalgamate all licenses into one place. There are 350 licenses within the game. But in the future, rights are going to be incredibly important for us to be able to create the conditions where players can jump into a game and feel truly immersed in the experience.
"Rights have always been important to us. Authenticity is the most important thing to an EA Sports experience, regardless of sport. In the future, we're going to make sure that those rights can be condensed into the platform in a meaningful way which allows all of them to have their moment, but also for players to experience the whole world of football in one place."
EA Sports also recently extended its partnership with South America's Conmebol and is expected to announce further tie-ups ahead of the new game's launch.
In May, international sports marketing agency Sportfive was appointed as the official sales partner for EA Sports FC and has been tasked with securing and managing commercial partnerships for the title.
"We're going to be very specifically intentional about the partners that we work with, they have to offer value to players," Jackson states.
"We're not in the business of over-commercializing the product for effect, so any partnership that we announce in the coming weeks, there'll be a very clear through line to how that benefits the player.
"There are lots of partners who want to be part of this change with us, and we're really excited to be able to share that with the world and partner with them to create phenomenal new experiences for players everywhere."