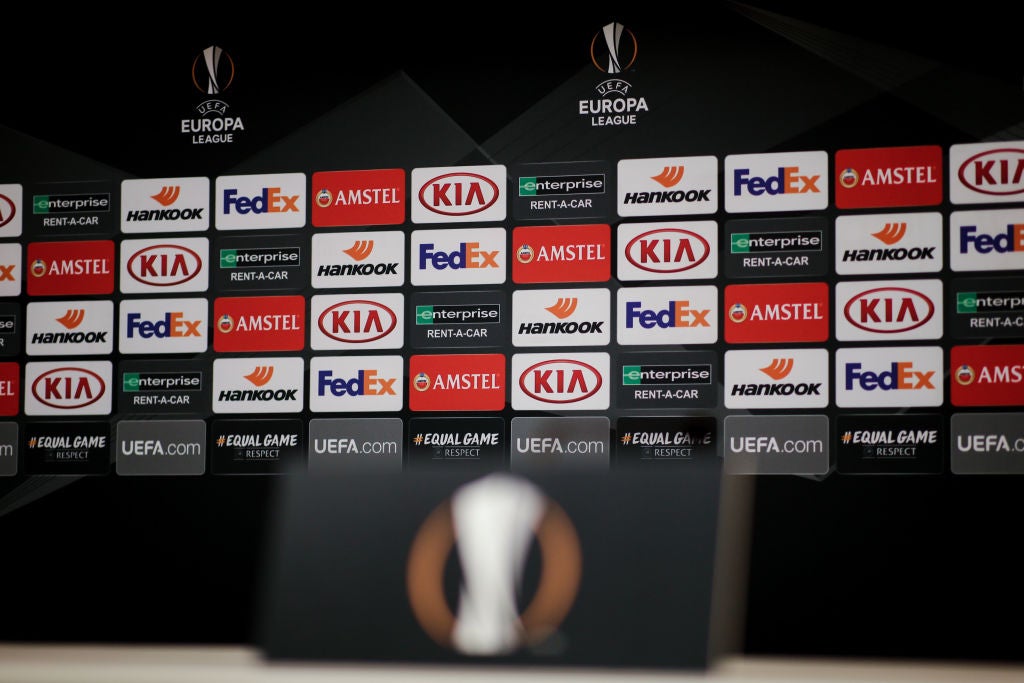 Brian Kim, chief executive of GumGum Sports, tells Tariq Saleh how a growing desire for data is altering the nature of sponsorship deals
There is little doubt that the coronavirus pandemic has accelerated a significant trend in the sports sponsorship industry.
Strategies are changing and the traditional models are being revamped.
It is very much a case of an 'out with the old and in with the new' approach for the market.
With the shutdown of sport amid the spread of Covid-19 last year, brands realised that they needed more inventory and activation opportunities while rights holders sought new ways to create value outside the live action.
The days of simply having pitch-side advertising or branding on shirts are slowly disappearing as the need to directly engage with fans and consumers increases.
In an age dominated by digital and social media, brands and rights holders are now craving data more than ever before to measure the impact of sponsorships and the return on investment from each deal.
This demand has seen the likes of sponsorship analytics platform GumGum Sports become increasingly important players in the industry.
Through its platform, GumGum Sports enables clients to analyse trends in the sponsorship market to maximise their offerings, and in the past year these have included an increasing need for data.
"For us, it was surprising how much sponsorship data was not being leveraged within organisations," chief executive Brian Kim tells GlobalData Sport.
"Part of that was because of internal challenges that they had of who owns the data and who is purchasing it and how that's distributed and other challenges that are tied to it just like the limitations of resources internally.
"Teams are having to rethink how they want to run their business and that's helping us think about what our strategy and focus looks like for 2021 and beyond."
GumGum Sports, which launched in USA in 2016, uses artificial intelligence to deliver data and insights to help brands, teams, agencies and media companies get a better understanding of the value of their sponsorships, in part by tracking all impressions across television and streaming coverage and social media platforms.
The California-based company's core penetration is across major sports and leagues such as soccer, basketball, baseball, American football, ice hockey and motorsports, with key target markets being North America and Western Europe.
GumGum Sports claims to have helped its partners to discover nearly $7 billion of unrealised earned media value in 2019.
Data acts almost as a safety net for both rights holders and sponsors and allows them to enter into deals with a clear idea of the value that is built in.
In the post-pandemic era this is expected to become the norm as there is a widespread desire to upgrade the quality of evaluation of sponsorship performance.
Kim explains: "Data helps them [rights holders and brands] in multiple different ways.
"Firstly, there are a large pool of brands who are just data-centric so sponsorships might be an area that they're not comfortable with or a little bit fearful of to invest in because they don't have data at their fingertips to understand the value that they're getting.
"What GumGum Sports provides is that medium to provide that type of data in a real-time manner so that they can understand that value.
"From a new opportunity standpoint, now you can approach the digitally-focused brands that are out there who are more data-centric and provide them with insights and information that allows them to feel comfortable about what they're buying and what the value is that they're getting in return."
He continues: "Then secondly, this year, with the cost of sponsorships, and the fact that you don't have [in-venue] audiences, there's a lot of work being done internally from a partnerships activation standpoint to just ensure that you're maintaining relationships and trying to create as much value in other areas like sponsorships as possible.
"This is so that you're not taking a $5 million deal and having to pay back $3 million of it because they expected fans to be in, or the season to be 20 games longer than it actually is when all of those things have been impacted by Covid-19."
Reworked deals
Because of the pandemic, there have been rebates for sponsorships, as well as major broadcast deals, while some agreements have been reworked as they relied heavily on branding and fan engagement within stadiums.
Future deals will inevitably include more force majeure clauses which allow for changes and in some cases opt-outs.
With marketing budgets being cut and strategies altered, sponsorship spending now has to be justified.
Senior commercial and marketing executives are under more pressure than ever to prove that partnerships will perform well and, crucially, provide a return on investment.
According to Kim "more than 60 per cent of chief marketing officers are under pressure on justifying their advertising spend, whether that is in sponsorship or other mediums."
He added that there is a trend towards "the need of data to be a cornerstone of how to value sponsorships and to have that data readily available", and claimed that there has been an uptick among both sports teams and brands as a result.
So, what do they specifically look for within the data?
"A lot of it is moving more towards a performance basis," Kim says.
"When we talk about data, it's really the democratisation of sponsorship value data and having that in real time so that both the teams and the brands can be more educated about how to spend their money.
"Whether they're a sponsor and are buying a portfolio of multiple sponsorships and have different placements or locations that they're showing within a match or a stadium, or for the team themselves to understand and maximise the value that they can generate across all of their individual assets that they're selling.
"It's really about using the data to change how your business is being operated and sports teams in the past may have been too focused on a 'set it and forget it' mindset.
"That mindset has now changed to having data to know how a business is driving forward and that data can influence decisions being made to ensure that they can create more value on the fly and not be wasting or losing opportunity."
Enhanced analytics
The traditional way rights holders have issued sponsors with mid-season and end-of-season reports on campaign performance does not meet modern expectations.
Brands are now commissioning detailed, cutting-edge analysis of their portfolios in order to make more informed decisions and justify spend.
This shift was already in the works, but the pandemic has forced rights holders to be more modern and innovative in their approach and offer advanced analytics to compete with rivals for the biggest sponsors.
It is important for brands to know how their sponsorships are performing – through branding, branded content on social and digital platforms and broadcasts – so the onus is on the rights holders to utilise the necessary technology and analytics tools to provide this analysis and data in real-time.
Offering real-time performance analysis across several channels and metrics can ensure a sponsor's objectives are being met and result in renewed agreements on improved terms, or attract new partners.
Kim identified the NBA, one of GumGum Sports' clients in North America, as one sports property which continues to perform well across multiple areas and generate good value.
The top basketball league completed the remainder of its 2019-20 season inside a 'bubble' at the ESPN Wide World of Sports Complex in Orlando, Florida and secured major new sponsors such as technology giant Microsoft and beer brand Michelob Ultra, to support its innovative fan engagement initiatives.
This included virtual 'courtside' seats on a 17-foot digital video board surrounding the court.
For several years, the NBA has been at the forefront of sports leagues that have embraced technology and has continually looked to expand its digital proposition.
With no fans in attendance, the league dipped into its digital box of tricks and showed flexibility in providing its partners with new ways to activate.
Kim says: "The NBA did an amazing job both with their bubble environment and with their new season now. One of their key cornerstones has been the reach that they want to get across social and the access to that audience and the way they drive content through social media has been a core pillar of their strategy.
"Obviously, despite the challenges that they've seen and had on the ratings side in broadcast, it's helped boost them up in overall value and allowed them to share a unique story that's interesting to a lot of sponsor audiences these days that are more digital focused and are not saying they need to be on TV all the time."
Activations
Digital and social media are playing key roles in the future of sponsorship with brands eager to reach a younger demographic.
Branded content and greater behind-the-scenes access with teams and players is being demanded as part of activations and is generally creating more value for sponsors and rights holders.
The NBA was among the first major sports leagues to utilise digital and appears to have reaped the benefits.
"Leagues that have embraced digital, like the NBA, have probably gone from 20 or 30 per cent of value coming from social media or digital properties three years ago to now 50 or 60 per cent," Kim claims. "It's about looking at the holistic audience that you're getting access to and not just thinking about the TV audience alone.
"Obviously, consumer behaviour is changing a lot with streaming platforms and connected TVs, so as that landscape continually changes and becomes more fragmented, it's about how you holistically have the value across all of them but also paint the appropriate story of the different types of audiences that you're getting access to and why each audience is uniquely valuable for the sports team to be able to package and present back to the sponsor which is buying those assets."
With consumer behaviour changing all the time, sports fans want more, which, in turn, means sponsors want more too.
More exposure, more access, more value, more data and more consumers.
This demand is leading to more creative activations and an overall evolution of sports sponsorship.
Kim anticipates that long-term sponsorships will continue to be the norm but expects to see "nimbler" agreements to mitigate future risks.
Data looks set to play an increasingly important role with rights holders having to meet the growing expectations of brands.