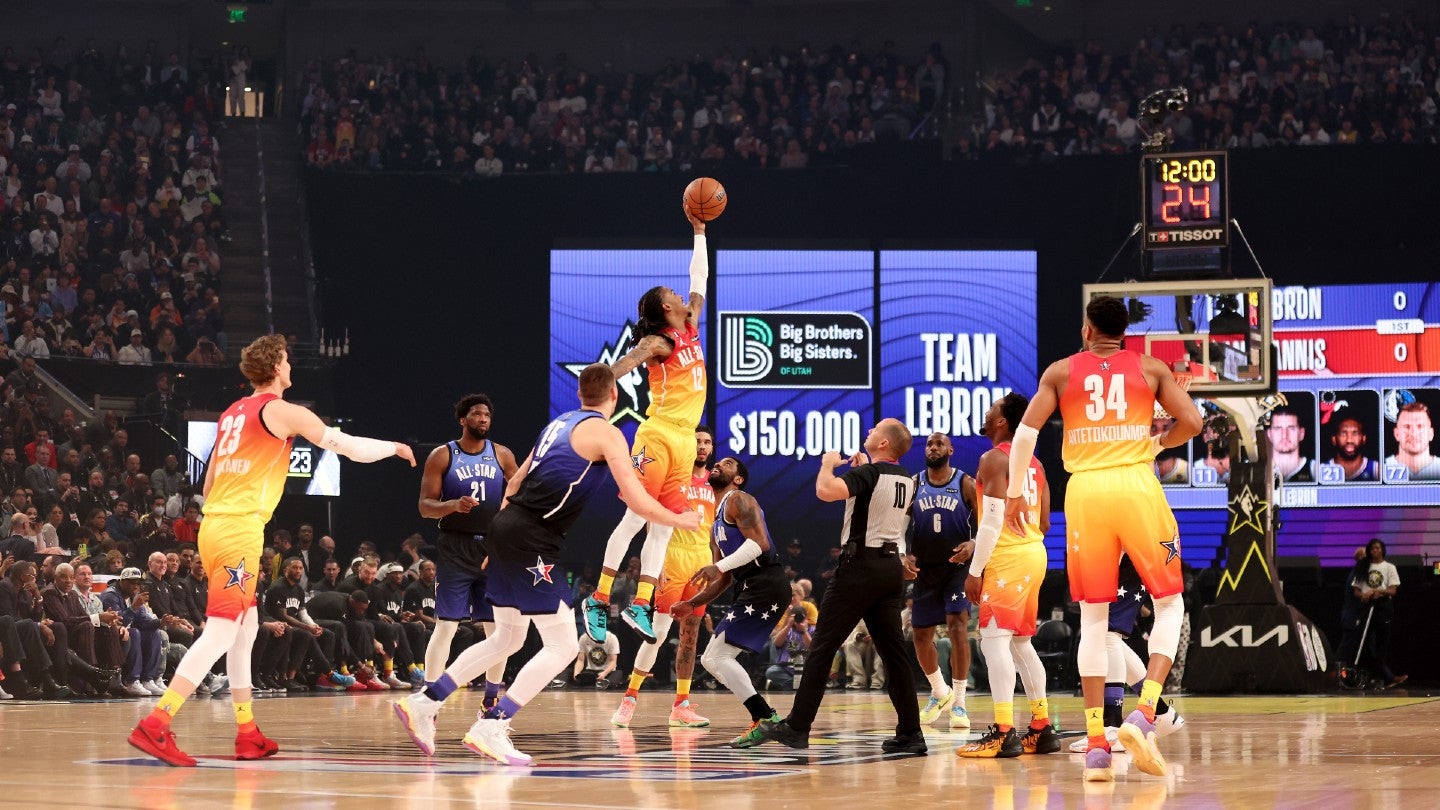 All-Star games are traditional in North American sports. On paper, the idea of the best players competing against one another sounds like a fan's dream, with superstars teaming up.
In practice, however, the NBA's All-Star Game has become trite, boring, and predictable. Fans are no longer surprised by the lack of effort and general lack of interest from the players, and the NBA needs to think fast to turn the ship around.
Earlier versions of the game were often considered a real treat for fans. Showcasing the best players in the league, the game was a chance to see legends directly competing, and the game itself was known for its intensity and competitiveness. Players treated it as important as any other game in the season, which led to close and exciting contests.
Players like Michael Jordan and the late Kobe Bryant were famed for their effort during the games, despite it essentially being meaningless in the grander scheme of things. For them, it was considered to be a point of pride to put on the best show available for fans.
However, the landscape of the league has changed significantly since, and modern players don't look at the game with the same importance that older generations do.
'Load management' is a term that has become widespread in its usage among the NBA and its media. It essentially involves star players occasionally taking games off during the regular season for rest to ensure that they are in the best shape available for the postseason.
The grueling demands of an 82-game regular season have often led to injuries in the playoffs, the most decisive part of the season.
Legendary San Antonio Spurs coach Gregg Popovich is believed to be the 'godfather' of load management after resting his star players for a nationally televised trip to the LeBron James-led Miami Heat in 2012 in what was anticipated to be a star-studded matchup.
Popovich was later fined by the NBA for his actions and has fired back at claims that he started the movement, stating that he was merely managing the minutes of his older players who couldn't play at the same intensity.
While many agree with Popovich's sentiments, there is now a common belief that modern players have taken things too far by constantly resting. This has made scheduling national games a nightmare for US broadcasters as they have to speculate on what they think the most exciting games are well ahead of time.
There have been situations where nationally televised games have had lower viewership numbers due to players being unavailable, which admittedly is a given when injuries occur. However, the greater concern lies with players who may not actually be hurt but simply want a break to cope with the demands of the modern NBA.
Players from previous generations have been universally critical of load management, with many arguing that playing all 82 games of a regular season is a rite of passage within the league.
Others have been more understanding of the demands of a modern NBA player, with the number of games in a regular season being deemed excessive by some, especially factoring in the constant travel.
Fatigue is often considered to be a factor in the playoffs, with some players unable to produce similar outputs compared to the regular season.
This was notable particularly with James Harden during his Houston Rockets tenure. Winning one MVP honor and being in the running for several more over the course of a few years, Harden often seemed to run out of steam in the playoffs.
However, others have blamed different factors for his losses, such as an inability to deal with pressure on the biggest stage. Ultimately, no one but Harden can know what's to blame here, but a packed schedule is unlikely to be helping with a player's physical condition during the playoffs.
Load management has also been criticized for the lack of effort the players seem to give during the All-Star Game. This year's edition was heavily criticized on social media, with many fans claiming that it was among the worst they had ever seen.
This was reflected in the viewership as TNT and TBS drew a record-low audience of 4.6 million for the game.
Denver Nuggets coach Mike Malone, who coached one of the competing teams, was similarly scathing in his assessment of the game. For much of the contest, players were standing around motionless, while others just took constant shots.
All-Star Weekend is considered to be a showpiece NBA mid-season event but fans seem to be rapidly losing interest. In the last decade or so, the only All-Star Game that seemed truly popular with fans was the 2020 edition, which saw a change to the scoring format and took place only two weeks after Bryant's tragic death.
The game was close and saw a significant amount of effort from both teams defensively, something that is now very clearly lacking. An incentive is needed but it's difficult to think of what could motivate players enough to give it their all and risk injury at a crucial part of the season.
It's likely that we will see even lower viewership numbers for next year's edition, but while scrapping the All-Star break would seem unthinkable for a North American sports league, it's difficult to see how the NBA can correct this situation.
Image: Tim Nwachukwu/Getty Images