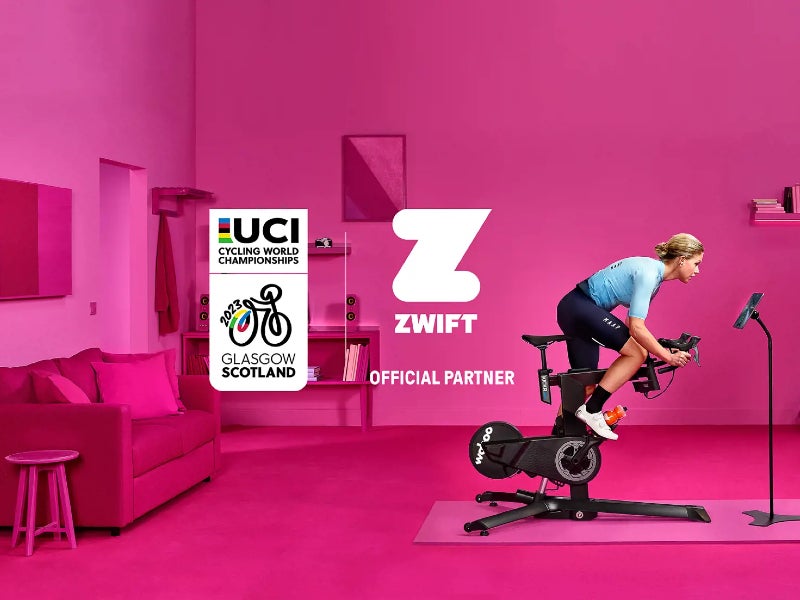 Zwift, the US-based online fitness platform, has added next year's Cycling World Championships to its sponsorship portfolio after striking an agreement with governing body the International Cycling Union (UCI).
Under the agreement, Zwift will become the official virtual fitness platform for the inaugural edition of the quadrennial event, which will take place in Glasgow, Scotland, between August 3 and 13, 2023.
Next year's championships are set to bring together 13 existing individual World Championship cycling disciplines for the first time.
The UCI said the partnership would help "significantly widen the Championships' reach and engagement with Zwift's global audience by driving mass participation and increased activity on the virtual platform."
Zwift already has a strong presence in cycling having teamed up with UCI for the Cycling Esports World Championships in 2020 and agreed a multi-year deal to become the presenting sponsor of the Women's Tour de France. Earlier this year, it signed up to become the presenting partner of the Paris-Roubaix Femmes, the women's edition of the one-day professional road cycling race.
Eric Min, chief executive and co-founder of Zwift, said: "With a purpose-led vision and future legacy that aligns so closely with our own, I'm delighted that we have partnered with the inaugural multi-discipline 2023 UCI Cycling World Championships in Glasgow and across Scotland.
"We hope to help amplify the message of 2023 UCI Cycling Worlds and encourage cyclists from around the world to join in the festivities and be part of the 2023 UCI Cycling World Championships."
Zwift joins fellow Cycling World Championship sponsors Mapei, Santini, Shimano, Sportive Breaks, and Tissot.
As part of the event's hosting contract with Scotland, it is stipulated that about half of the sponsorship inventory will be jointly sold by the UCI and local organizers, a major change from the model used for standalone UCI World Championships.
Under that agreement, 25% of the has been reserved for UCI global sponsors, while another 25% is for the institutional government, council, and stakeholders assisting with the funding of the event. The other 50% is being sold by the UCI and UK-based sports marketing agency Inside Edge, the event's global sponsorship sales agency.
The budget for the inaugural event is £46.5 million ($55 million) and includes financial commitments from the Scottish Government (£13 million), the UK government, Glasgow City Council (£12 million), and UK Sport (£4 million).
Trudy Linblade, chief executive of the event, said: "Having a diverse community come together virtually in pursuit of an enjoyable, immersive and social fitness experience in the virtual world ahead of the 2023 UCI Cycling World Championships is an innovative way to reach new audiences around the world and share with the excitement of combining 13 UCI World Championships into one mega-event over 11 days in August 2023."