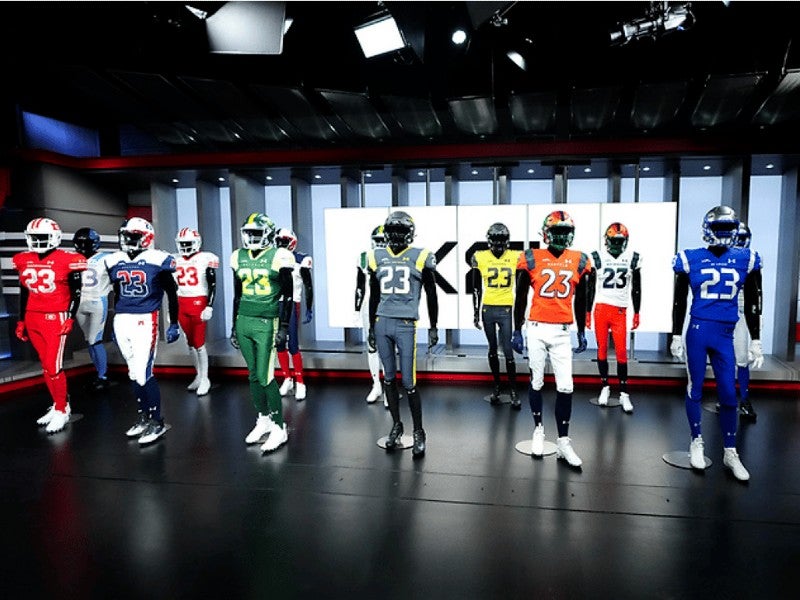 The XFL, the US-based American football league set to return in 2023 after a three-year hiatus, has unveiled sportswear brand Under Armour as its official uniform partner.
For the 2023 season, Under Armour will be the exclusive provider of all on-field uniforms, including jerseys, base layer, sideline, and training apparel for all XFL teams.
In partnership with Under Armour, the XFL yesterday (December 7) revealed its new team uniforms, including home and away jerseys.
Dany Garcia, XFL chairwoman and owner, said: "Over the past decade, we have fostered a prolific partnership with Under Armour. They have proven to be a best-in-class partner and true innovators in the high-performance sports space. Integrating them into the XFL as official uniform partner is a natural extension of this long-standing relationship.
Sean Eggert, Under Armour senior vice president of global sports marketing, added: "As a company that was born on the gridiron, we are excited to support the XFL, its athletes, and fans on this new venture. Our partnership with the league is an evolution of Under Armour's commitment to support athletes on their journey to compete in sport."
Under Armour has an existing endorsement deal with XFL owner Dwayne Johnson.
The XFL is due to kick off on February 18 next year, six days after the 2022 NFL season concludes in Glendale, Arizona, at Super Bowl LVII.
It will be broadcast domestically across the ABC, ESPN, and FX networks through a four-year rights deal with US media giant Disney, which is their parent company.
Last month (November), the league announced the names and logos of the eight teams that will take to the field in February.
The XFL has been working towards a relaunch since it was bought by a group including US investment firm Redbird Capital Partners, Johnson, and Dany Garcia in 2020. The $15-million deal included all the intellectual property such as team names and colors.
It was first relaunched by WWE majority owner Vince McMahon in February 2020 – 19 years after its first and only other season in 2001 – but was suspended five weeks into its 10-week season due to the coronavirus pandemic and filed for bankruptcy.