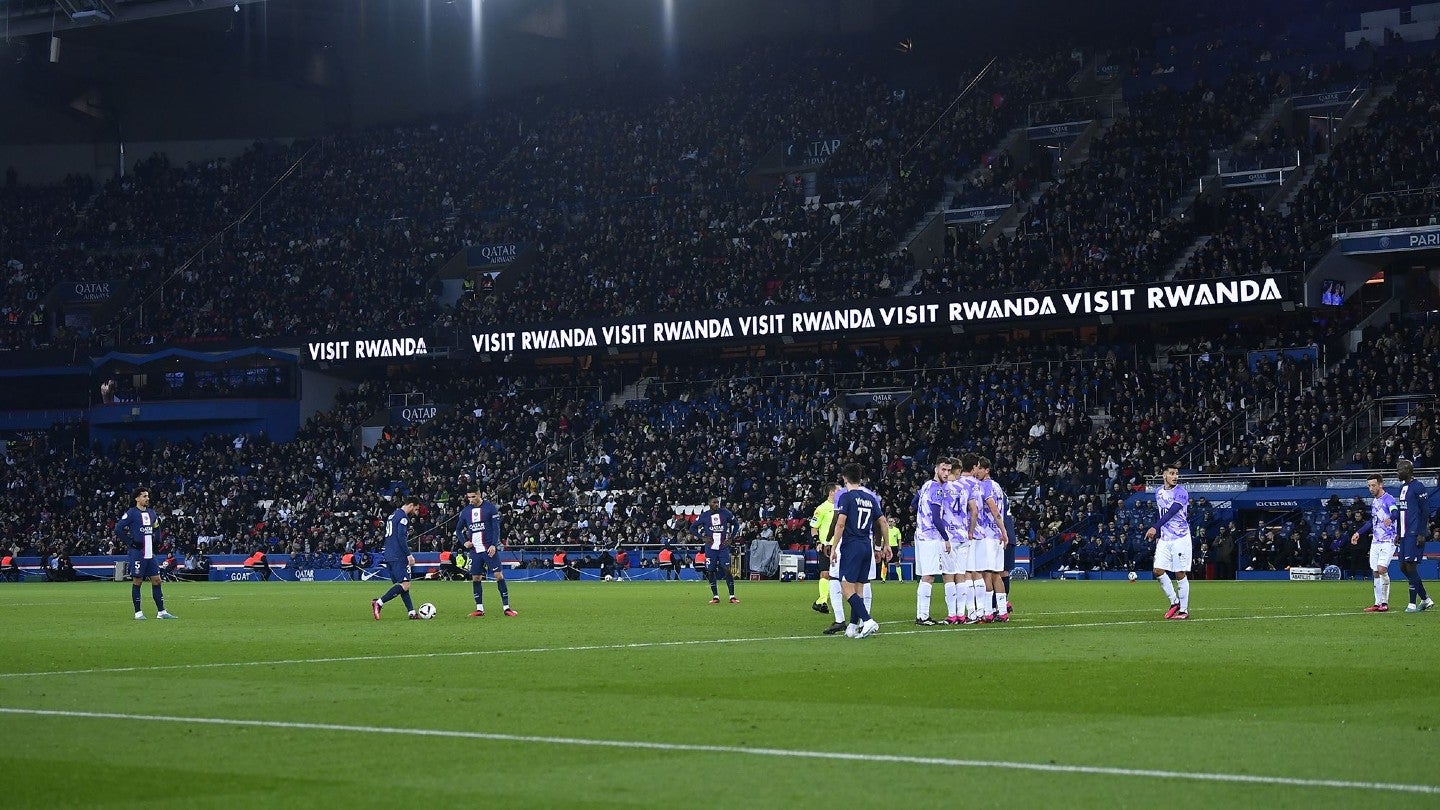 The Visit Rwanda tourism brand will continue to be showcased by French soccer giants Paris Saint-Germain (PSG) through a two-year partnership extension with the Rwanda Development Board.
The renewal, running through 2025, will see the Visit Rwanda logo remain on the men's team training and warm-up kit, as well as the playing kit sleeve of the women's team.
The brand will also maintain a strong presence at home ground Parc des Princes on matchdays, with all tea and coffee served exclusively from the East African nation.
As part of the deal, the club will continue to promote Rwanda as a top tourism and investment destination across its digital platforms.
Cynthia Marcou, PSG's sponsorship director, said: "In working with Visit Rwanda, Paris Saint-Germain has taken sponsorship to the next level in terms of standards and synergy.
"Together we have developed extremely creative activations in which our players and ambassadors regularly take part. Such events enhance the image of Rwanda, a forward-looking country, and raise the profile of Rwandan tourism, allowing it to position itself as a global leader."
The renewal builds on the pair's first three-year deal struck in 2019 reportedly worth between €8 million ($8.78 million) and €10 million.
As part of the partnership, last year several first-team men's players and their families visited Rwanda for three days. The partnership also saw the launch of the PSG Academy Rwanda in 2020, offering training sessions to children.
Michaella Rugwizangoga, the Rwanda Development Board's chief tourism officer, said: "There is more to the partnership between Visit Rwanda and Paris Saint-Germain than just promoting Rwanda as a destination. It aims to create synergies in culture, fashion, the arts, and football development, which is very important to us.
"Paris Saint-Germain provides us with an amazing platform to present the very best of Rwanda to millions of fans around the world. We are delighted to be able to continue our partnership and to do even more things together."
The Rwanda Development Board's other major soccer partnership is with English Premier League club Arsenal, which runs until the end of the 2024-25 season. That partnership sees the Visit Rwanda logo appear on the sleeve of the men's first team and on in-stadia branding.
The Rwanda Development Board is hoping its sports partnership will take Rwanda's tourism revenues to $800 million by 2025 after welcoming more than one million visitors from abroad in 2022, which brought in almost $500 million in revenues.