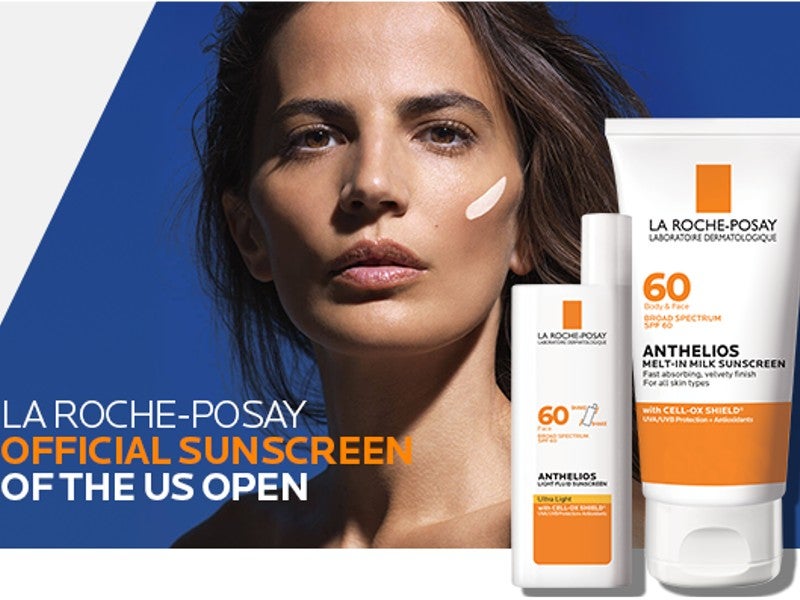 The United States Tennis Association (USTA), the national governing body and organizer of the US Open grand slam, has added French sunscreen brand La Roche-Posay to its portfolio of sponsors ahead of this year's tournament.
Under the agreement, La Roche-Posay becomes the US Open's official sunscreen partner and during the two-week tournament will feature a sun safety education booth, as well as two product sampling kiosks on the grounds of the USTA Billie Jean King National Tennis Center in Queens, New York.
La Roche-Posay products will also be stocked and sold in US Open Collection stores and will be provided to players competing in the tournament.
Guillaume Monsel, La Roche-Posay's vice president of marketing, said: "In 2010, La Roche-Posay introduced the SOS – Save Our Skin campaign to inform the public about the dangers of UV rays and the importance of practicing sun-safe behaviors in order to prevent skin cancer.
"La Roche-Posay has strategically partnered with the US Open to advance our mission and promote sun-safe behaviors on and off-court with complimentary sunscreen and skin education available to all attendees at the US Open."
This is the latest deal to be struck by the USTA for the flagship US Open.
Yesterday, the governing body announced a five-year renewal of its now 30-year partnership with global technology company IBM will see new features added to the tournament's website and app.
In the run-up to this year's edition, the USTA has also secured a multi-year partnership with luxury car brand Cadillac and a tourism sponsorship deal with Explore Asheville.
Deanne Pownall, USTA managing director of corporate partnerships, said: "La-Roche-Posay is an industry leader, committed to producing the best and most advanced sunscreen products.
"It is fitting that they are the first ever official sunscreen partner of the US Open. Our fans and players will benefit from having La Roche-Posay products available to them while they are on-site or on-court."
The US Open begins next week (August 29) and will run through September 11. Qualifying for the event starts today (August 23).
This year's edition has already seen record ticket sales following sporting icon Serena Williams' announcement that she will retire after the event.
The USTA also announced last week (August 19) a record prize purse for this year's edition, which will see funds top $60 million for the first time, covering both the men's and women's tournaments.
The figure represents a $2.5-million increase from 2021 and will see the men's and women's singles champions each receive $2.6 million, up $100,000 from last year, while the beaten finalists will take away $1.3 million, up $500,000.