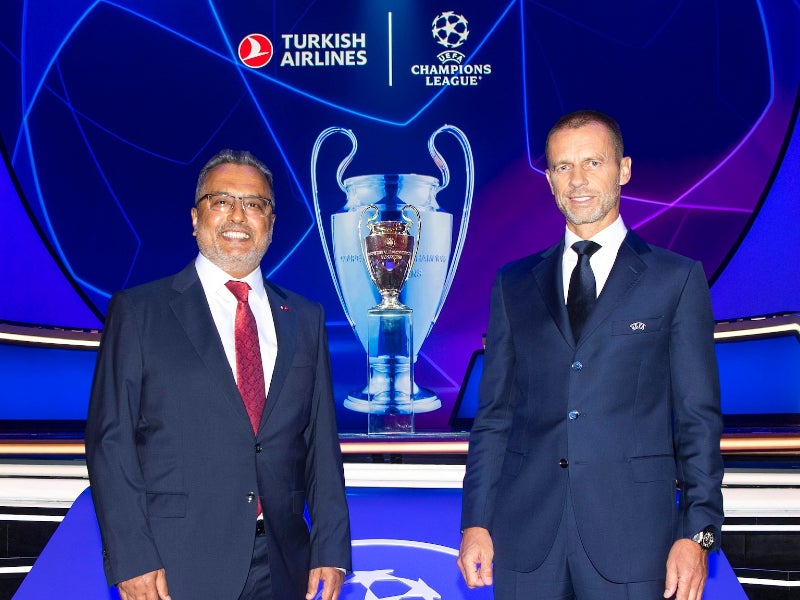 Turkish Airlines, the country's national carrier, has today (September 5) been unveiled as a new sponsor of the UEFA Champions League, European soccer's elite club competition.
As part of the deal, Turkish Airlines will also partner with the UEFA Super Cup, the UEFA Futsal Champions League finals, and the UEFA Youth League finals.
The company becomes the first airline to sponsor the Champions League.
The agreement was brokered by Team Marketing, UEFA's agency for commercial rights.
Through the tie-up, Turkish Airlines will receive visibility through broadcast backdrops and in stadia, including on extensive perimeter advertising, website, and social media.
This season's Champions League final will take place at Istanbul's Atatürk Olympic Stadium on June 10, 2023.
Turkish Airlines becomes the eighth official global sponsor of the competition in the current commercial cycle joining Heineken, PlayStation, PepsiCo, Mastercard, FedEx, Just Eat Takeaway.com, and OPPO, which was added in July.
Turkish Airlines previously partnered with UEFA in December 2015 becoming the first airline to partner with the continental body as an official sponsor of the 2016 European Championship national teams tournament in France.
Guy-Laurent Epstein, UEFA marketing director, said: "The UEFA Champions League is the world's greatest club competition, and we are delighted to have Turkish Airlines on board as a partner.
"We both share a global reach, connecting fans across continents and we are delighted that their debut season as a partner will culminate in the final of this prestigious tournament taking place on home soil in Istanbul. We both share similar passions, and truly believe that the sky is the limit when it comes to our partnership."
In February, UEFA extended its global commercial rights sales deal with Team.
The firm has controlled rights to the top-tier pan-continental men's club competitions, including the Champions League, for the last 26 years.
However, in a key change from previous years, rights for the 2024-27 cycle, (covering both broadcast and sponsorship packages) in the US will be split away from the worldwide deal between UEFA and Team as the governing body allocated a country-specific package to marketing agency Relevent Sports.
Conrad Wiacek, Head of Sport Analysis at GlobalData, commented: "Turkish Airlines becoming the first airline partner of the UEFA Champions League suggests the bounce back from the Covid-19 pandemic is well under way for the airline industry. The deal will be worth $60 million per year and a sponsorship of this value highlights the strength of sponsorship as a means of brand building.
"Joining the likes of Emirates, Delta Airlines, and Etihad as a sponsor of major sporting properties suggests Turkish Airlines is keen to highlight its recovery.
"While the COVID pandemic crippled the airline industry, which was a strong sponsorship sector pre-pandemic, this deal signifies a return to health for a traditional sponsorship sector. Cryptocurrency partnerships were worth over $566.87 million annually at the end of 2021 compared to airlines which were spending $234.24 million at the end of 2021 but with the collapse of cryptocurrencies in 2022, the sector is evidently reassessing its marketing budgets and strategies, leading to questions whether it will continue to be the safe haven it became for the sports industry during the pandemic."
Meanwhile, international cryptocurrency platform Crypto.com has pulled out of a lucrative sponsorship deal for the Champions League, according to multiple reports.
The deal, which would have been worth almost €500 million over five seasons, is understood to have fallen through at the final stage of negotiations due to concerns about increased crypto regulation.
The concerns are thought to relate to potential legal trading restrictions.
Crypto.com has developed into one of the biggest crypto platforms and claims to have more than 10 million users around the world.
The firm, which is based in Singapore, has signed several big-money sponsorship deals in sport with the likes of motor racing's Formula 1, soccer's 2022 FIFA World Cup, mixed martial arts' UFC, and the Ice Hockey World Championship.
Crypto.com's biggest deal came last November as it secured a 20-year, $700-million naming rights agreement for the Staples Center in Los Angeles, home of the NBA's Los Angeles Lakers and Los Angeles Clippers.
UEFA declined to comment to GlobalData.
Jake Kemp, analyst at GlobalData Sport, commented: "The cryptocurrency sector has been in freefall for a number of months, with several brands in the sector forced into terminating sponsorship deals to save money, whilst measures like this have not been enough for others. Crypto.com established itself earlier this year as a crypto brand leader and standout name in the densely populated market.
"Despite the market crash, Crypto.com remains a big spender in sports sponsorship, with a current portfolio of 17 active deals, equating to an estimated annual pay-out of $211.95 million. The financial stability of the market in these times may cause questions to be asked of the brand's ability to continue to pay out on all these deals moving forward, but for now they remain untouched.
"The state of the market may have played some small role in the decision to not move forward with the UEFA Champions League deal, though the complexity of trading in certain European markets has been cited. The deal was expected to run for five seasons, at a reported value of $113.29 million a year, a deal which would have added over 50% to its annual sponsorship bill.
"The soccer competition itself has already looked to move on away from the fallout from this deal, announcing the new major partnership with Turkish Airlines. The new addition brings the tournament's related major partnerships for this season up to 12. These 12 deals are estimated to earn UEFA $486.33 million a year, highlighting how much money the organization is still set to profit this season despite the loss of the Crypto.com deal.
"There has been some resistance from the crypto market in recent weeks, however, with GlobalData recording 11 crypto-based deals across August 2022. Most of these deals have been signed within the world of soccer."
Elsewhere, UEFA has issued fines to eight clubs for breaching financial fair play (FFP) rules.
Half of the clubs came from Italy as AC Milan, Inter Milan, Juventus, and AS Roma were all found guilty of not complying with "break-even" rules, along with France's Paris Saint-Germain (PSG), AS Monaco, and Olympique de Marseille, and Turkey's Besiktas.
The teams have been ordered to pay a total of €172 million, €26 million (15%) of which is an "unconditional" amount that must be paid in full while the remaining balance of €146 million (85%) is conditional depending on the clubs' "compliance with the targets stated in the respective settlement agreement."
The biggest fine was handed to PSG, which will pay an unconditional €10 million and could pay as much as €65 million depending on future compliance.
The second largest unconditional fine was given to Roma (€5 million), followed by Inter (€4 million), Juventus (€3.5 million), and Milan (€2 million).
Besiktas will pay €600,000, while Monaco and Marseille were each fined €300,000.
These amounts will be withheld from any revenues the clubs earn from participating in UEFA club competitions or paid directly.
The sanctions applied to clubs that played in Uefa's 2021-22 club competitions and came after analysis of the financial years in 2018, 2019, 2020, 2021, and 2022.
The governing body added that the financial years in 2020 and 2021 were "subject to the Covid emergency measures aimed at neutralizing the adverse impact of the pandemic."
As a result, those years were assessed as "one single period and clubs were allowed specific Covid-19 adjustments, and to average the combined deficit of 2020 and 2021."
The break-even requirement instructs clubs not to spend more than the income that they generate, and that they must balance their books over the course of three years.
UEFA also told 19 other clubs they will be "monitored closely" in the coming years. This included Spain's Barcelona, Sevilla, and Real Betis, England's Chelsea and Manchester City, Italy's Napoli and Lazio, France's Lyon, and Germany's Borussia Dortmund.