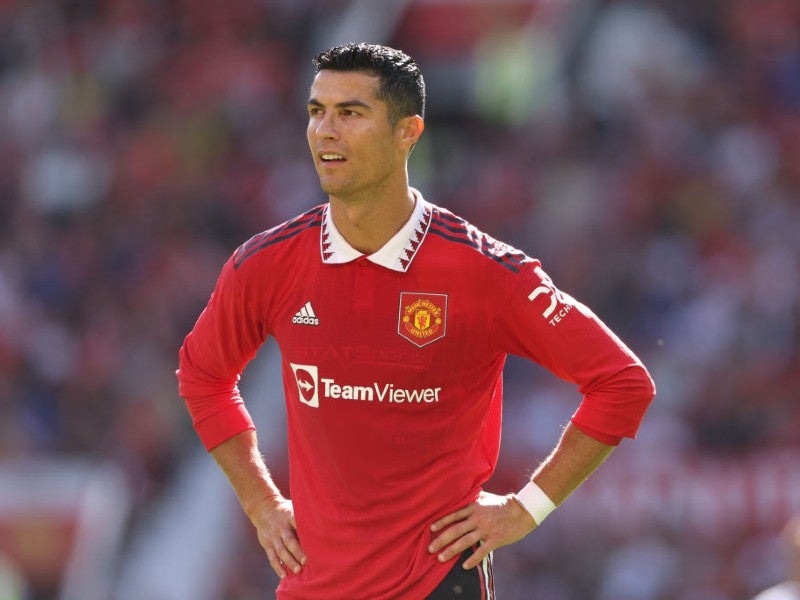 TeamViewer, the global technology company, has decided not to renew its shirt sponsorship agreement with English Premier League soccer giants Manchester United when their long-term contract expires in 2026.
The firm said the decision was made due to a shift in its marketing strategy and has made the announcement despite the deal still having another four seasons to run.
TeamViewer partnered with the club in a five-year agreement from the start of the 2021-22 season, understood to be worth in region of £47 million per year ($57 million).
The Germany-headquartered firm replaced Chevrolet, the US car manufacturer owned by General Motors, which had previously been Manchester United's shirt sponsor in a seven-year deal worth a total of $559 million.
In a statement, TeamViewer said: "The partnership (with Manchester United) has clearly boosted the international recognition of the brand over the past year. Nevertheless, the company has decided to re-evaluate its long-term marketing strategy."
TeamViewer's share price has dropped more than 70% since the company's partnership with the Premier League side was announced in March 2021.
The company's chief executive Oliver Steil explained: "The current macro-economic environment [including the effects of the pandemic and the war in Ukraine] has made decision-makers more cautious, and has postponed investments."
It is understood that several shareholders were against the lucrative sponsorship agreement and the impact it would have on its finances.
Last month, Manchester United unveiled international IT services firm DXC Technology as their new sleeve sponsor in a multi-year deal.
Blockchain engagement company Tezos is the team's training kit partner, while German sportswear giant Adidas is their kit supplier.
Conrad Wiacek, head of sport analysis at GlobalData, commented: "Sport sponsorship has long been seen to be a significant value driver for brands looking to engage a passionate and dedicated audience but this announcement from TeamViewer suggests that premium sponsorship may be losing its allure.
"While Manchester United will believe that their brand still has significant value, this is the second major sponsorship signed in a row that has seen immediate repercussions. The person who signed their previous $70 million a year deal at Chevrolet lost their job as a result, and now the CEO at TeamViewer saying they will not renew despite an increase in brand awareness, which has come as a detriment to share price, will be seen as a significant blow to the prestige of the Manchester United and sport sponsorships in general.
"Liverpool and Chelsea both renewed their front-of-shirt sponsorships for equivalent value as their previous deals with Standard Chartered and Three, respectively, suggesting that we may have reached the peak of brand spend for premium sports sponsorship properties. DigialBits defaulting on their payments to Inter Milan for their $100 million deal, along with the wider sector crash, also suggests that the cryptocurrency sector is unlikely to be the economic sponsorship savior many had hoped for.
"Given the success and growth of women's sport, especially soccer, many brands may view this as a more cost-effective alternative while still delivering significant value."
Meanwhile, Manchester United on Thursday (August 4) named Qualcomm, the US communication technologies firm, as a global partner in a multi-year deal ahead of the start of the 2022-23 season.
The two parties have agreed a "multi-global strategic collaboration", with Qualcomm Technologies to advise the club on "planned improvements to mobile connectivity" at their Old Trafford home.
The collaboration is also set to create events and experiences for fans at Old Trafford, with Qualcomm's Snapdragon technology brand to front up the partnership and be the main logo on show.
The events and experiences will be "powered by the premium performance that Snapdragon platforms deliver", both organizations have said.
The club's suggestion that the partnership will result in enhanced mobile connectivity is of particular note given United are currently in internal conversations around the best way to modernize and upgrade Old Trafford – options include building a completely new ground off-site, doing the same on-site, or undertaking a substantial renovation and upgrading process within the existing framework.
The club held meetings with multiple architects and engineering firms in the latter quarter of 2021, and appointed a team of consultants, led by premium experiences company Legends International, in April.
In February, Qualcomm entered into a partnership with Ferrari, one of the traditional powerhouses of motor racing's prestigious Formula 1 (F1) series.