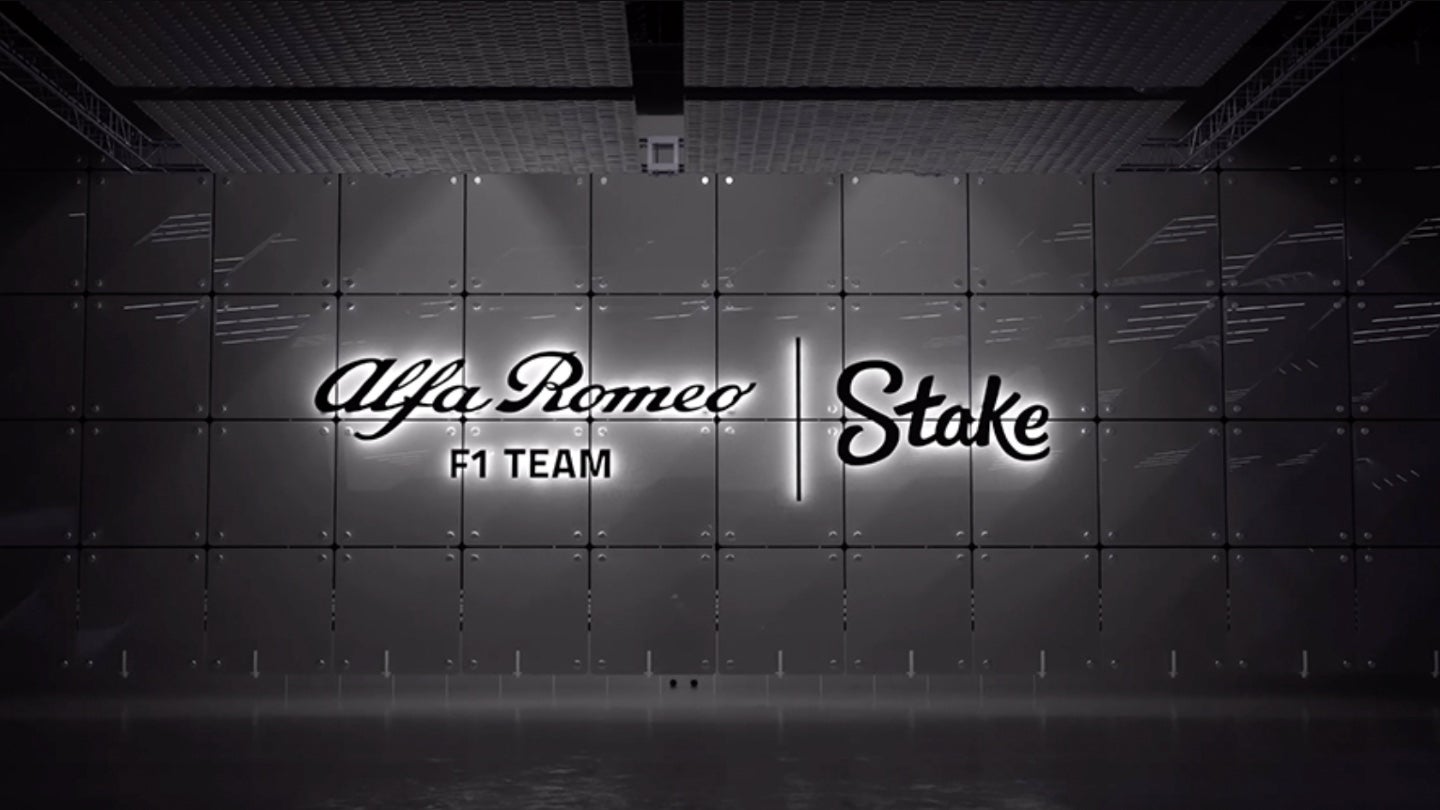 Stake, a betting-focused lifestyle and entertainment brand, has struck a deal to become a joint title sponsor of the Alfa Romeo team from motor racing's iconic Formula 1 (F1) series.
The team, owned by Swiss automotive heavyweight Sauber Group, will be known commercially as Alfa Romeo F1 Team Stake from the start of the 2023 season in Bahrain on March 5.
The multi-year tie-up, announced today (January 27), has been described by Sauber as "record-breaking" and comes with Alfa Romeo set to let its agreement with the automotive group expire at the end of 2023. The Stake deal will, therefore, go some way to smoothing the transition period when this year's season comes to a close.
As Stake comes in, Alfa's joint title sponsor for 2022, Polish oil and petrol retailer Orlen, has made its exit. Through an announcement also made today, Orlen has become a principal partner of the Scuderia AlphaTauri F1 team instead.
Orlen's branding will feature on "multiple prime locations" on the 2023 AlphaTauri car, as well as on driver apparel.
The retail firm now has the "perfect marketing platform to continue to increase brand awareness and facilitate a range of activations internationally for the brand," according to AlphaTauri.
Orlen first partnered with Sauber for Alfa Romeo ahead of the 2020 campaign and then struck two season-long renewals up to the end of last year's campaign.
Sauber, meanwhile, has said that, alongside the F1 calendar this year and into the future, Stake will create "a calendar of worldwide experiences and events …"
The partnership "aims to increase Stake's recognition to a broader demographic that will enable the brand to diversify its fanbase."
Sauber's F1 team has been known as Alfa Romeo Racing since the beginning of the 2019 season through a partnership that initially saw the team renamed Alfa Romeo Sauber F1 in 2018.
The outfit will be associated with German car manufacturer Audi when that heavyweight makes its F1 debut in 2026.
Audi will buy a stake in Sauber Group, which will see the Swiss racing outfit compete as the Audi factory team from the 2026 F1 season.
Bijan Tehrani, Stake's co-founder, said: "Alfa Romeo F1 Team Stake will expand our opportunities for fan engagement through brand integration and activation. We are fully committed to enhancing race weekends by creating unique experiences for all Alfa Romeo F1 Team Stake fans, growing audience engagement in the digital arena."
Alessandro Alunni Bravi, Sauber Group's managing director, added: "We welcome Stake as a new co-title partner for the team in what represents the start of a new era for us both. Formula 1 has seen a huge increase in interest over the last few years and the arrival of brands such as Stake are representative of the massive exposure our sport can offer."
Franz Tost, Scuderia AlphaTauri's team principal, also commented on his outfit's tie-up with Orlen, saying: "I'm pleased to be starting the 2023 season with such positive news for the team. Orlen is one of the leading oil and gas companies in central Europe and this partnership will allow them to further increase their brand awareness, through the global platforms we offer as a team."
Alfa Romeo finished the 2022 season in sixth place in the 10-team constructors' championship, with AlphaTauri down in ninth.
AlphaTauri is the sister team of the Red Bull outfit, which bought it in 2005, and was rebranded to AlphaTauri (a Red Bull-owned fashion brand) from its previous name Toro Rosso in advance of the 2020 F1 season.
Other AlphaTauri sponsors include Honda (engine supplier), Epicor, Pirelli, GMG, Randstad, and Siemens.
The Alfa Romeo commercial partnership stable, meanwhile, also features Assos, Edelweiss, Ferrari Trento, Puma, Singha, and Socios.
In mid-December, Andreas Seidl was confirmed as that team's new chief executive, with previous incumbent Frederic Vasseur joining Ferrari.