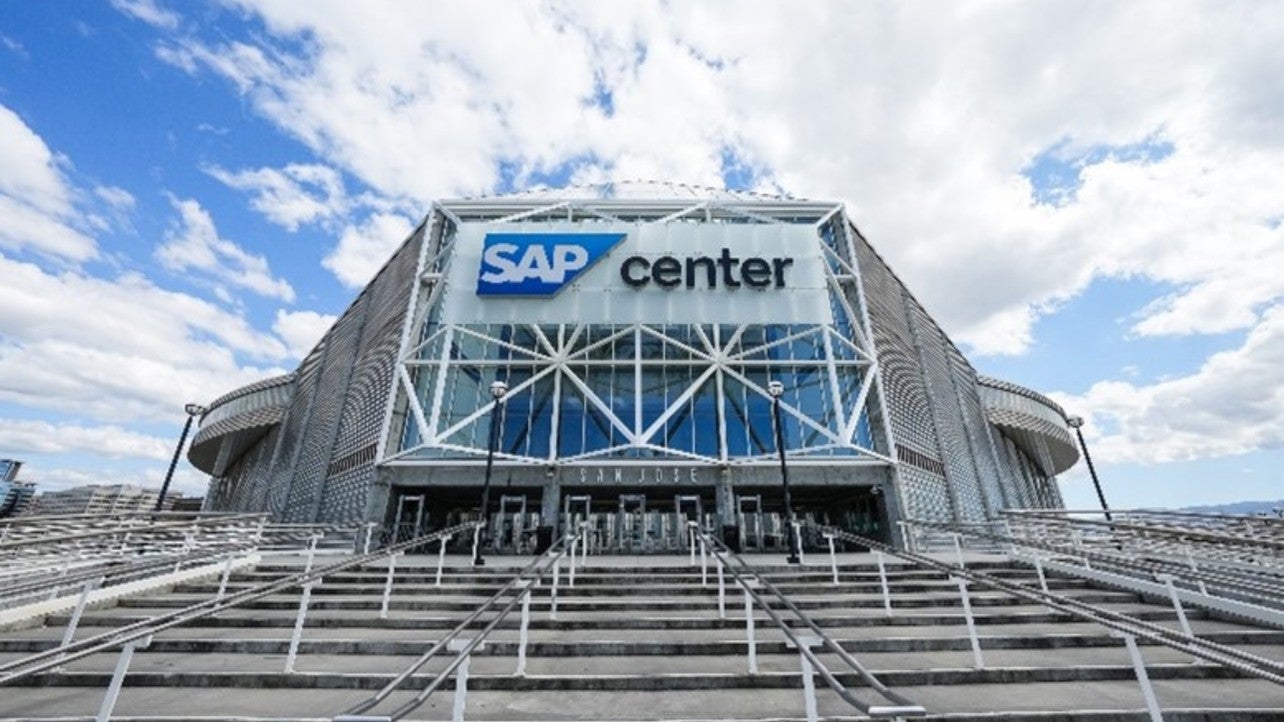 Software giant SAP has extended its arena naming rights agreement with the San Jose Sharks, of North American ice hockey's NHL, for another five years.
Under the renewal, the Sharks' home will continue to be known as SAP Center at San Jose until 2028.
It will take SAP's naming rights sponsorship up to a decade and a half, with the Germany-based firm having first partnered with the Sharks in 2013.
As part of an expanded partnership, SAP and Sharks Sports & Entertainment (SSE), the team's parent company, will create the Sharks Innovation Challenge Series, featuring third parties competing to develop solutions for business or community problems.
Winning teams will receive an award and the opportunity to pitch for funding for their ideas. SAP will also become presenting sponsor of the Sharks DI&B Partnership Program, in which local Bay Area businesses can become a Sharks partner at reduced or no cost.
Additionally, SAP will continue to serve as the Sharks away games helmet decal partner, a deal first announced in 2021.
SAP will continue to work with the franchise on community initiatives and donate funds to local non-profit organizations.
The firm also provides technology solutions at the Sharks' home arena including its multiple cloud offerings which the NHL outfit said has helped to "optimize business operations and enhance the fan experience."
The software company has a partnership with the league and has developed multiple applications including the SAP-NHL Coaching Insights App for iPad which integrates data from NHL Edge, the league's puck and player tracking system.
SAP and the NHL recently developed a cloud-based solution called NHL Venue Metrics that enables the league to measure and analyze the carbon footprint generated by its clubs and arenas across various areas, including energy, water, waste, and recycling.
Through the extension, SAP continues as a member of the Teal Inner Circle, an exclusive group within the SSE roster of global partners that "share the organization's vision to pioneer and co-innovate the future of sports."
Other members include Kaiser Permanente, Western Digital, Zoom, and Tech CU.
Teal Inner Circle members receive benefits focused on "access, recognition, and assets by leveraging the Sharks' story-telling capabilities."
Sample benefits include road trips with the team, intimate events with Sharks team members and management, and special opportunities for employee engagement.
Jonathan Becher, president of Sharks Sports & Entertainment, said: "SAP exemplifies a true partner who shares a common vision, values, and focus on innovation.
"With the extension of our partnership, we look forward to even more collaboration, focused on pioneering the future of sports and entertainment and improving the lives of those in our community.
Yaad Oren, managing director of SAP Labs US and head of SAP Innovation Center Network, added: "Over the years, our involvement with Sharks Sports & Entertainment has remained focused on using leading technology to deliver enhanced insights that help the organization achieve its business goals, grow its global fan base, and give back to the local community.
"With our long-standing partnership, we are excited to continue evolving our commitment to cultivating innovation in the Bay Area at the SAP Center."