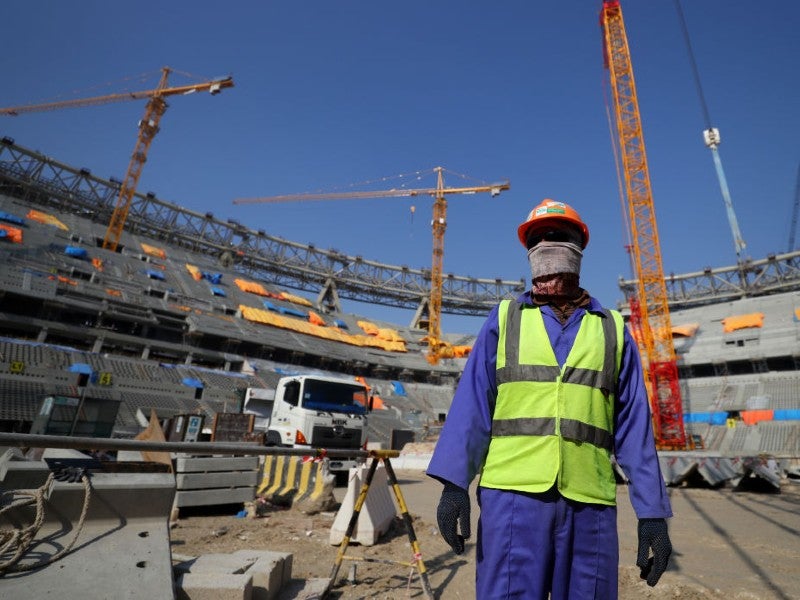 Human rights groups have called on sponsors of FIFA and the upcoming Qatar 2022 World Cup to use their influence to pressure soccer's world governing body into compensating migrant workers for the abuse they suffered during the preparations for this year's event.
Amnesty International, Human Right Watch, and FairSquare announced they have received supportive replies from AB InBev, the parent company of Budweiser, Adidas, Coca-Cola, and Mcdonald's on their call to provide migrant workers and their families with "compensation and other remedies."
However, 10 other World Cup sponsors and FIFA partners including Visa, Hyundai-Kia, Wanda Group, Qatar Energy, Qatar Airways, Viva, Hisense, Mengniu, Crypto, and Byju's had not responded to the group's request for comment.
The three human rights groups said support should be given to "migrant workers and their families who suffered death or injury, wage theft, or debt from illegal recruitment fees while preparing for the tournament."
The call comes after Amnesty and other rights groups requested in May that FIFA earmark $440 million to compensate migrant workers in Qatar, with FIFA responding that it was assessing the proposition.
Minky Worden, Human Rights Watch director of global initiatives, said: "Brands buy rights to sponsor the World Cup because they want to be associated with joy, fair competition, and spectacular human achievement on the playing field – not rampant wage theft and the deaths of workers who made the World Cup possible.
"With only two months until the first ball is kicked, sponsors should use their considerable leverage to press FIFA and Qatar to fulfill their human rights responsibilities to these workers."
In their latest release, the group referenced a YouGov poll of more than 17,000 adults from 15 countries, commissioned by Amnesty International, in which 66% backed calls for FIFA sponsors to press for compensation from the governing body for migrant workers.
The group has also called on national federations to use their status to pressure FIFA on the issue, while FIFA should back initiatives established to support migrant workers.
Worden added: "FIFA was complacent and enabled many of these predictable and preventable abuses and deaths.
"Predictable and Preventable is the title of a recent Amnesty International report on this topic. The harms that have taken place cannot be undone. Remedy, which means that you make it right, is the least FIFA and Qatar can do.
"Sponsors, football associations, athletes, and fans all have a vital role to play using their leverage over FIFA and Qatari authorities to ensure that is remedy is provided."
German Football Association president Bernd Neuendorf this week made a similar call for the Qatari government and FIFA to do more to address human rights concerns.
He said: "I have two specific demands that I have already raised and to which I stand without any ifs or buts: the establishment of the Migration Working Centers by the Qatari Government and a fund for the relatives of workers who died on World Cup construction sites or were injured.
"The last demand for the fund is also addressed to FIFA."
To address the situation, the Qatari government has previously pointed to its labor reforms, which have included scrapping the 'kafala system', which forced foreign workers to gain their employer's approval before changing jobs or leaving the country.
However, they have denied accusations in a 2021 Amnesty report that thousands of migrant workers were still being exploited.
FIFA president Gianni Infantino earlier admitted "not everything is perfect in Qatar" but pointed to "exemplary" work that had been accomplished.
Last week, FIFA said a wide range of measures had been implemented in recent years to improve protection for workers in Qatar.
However, the human rights groups said the new measures are not retrospective and do not currently address abuses committed in the years before they were implemented and workers that have already left Qatar are unable to access funds created to pay wages not received from employers.
Worden said: "We have found, interestingly, that even a small amount of money paid out to these migrant workers can have an enormous effect on their lives, and I think it's important to note that there are already remedy funds set up within Qatar, and they've paid out more than $100 million, but It's only really affected workers since 2020 and 2021.
"There is nothing available for workers between the years 2010 and 2020."
The 2022 FIFA World Cup in Qatar is due to run from November 20 to December 18.
Image: Francois Nel/Getty Images