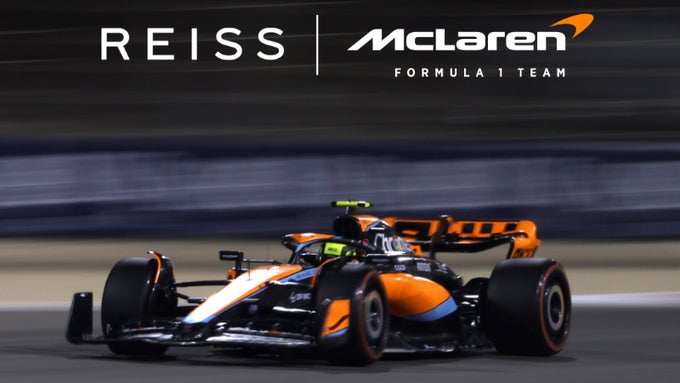 British fashion brand Reiss has entered into a multi-year partnership with the McLaren Racing team, of motor racing's prestigious Formula 1 (F1) series.
The deal makes Reiss the official travel wear partner of the McLaren F1 Team from the ongoing 2023 season and will see McLaren's team wear collaborative apparel for its travel to all race events. It is Reiss' first involvement in F1.
Lindsey Eckhouse, director of licensing and digital products at McLaren Racing, said: "We're delighted to announce Reiss as our official travel wear partner. Reiss is a premium brand that understands the need for smart yet convenient apparel, especially for a team that travels throughout a global 23-race season."
Christos Angelides, chief executive of Reiss, added: "We will be proud to see the McLaren Formula 1 team dressed in Reiss as they travel to and from each race."
Reiss joins a large portfolio of partners to the McLaren F1 Team. Its top-tier partners are OKX, Android, and Google Chrome.
Meanwhile, US-based automotive retailer AutoNation will sponsor the Alpine F1 Team at the 2023 Miami Grand Prix.
The two companies will also cohost events leading up to the race, which takes place on May 7 at the Miami International Autodrome at the city's Hard Rock Stadium.
Attendees of the events, which will be held at the circuit's Concours Club, will be able to interact with and test drive Alpine A110 sports cars as the French brand prepares to launch in the North American market.
Alpine chief executive Laurent Rossi said: "AutoNation is a tremendous retailer with an industry-leading customer experience and is also an experienced partner in motorsports, with a winning pedigree in the Indianapolis 500 and NTT IndyCar Series. This makes for a fantastic partnership in one of the most exciting markets in the world."
AutoNation also had a deal with the Miami Grand Prix last year as an event supporter.
In addition, it has deals in US motor racing's Indycar Series with Helio Castroneves, Simon Pagenaud, and Kyle Kirkwood.