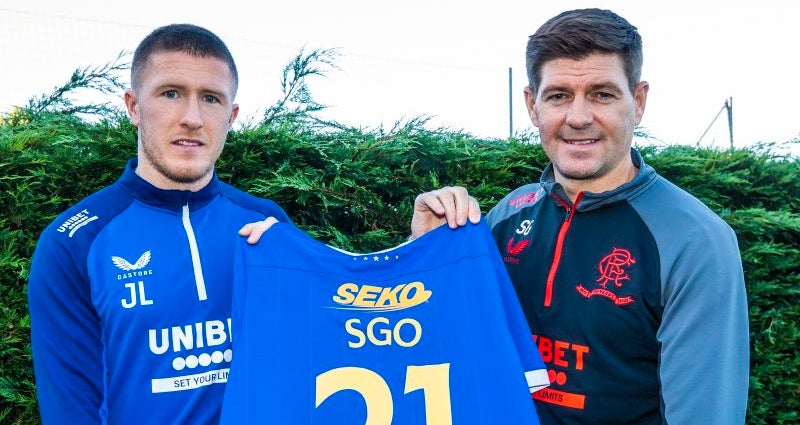 Rangers and Hibernian, of Scottish soccer's top-tier Premiership, will be seeking new back-of-shirt sponsors after Sportemon Go, the digital sports trading platform, ceased trading its non-fungible tokens (NFTs).
Earlier this season, Sportemon Go was named as the back-of-shirt sponsor of both clubs in deals that included the launch of digital collectible products to be sold to their fans.
The company also has partnerships with soccer players, including English Premier League stars Andy Robertson of Liverpool FC and Luke Shaw of Manchester United, as well as athletes in the US and Australia.
However, Sportemon Go announced its SGOX tokens have ceased trading and the company is in the process of deleting team, athlete, and other IP from its website.
It added it was finalizing "amicable termination agreements" with its rightsholders.
Sportemon Go, founded by former Australian Football League player Corey Jackson and his father Ricky, secured its sponsorship of Rangers in a two-year deal in October.
It replaced UK-based energy price comparison service The Energy Check after its sponsorship deal with the club ended early due to the financial effects of the recent energy price surge on suppliers.
The deal with Sportemon Go prohibited Rangers from entering the Scottish Premiership's recent contract with Sorare, the NFT trading platform.
Responding to the news, podcast Heart and Hand, Rangers' official media partner, wrote on social media: "NFTs are an unregulated market full of conmen. Avoid."
The club has not made an official comment.
Last year, Rangers also signed a deal with cryptocurrency trading platform Bitci, which also included the launch of the Rangers fan token.
Portuguese Primeira Liga club Sporting and Italian Serie A team Spezia have since terminated their deals with Bitci amid payment delays to sports rightsholders.
Indeed, as flagged today (May 4) by the Decalspotters motorsport sponsorship news outlet, Bitci also appears to have been removed from the sponsor listings of the MotoGP motorcycling series, with it having only entered into a three-year sponsorship deal with the series last year.
The platform's three-year contract with Hibernian, meanwhile, was struck in September and reported to be worth "six figures" per season.
Speaking to Edinburgh Evening News yesterday (May 3), Greg McEwan, Hibernian's commercial director, said: "Prior to signing a significant partnership deal with Sportemon Go, we went through a thorough process researching the company to ensure we'd done our due diligence.
"Like any partnership, we were then in constant communication with the and when we became aware of their financial difficulties, a few months ago, we stepped back from the partnership and began to reduce their assets.
"We would like to reiterate that no supporters lost out financially through the launch of the Hibs Fan Token earlier in the year. As it never properly launched, all supporters that purchased a fan token were refunded.
"Knowing Sportemon Go's difficulties, we had been planning for a mutual termination of the partnership and have a new partner in place for the upcoming season, which will be announced soon."
The news comes amid growing unease around cryptocurrency's presence in sport, especially the buying and selling of NFTs, which many say lack consumer protection and could harm supporters who invest in digital currencies.
Most partnerships in the space involve the creation of buying fan tokens in exchange for playing a part in influencing club matters or trading digital collectible products related to the club.
Due to the coronavirus pandemic, clubs around the world have lost substantial income and have been forced to seek ways to make up for this, such as developing new revenue streams, with many turning to the crypto and NFT market to supplement their income.
Platforms Socios and Sorare have developed a major footing in the market by partnering with many teams in England and across Europe's major leagues during this time, marketing the tokens as a tool for fan engagement.
However, a special report released by Sports publication The Athletic last week (Aril 29), showed the companies and clubs are using fan tokens more as a tool for financial investment, with Socios telling one Premier League club it expects to make £150 ($188) from each fan who buys a token.
The report also questioned the veracity of claims from the companies that their tokens are "forever", which does not amount to much after the end of the sponsorship arrangement, as highlighted in their terms and conditions.
Late last year, English soccer's Premier League opened an investigation into the growing relationship between cryptocurrency firms and its clubs, after a 285% increase in deals between 2020 to 2021.
More than half of the 20 clubs in the Premier League have sponsors in this space, with those partners having invested over £20 million ($26.6 million) in deals cumulatively.