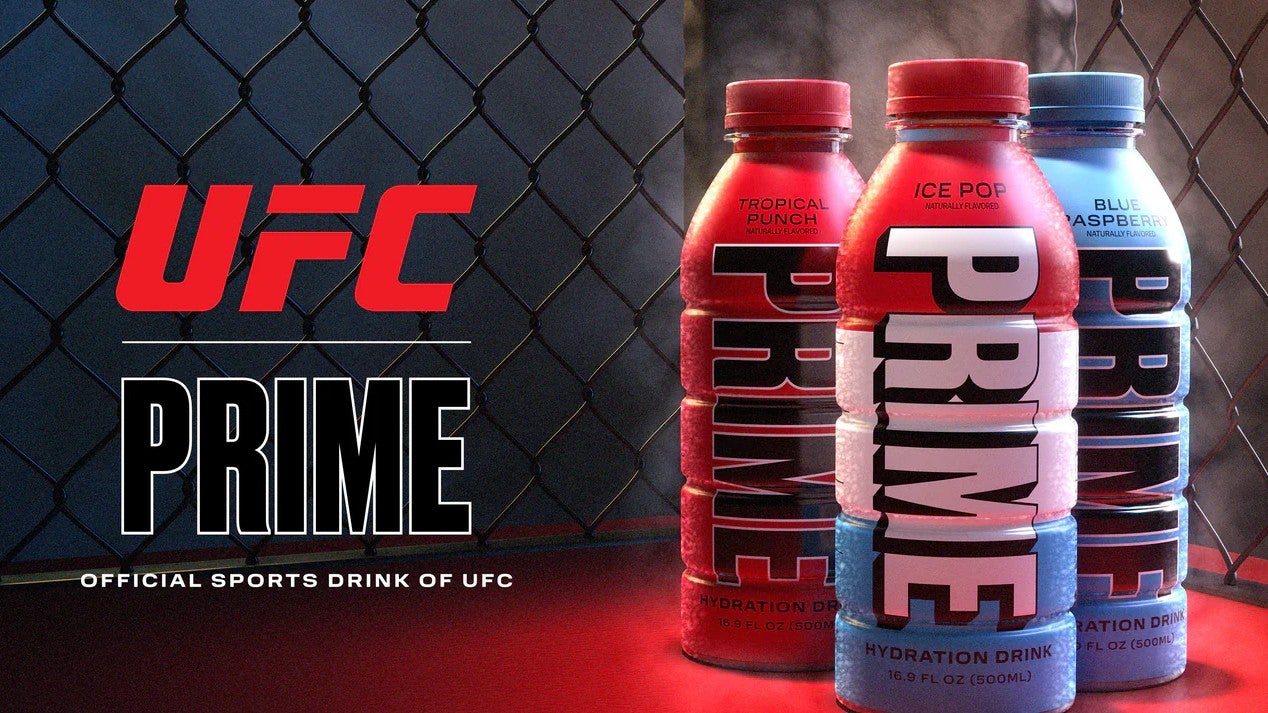 Prime Hydration, the popular sports beverage founded by YouTube stars-turned combat sports fighters Logan Paul and KSI, has been named the official global sports drink of mixed martial arts promotion Ultimate Fighting Championship (UFC) as part of an international marketing partnership.
The tie-up will see Prime branding integrated into key UFC assets, including every UFC pay-per-view (PPV) and Fight Night, as well as inside the promotion's Octagon, gaining visibility in 175 countries that broadcast UFC.
As part of the agreement, UFC, Logan Paul, and KSI will collaborate on original content that will be distributed through their social media channels, including YouTube, Instagram, Twitter, and TikTok, which will reach almost 400 million followers worldwide.
The partnership will debut at UFC 284: Makhachev vs. Volkanovski on February 11 at RAC Arena in Perth, Australia.
UFC president Dana White said: "Logan and KSI have worked hard to build Prime into the best-tasting, hottest sports drink on the market.
"With their massive social media following and UFC's global reach, we're going to get the Prime brand in front of hundreds of millions of fans all over the world.
"Whether you're a professional athlete or if you just love working out, Prime should be your first choice for a go-to sports drink."
Prime replaces BodyArmor, which served as the promotion's sports drink since 2017. UFC added energy drink Monster Energy will remain as the UFC's official energy drink.
The agreement sees Prime also become the exclusive presenting sponsor of all UFC PPV weigh-ins, an official partner of UFC's Performance Institutes in Las Vegas and Shanghai, and the presenting sponsor of the Performance Institute's Hydration Stations.
Prime has also been named an inaugural presenting partner of the UFC Foundation non-profit organization and will collaborate with UFC to develop a charitable youth program that will focus on under-resourced communities.
Paul said: "I've been a fan of UFC for as long as I can remember, so having the opportunity to partner with them and amplify the Prime brand is a check off the bucket list.
"Together, we are a global powerhouse, and this collaboration is sure to extend far beyond the Octagon with an opportunity to give back in the process with the UFC Foundation.
KSI added: "This partnership enables us to tap into UFC's fan base and reach a massive global audience across multiple platforms, giving us the ability to flex our marketing muscles and prove we are a dominating force in the industry."