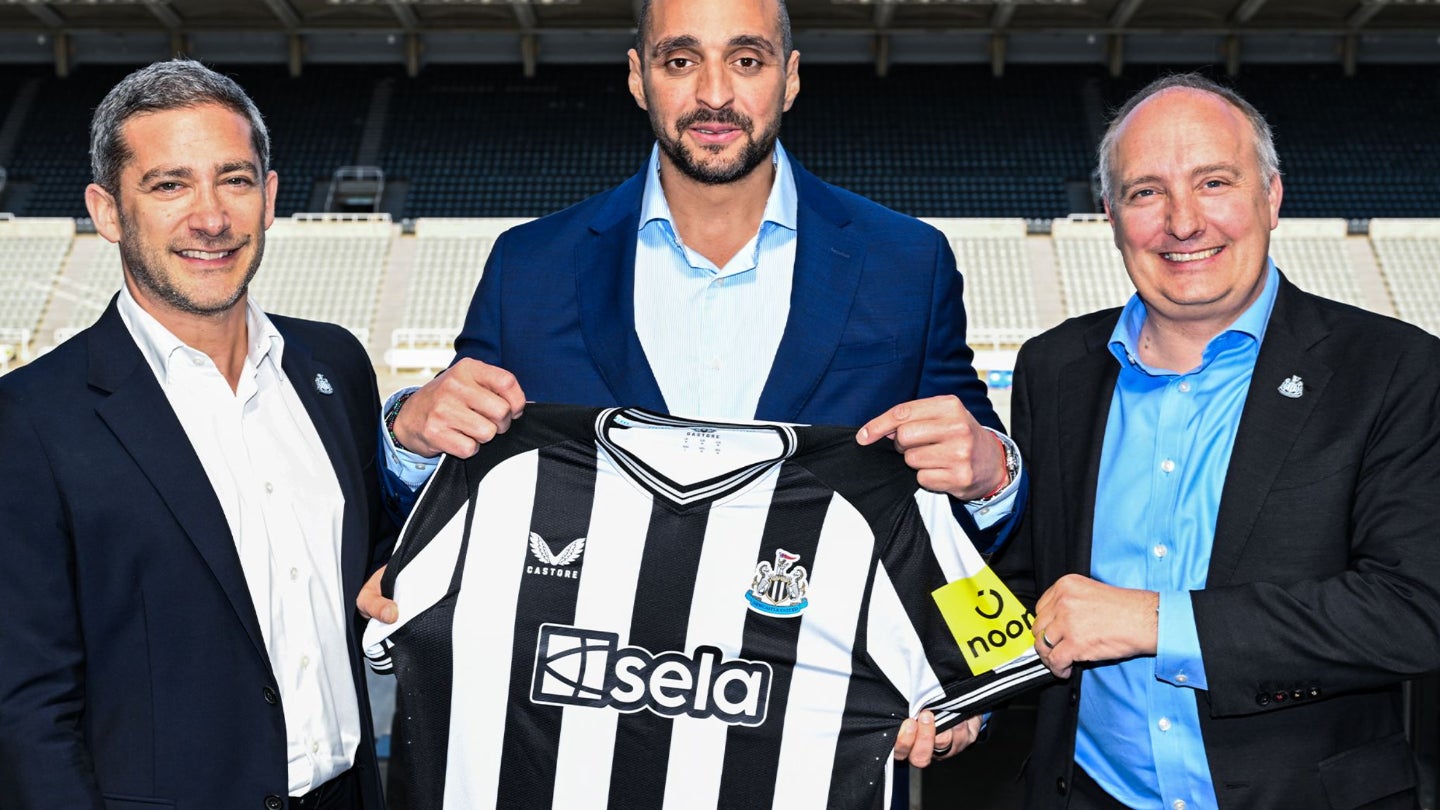 English Premier League soccer' sNewcastle United have today (June 9) announced a finalized main sponsorship tie-up with Saudi Arabian sport and events firm Sela.
Saudi Arabia's sovereign wealth Public Investment Fund (PIF) has stakes in both Newcastle and Sela.
The multi-year tie-up will see Sela, a portfolio company of the PIF, serve as the front-of-shirt sponsor of Newcastle, who have been majority-owned by the PIF since October 2021.
The tender process to select a new main sponsor has been described as "highly competitive" by the club.
Reports of the deal first emerged in late May, and earlier this week Newcastle's previous main shirt sponsor, Fun88, signed off on a new agreement that will see it instead become the club's Asian betting partner.
Multiple English media outlets have said the deal is worth upwards of £25 million ($31.4 million) annually. GlobalData Sport estimates the annual value of the Fun88 shirt sponsorship deal – struck in July 2020, after Newcastle had finished 13th in the 2019-20 Premier League – as £6.5 million ($8 million).
Newcastle have said its partnership with Sela "will see them uniting at an exciting stage in their respective journeys."
The tie-up "represents an integral part of Sela's continuing global expansion" and it will engage and connect with the substantial Newcastle fanbase through both physical and digital activations.
Darren Eales, Newcastle United's chief executive, said: "We are delighted to welcome Sela as our new front-of-shirt partner. This partnership follows a highly competitive commercial process and we believe we have found the perfect front-of-shirt partner to support us in reaching our objectives on and off the pitch.
"We team up at an exciting time in the history of both organizations given both share an ambitious vision to expand their brands globally."
Eales said that Newcastle and Sela would collaborate around the design and operation of a new fan zone at the club's St. James' Park home stadium.
Ibrahim Mohtaseb, senior vice president at Sela, added: "This partnership is about Sela being part of the next chapter for the club.
"It's about us supporting the men's, women's, and academy teams. And it's about bringing to life world-class experiences, which is at the heart of what we do as a company.
"Now we are embarking on the next stage of our international growth."
The Sela deal is now expected to receive scrutiny from the Premier League. The league has regulations in place assessing clubs' commercial deals with associated parties (for example, brands from the same country as the club's main shareholders) to prevent inflated fees from giving those teams an unfair financial advantage.
Under these rules, agreements must be struck at fair market value, to which end an assessment is carried out by a third party. Assessors will have access to a confidential data bank, created by the Premier League, that will accumulate previous commercial agreements across the competition to assess their value.
In November, Newcastle brought in Saudi Arabia's national airline Saudia as a commercial partner, while last June online marketplace Noon.com – whose head offices are based in Riyadh and which is also linked to the PIF – was unveiled as the club's sleeve sponsor (with that deal renewed earlier this week).
Last month saw Newcastle secure qualification to next season's UEFA Champions League, the lucrative pan-European club competition. They finished fourth in the 20-team Premier League table.
Elsewhere in the Premier League, Manchester United (who finished third) have brought the Snapdragon brand from communication technologies firm Qualcomm in as the presenting partner for their 2023-24 pre-season tour.
United will travel to the US in July, playing four matches across both East and West coasts. One fixture, against English lower-league side Wrexham, is set for the Snapdragon Stadium in San Diego.
Aside from Wrexham, their opponents will be Premier League rivals Arsenal, Spain's Real Madrid, and German side Borussia Dortmund.
Through the tour, Snapdragon will "offer access to exclusive pre-season content and prizes to its Snapdragon Insider community."
Qualcomm is an existing United partner, having struck a multi-year deal last August.
Don McGuire, senior vice president and chief marketing officer at Qualcomm Incorporated, has said: "Manchester United is the most well-known football club in the world and we are excited to be hosting the squad in our hometown. Bringing Manchester United to San Diego for the first time is not only a historical moment for the club but also great for the local community and economy as we place the city and Snapdragon Stadium at the forefront of world soccer."