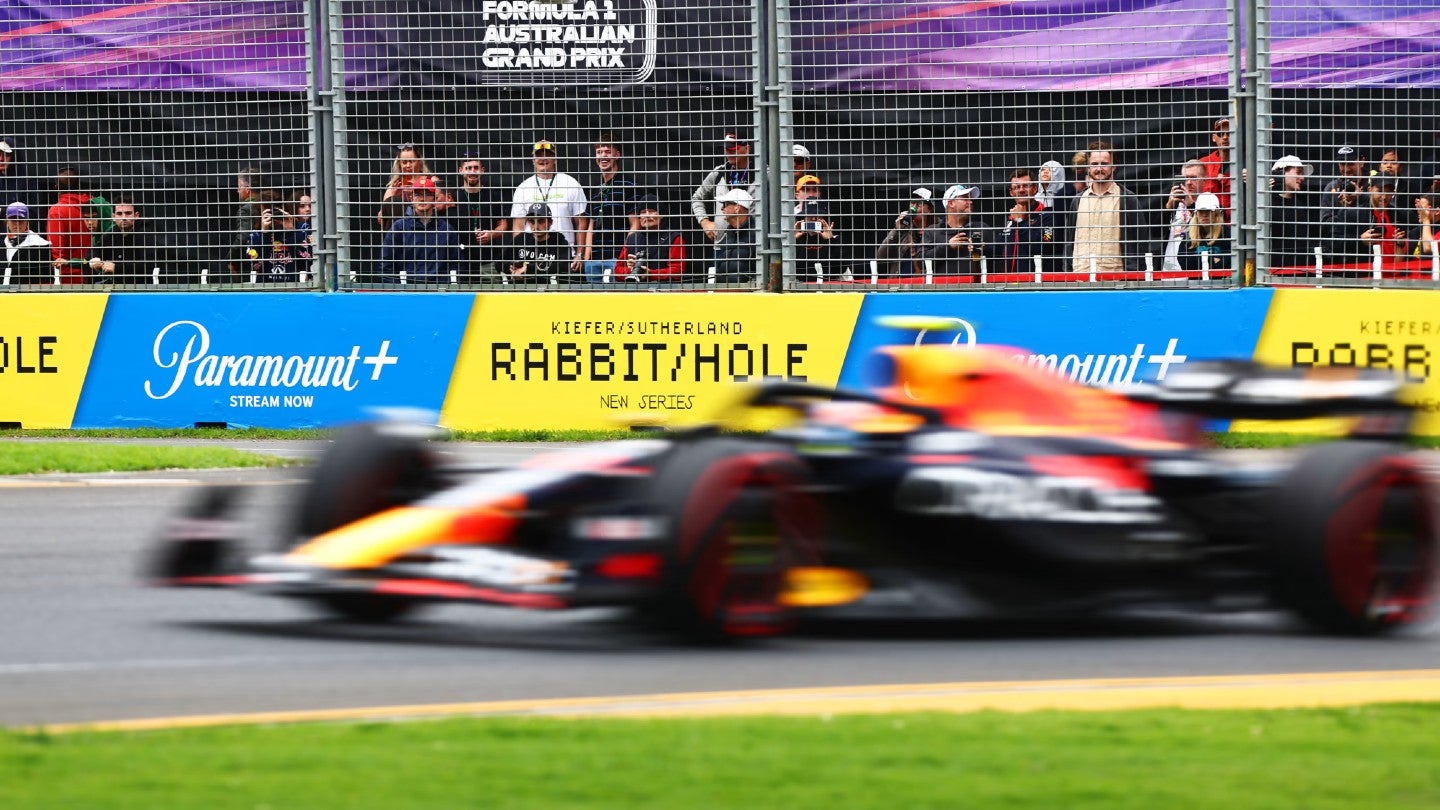 Paramount+, the streaming service owned by the major US broadcast network, has become an official partner of motor racing's Formula 1 (F1) series as part of a new multi-year promotional agreement.
The new deal will see Paramount+ series, movies, and characters feature at F1 events inside Fan Zone areas. Paramount+ will also gain branding on track and physical trackside signage, digital sponsorship, and promotional opportunities.
The streaming service's activations started at the Australian Grand Prix in Melbourne earlier this month (April 2), with promotions for Paramount+ and its spy thriller Rabbit Hole featuring actor Kiefer Sutherland.
The activations will continue at races in Miami (US), Montreal (Canada), Spielberg (Austria), Silverstone (UK), Monza (Italy), Suzuka (Japan), Austin (US), Mexico City, Sao Paulo, and Las Vegas (US).
Brandon Snow, F1's managing director of commercial, said: "This partnership exemplifies F1's ongoing commitment to exploring new avenues to help promote the sports and appeal to new audiences.
"Paramount+ and the content on its platform are hugely popular and, like F1, has experienced rapid growth in recent years. Together, we will use our global platforms and collective expertise in entertainment to further enhance the fan experience and take both F1 and Paramount+ to new levels."
The partnership follows a short-term deal between Paramount+ and F1 in 2022, which saw the streaming service gain strategic exposure at key F1 races, including Silverstone and Monza.
The pair's agreement does not include US rights for F1, which are held by major sports broadcaster ESPN. That deal, running through 2025, was struck by ESPN's parent company Disney, the media giant, in October last year.
Since its launch, sport has been a particular focus of Paramount+, with then-CBS Entertainment Group chief executive George Cheeks stating the platform "will be the leader in live sports" more than two years ago.
Since then, the platform has gained rights in the US to American football's NFL, college basketball, European soccer's men's club competitions (Champions League, Europa League, and Europa Conference League), and golf's PGA Tour.
Domestically, the platform also covers the matches involving the US national men's and women's soccer teams, as well as the NWSL women's club competition.
Marco Nobili, executive vice president and international general manager of Paramount+, said: "Paramount+ continues to seek new, innovative ways to reach our global audiences, and I am confident this partnership with F1 will continue to support our growth globally.
"Through this global deal, the worlds of motorsport and entertainment will come together, resulting in powerful storytelling opportunities on and off the grid."
Paramount Global, the parent company of Paramount+, reported its streaming service had nearly 56 million customers at the end of 2022, up from 32.7 million a year earlier.
Outside the US, Paramount+ is currently available in Australia, the UK and Ireland, France, Canada, Germany, Italy, Austria, Switzerland, Latin America, the Middle East (as a pay-TV channel), the Nordics, the Caribbean, and South Korea.
F1's owners, US-based Liberty Media, meanwhile, have been open about growing the sport in the US since taking over commercial rights at the start of the 2017 season. This season will feature three grands prix in the country in Miami, Austin, and Las Vegas.
F1's popularity in the US has been assisted, in part, by the huge interest in the Netflix documentary series Formula 1: Drive to Survive, which has helped drive fresh interest in the sport since the first season aired in 2019.