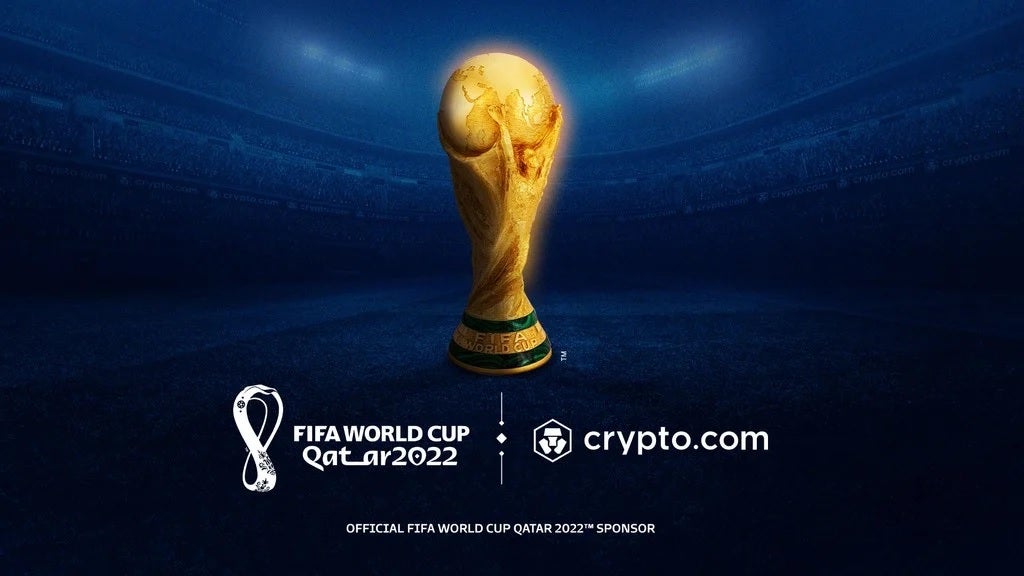 Crypto.com, the international cryptocurrency platform, has entered into its most significant sports sponsorship to date, with a deal covering the prestigious 2022 FIFA World Cup men's soccer tournament having been announced yesterday (March 22).
Crypto.com is now an official sponsor of the 2022 edition of the World Cup and is also the exclusive cryptocurrency trading platform for the tournament, which takes place in Qatar between November 21 and December 18.
The firm, for which this is a breakthrough into international soccer partnerships, will "benefit from significant branding exposure both within and outside the tournament's stadiums", FIFA has said.
GlobalData Sport expert analysts have estimated the deal as being worth $50 million in total.
The brand will activate its partnership at the World Cup by "providing opportunities for new and existing users to attend matches" and will also be offering up merchandise as prizes, FIFA has said.
Kay Madati, chief commercial officer at FIFA, said: "Crypto.com has already demonstrated a commitment to supporting top-tier teams and leagues, major events and iconic venues across the world, and there is no platform bigger, or with a greater reach and cultural impact, than FIFA's global platform.
"We are delighted to have a global brand like Crypto.com join us as a sponsor of the exciting and groundbreaking FIFA World Cup in Qatar."
Kris Marszalek, Crypto.com's co-founder and chief executive, added: "Through our partnership with FIFA, we will continue to use our platform in innovative ways so that Crypto.com can power the future of world-class sports and fan experiences around the world."
The last partner to come on board as a 2022 World Cup sponsor was Claro, a Latin American telecommunications provider, which became a regional supporter of the tournament through a deal struck last month.
In November, meanwhile, Ooredoo, a Qatar-based telecoms firm, entered into a deal to become the official Middle East and Africa telecommunications operator for the event, having first begun its relationship with FIFA two years ago by serving as a national supporter of the 2019 and 2020 editions of the FIFA Club World Cup.
Other regional partners to have signed up include Qatar National Bank in February 2021, and GWC, a company that provides logistics and supply chain solutions in the Middle East and North Africa, in September 2020.
In late October, the 2022 World Cup organizing body also brought in Accor, the French hotel operator, to manage accommodation for visiting fans.
Recent moves by Crypto.com in the sports sponsorship space, meanwhile, include a five-year partnership struck in January with Australian rules football's AFL, and a nine-year deal struck last month to become the inaugural naming rights partner of motor racing's Formula 1 Miami Grand Prix.
In top-tier soccer, the brand was last active in December, becoming a founder partner and official cryptocurrency sponsor of Angel City FC, the expansion franchise that is set to join the US National Women's Soccer League (NWSL) later this year.