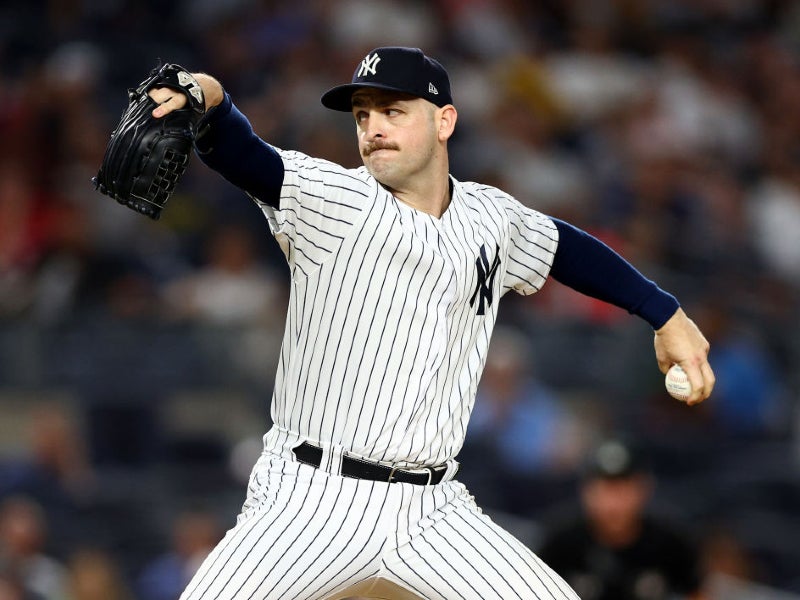 The New York Yankees, of North American baseball's MLB, have brought on board Legends Global Partnership, a division of the premium experiences firm, to help the side find an inaugural jersey patch sponsor for 2023.
The Yankees – who own a minority stake in Legends, having co-founded it in 2008, alongside American football's Dallas Cowboys – are looking to take advantage of new regulations that mean teams will be permitted to sell branding on their jersey sleeves to sponsors for the first time next season.
Due to their history and location in one of the US' most iconic cities and media markets, the Yankees are likely to be able to generate significantly more from a jersey patch deal than most other MLB sides.
It has been reported that the league overall is looking to pick up $400 million annually through such deals, which would work out at over $13 million for each of its 30 teams.
The San Diego Padres became the first MLB side to strike a jersey patch sponsorship deal in April, entering into a tie-up with telecoms firm Motorola reportedly worth in the region of $10 million annually.
The Forbes business news outlet has reported that Legends turned down opportunities to work with other MLB sides on securing similar deals, in order to be able to collaborate exclusively with the Yankees.
Chris Hibbs, president of Legends Global Partnerships, has said the Yankees are looking to strike a multi-year deal with whatever sponsor is selected and that financially they will be looking to secure a similar value to that of a top-tier stadium naming rights deal.
It has been reported that this would come to over $20 million annually.
Hibbs said: "From a value perspective, you're talking about the most successful franchise … certainly in North American sports … They're recognized universally…They're a fashion brand to some. They're an iconic baseball team to others."
He added, specifically with regard the investment from a potential jersey patch sponsor the Yankees are looking for: "I would characterize the investment as a top-tier naming rights-type investment … That's fairly well-known in North America, what a naming rights deal for a top-tier venue in a top-tier market goes for. We have those kinds of ambitions."
In terms of the other major US-based sports leagues, ice hockey's NHL is set to allow jersey patch brand deals for the first time in 2022-23, while basketball's NBA legalized the practice for the 2017 campaign.
Other Legends Global Partnerships clients, meanwhile, include SoFi Stadium, home of American football's Los Angeles Rams and Los Angeles Chargers, and Allegiant Stadium, the Las Vegas venue for the NFL's Raiders.
In late June, Legends entered into a 10-year partnership with the second-tier United Soccer League (USL) competition.
Under the partnership, Legends will increase national sponsorship sales, provide fan insights, and find innovative business solutions for the USL's men's and women's soccer teams, including the USL Championship, USL Super League, and USL League One.
Legends will also assist USL clubs to boost their local presence and business growth through stadium planning, development and operations, ticketing strategy, stadium naming rights, sales, merchandise, and technology and digital solutions.
Legends has also previously worked with English Premier League soccer sides Tottenham Hotspur and Manchester City.