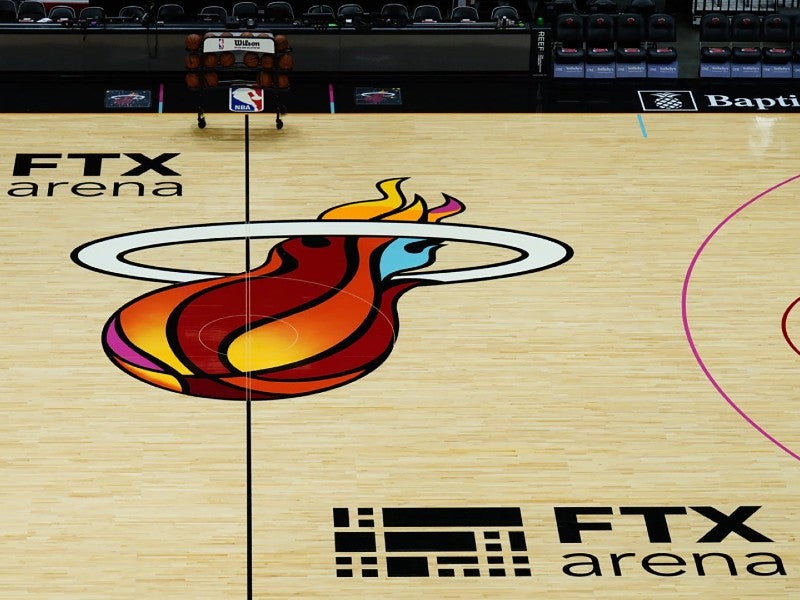 Miami Heat, of North American basketball's NBA, have announced they are seeking a new naming rights partner for their home arena after cryptocurrency exchange FTX filed for bankruptcy in the US.
Florida's Miami-Dade County, owner of the arena, signed a 19-year, $135-million deal for the bayfront homecourt's name in 2021. After an initial balloon payment of $14 million, FTX was scheduled to make a $5.5-million payment in January.
As part of the deal, the team was to receive $2 million per year, with most of the rest – roughly $90 million over the lifetime of the agreement – to be paid to the county and used to fund a youth gun violence prevention program called the 'Peace and Prosperity' plan.
However, the deal, which saw FTX replace long-term sponsor American Airlines, has now been terminated just 20 months after it was signed. American Airlines held naming rights to the arena since its opening in 1999.
In a joint statement, Miami-Dade Country and the Heat said: "The reports about FTX and its affiliates are extremely disappointing.
"Miami-Dade Country and the Miami Heat are immediately taking action to terminate our business relationship with FTX. We will be working together to find a new naming rights partner for the arena."
Earlier this week, the county said it was exploring "all legal remedies" over FTX's outstanding payments for the naming rights agreement. At the time, a spokesperson said the county was "currently reviewing and gathering information about FTX's financial situation and possible next steps."
FTX filed for Chapter 11 bankruptcy protection on Friday (November 11) after a crypto price crash left the company unable to cover accounts as customers rushed to withdraw funds due to concerns being reported about its financial health. The exchange reportedly saw $6 billion of withdrawals in the 72 hours up to Tuesday (November 8).
A provisional deal for Binance to buy the beleaguered market was announced on Tuesday, but the fellow cryptocurrency exchange pulled out of the deal as a result of corporate due diligence and additional reports regarding mishandled customer funds and alleged US agency investigations.
The deal in Miami was one of several sports sponsorship agreements FTX had signed over the past few years, including a $10-million deal with the NBA's Golden State Warriors and a multi-year marketing deal with Monumental Sports and Entertainment, parent company of the Washington Wizards (NBA), Washington Capitals (NHL), and Washington Mystics (WNBA).
It had additional agreements with Major League Baseball, whose umpires wear the company's logo, the Mercedes Formula 1 team, and the International Cricket Council, as well as esports' Team SoloMid, League of Legends Championship Series, and Furia.
FTX had also brought several high-profile sports athletes on board as investors, including NFL great Tom Brady, NBA star Stephen Curry, and Japanese tennis star Naomi Osaka.
The company spent a record $6.5 million for a 30-second advertising slot during this year's NFL Super Bowl LVI, which was played at SoFi Stadium in Los Angeles on February 13, 2022.
On Friday, Formula 1's Mercedes-AMG team suspended its partnership, a year into its long-term agreement that included the company's logo being featured on both the team's cars, on its drivers' clothing, on its fleet of trucks, in its garage, and on all partner logo displays in the trackside hospitality and communications facilities.
Furia, the Brazilian esports organization, has also terminated its sponsorship deal with FTX.
Its one-year deal with FTX was signed in April and is worth around $3.2 million. The tie-up covered branding rights on the jerseys of the organization's Counter-Strike: Global Offensive roster.
Announcing the move on his Twitter account, Furia's co-founder Andre Akkari said: "Furia closely follows the activities of all its partners, always attentive to the possibility of being able to contribute with them but prioritizing our fans. … The current case of our crypto exchange sponsor, which is in the global news, serves as an example.
"After a conversation with our contacts at the company, it was decided that Furia will discontinue the FTX exhibition, removing the brand from all its spaces. The objective is to prevent the current phase of the company from harming any fan. Furia continues to value our strong partners and promote them, however always prioritizing our fans at any cost."