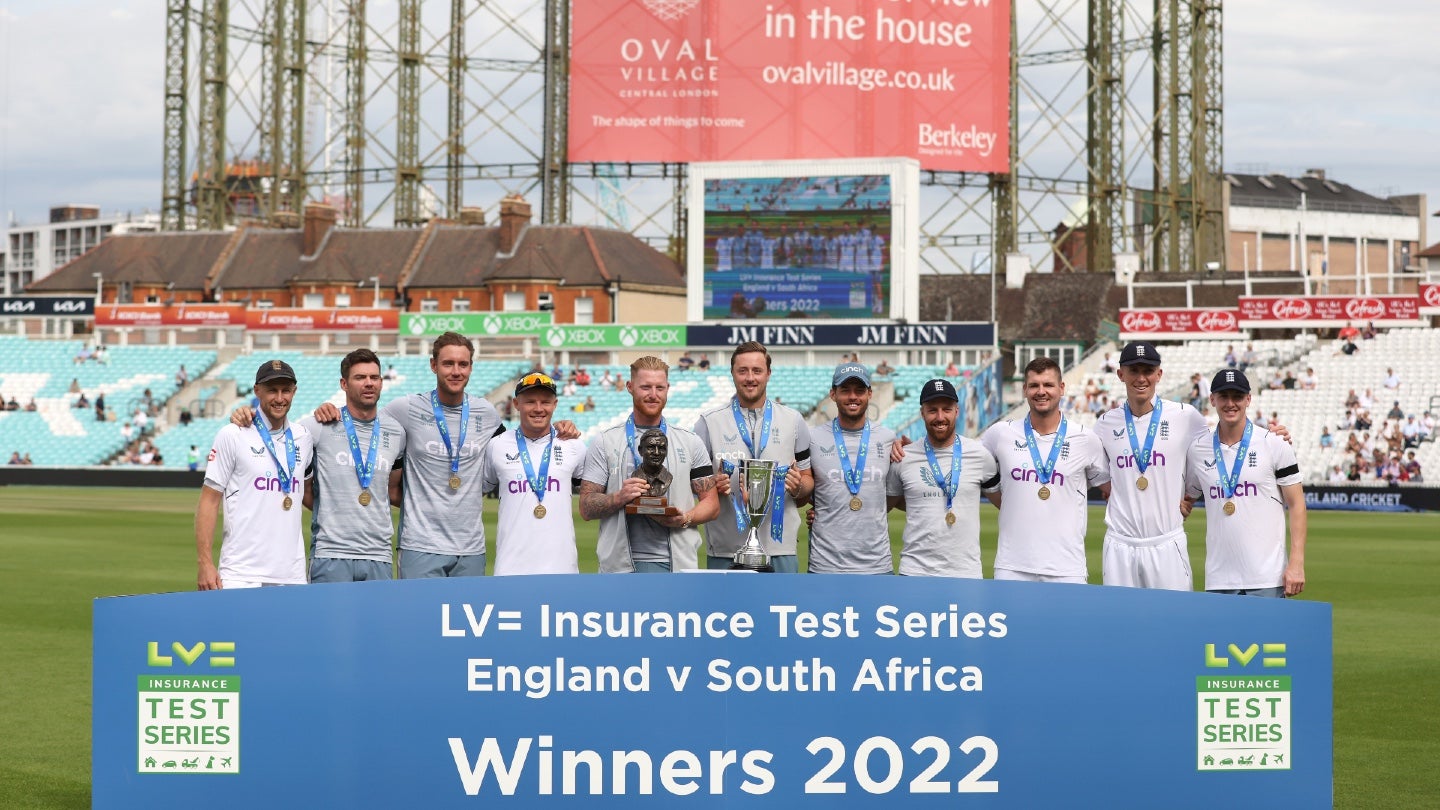 LV= General Insurance, a long-time backer of English cricket, will not renew its sponsorship deal with the England and Wales Cricket Board when the tie-up expires at the end of the 2023 season.
The subsidiary of German insurance giant Allianz will let its deal with the ECB for home test matches, announced in January 2021 and covering both men's and women's fixtures, come to an end after this year's English summer.
In addition, LV= will also discontinue its sponsorship of the men's domestic County Championship after the coming season.
The news forms part of a double blow for the ECB in terms of its commercial partners. Cazoo, which has been the naming rights partner of the short-form domestic The Hundred competition since that men's and women's tournament launched in 2021, is also opting not to renew its deal.
That tie-up was only a two-year affair, meaning the ECB is now looking for a sponsor for The Hundred in 2023 with urgency.
Royal London, the fellow insurance company which was the main sponsor of limited-overs and one-day cricket in the country (both domestic and international), announced last month that it would not be continuing into this year, meanwhile.
This comes with the one-day format being marginalized in terms of its presence during the English summer by the increase of Twenty20 matches, and by the addition of The Hundred two years ago.
The ECB, therefore, finds itself looking for three new premier sponsors for its different high-profile competitions simultaneously.
LV= succeeded opticians chain Specsavers, which ended its sponsorship of English tests and the County Championship after a 2020 season that was badly affected by Covid-19.
The overall association LV= has had with cricket dates back to 2002, and before this latest tie-up it was the main sponsor of the County Championship on its own between 2007 and 2015.
Heather Smith, LV General Insurance's managing director, has said: "We are very much looking forward to a hugely successful summer of Ashes cricket but when the 2023 cricket season comes to an end so will our sponsorship.
"We always said we'd partner with the sport through to 2023 and we feel the time is right to naturally pass the opportunity of this fantastic sponsorship on to someone else."
An ECB spokesperson added: "We're very grateful to LV= Insurance for their support for cricket in England and Wales. As well as partnering with England men's and women's Test cricket and the County Championship, they have done a huge amount for grassroots cricket including through the Funds4Runs initiative.
"With an exciting summer of cricket ahead – including men's and women's Ashes [series' against Australia] – we look forward to working together during the final year of this partnership."
The need to secure a new major partner for three of the ECB's flagship properties will pose a significant challenge for Richard Gould, the body's new chief executive who officially starts in that role on January 31.
In December, after the ECB rejected a bid of £400 million (then $483.76 million) for 75% of The Hundred from private equity buyout group Bridgepoint, Gould suggested the tournament will be worth "quite a few billion" in due course, adding that "we would need to think long and hard before selling [part] of the English summer to a third party."
Cazoo's exiting of its ECB deal comes with the car retailer significantly cutting back its operations all across Europe.
Image: Luke Walker/Getty Images