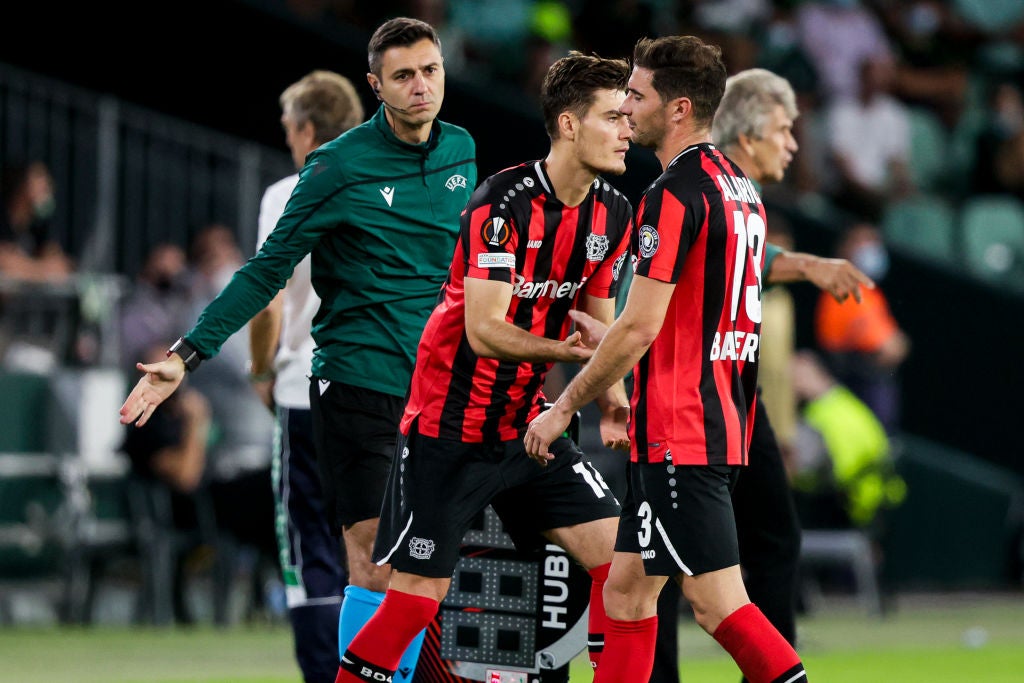 Bayer Leverkusen, of German soccer's top-tier Bundesliga, have become the latest European soccer outfit to name UK sportswear brand Castore as their kit supplier, in a deal announced today (February 10) that runs through to 2027.
The club will officially become Castore's first partner in the Bundesliga from the start of the 2022-23 campaign, with the brand having previously focused on English (Newcastle United and Wolverhampton Wanderers) and Scottish (Rangers) clubs.
The brand will supply kits to the men's, women's, and youth teams at Leverkusen for the next five-and-a-half seasons.
The club's kit has been supplied by Jako since 2016-17, with an extension then struck in 2018 which expires at the end of the ongoing 2021-22 season.
In addition to the technical kit manufacturing, Castore will launch a 'Black and Red' leisure range based around the team's colors and will secure a brand and logo presence at the club's BayArena home stadium and on all online and social media club platforms.
Tom Beahon, a co-founder of Castore, said: "It's a significant step for us to start working in the German market with an internationally oriented club with such a history … It's an honor that Bayer Leverkusen have chosen Castore, our values and ambition of wanting to be the best go perfectly together."
Fernando Carro, Bayer Leverkusen's chief executive, added: "We have found an innovative partner in Castore whose ambitions very much fit in with Bayer 04. Both the quality of the products as well as the digital and international approach of the company has impressed us."
Outside of soccer, Castore has recently entered into a strategic e-commerce partnership with English motor racing's Silverstone, struck a six-year kit deal with USA Rugby, and become the kit supplier for Cricket South Africa.
Elsewhere in European soccer, Spanish heavyweights Sevilla have brought on board Socios, the blockchain-based fan engagement platform, as a major sponsor.
Socios, which has entered into deals with over 120 top-tier sports bodies and clubs in the last couple of years, will take sponsorship and branding space for the back of the various Seville teams' matchday shirts.
Socios is also set to launch a Sevilla FC NFT fan token – $SEVILLA – on the club's mobile fan engagement app and on Socios.com.
The fan token, the club has said, will "provide millions of fans around the world with a tool to engage with and influence the club like never before …"
The club and Socios will also work together "to promote innovative projects in the city by supporting local startups and entrepreneurs."
Alexandre Dreyfus, Socios' chief executive, said: "We are very happy to be partnering with Sevilla FC, a club that has become a role model for many thanks to its brilliant management and its innovative vision. We are looking forward to working together to further strengthen that unique and special bond that connects the club to its fans."
Sevilla's current front-of-shirt sponsor is Naga, the German-based fintech firm.
Socios has also announced plans this week to launch a similar fan token for Udinese, of Italian soccer's Serie A.
The $UDI fan token, launched through a collaboration between the two, will perform the same role for Udinese as its Sevilla equivalent.
Socios will also secure brand space on the Italian side's training kit, through the deal.
Magda Pozzo, Udinese's owner, said: "We're honored that Socios.com has recognized the ambition of our vision, allowing Udinese to become a part of the global roster already on the platform. This certifies the attractiveness of the Udinese brand, as well as the efforts of the club for its fan base."
Udinese is added to Socios' expanding list of partnerships in Italian soccer, which already contained Serie A's Bologna and Napoli (as well as the league itself), in addition to the FIGC, the sport's governing body in the country.
The brand's most recent major soccer deal came late last month when it struck a deal with Russian heavyweight side Spartak Moscow.
Other continental heavyweights to have Socios fan tokens include Manchester City and Arsenal in England, Spain's Barcelona, and France's Paris Saint-Germain.