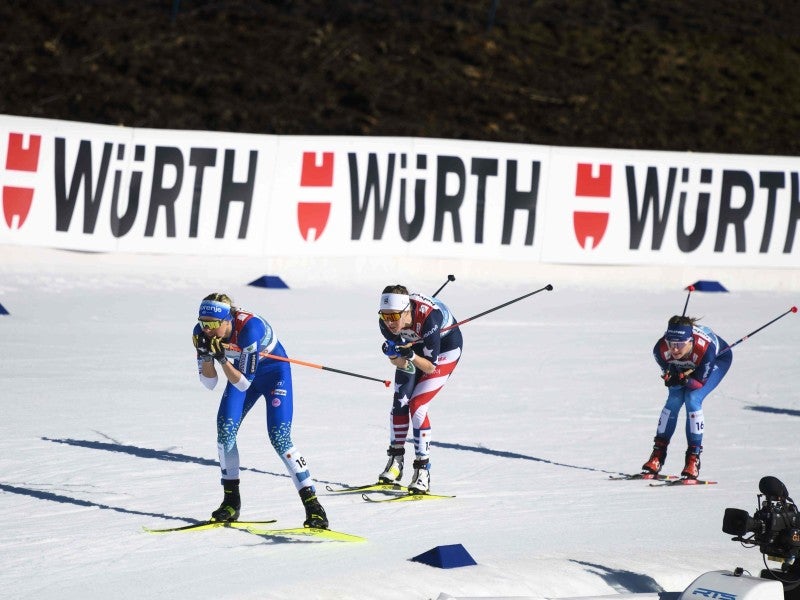 Würth, the Germany-based trade supplies company, has been named as the main sponsor of both the FIS Alpine and Nordic World Ski Championships in 2023 after reaching an agreement with Infront, the exclusive marketing partner of the International Ski Federation (FIS).
Under the deal, the company's logo will appear in the finish areas at the Alpine World Ski Championships, taking place in Courchevel and Méribel, France, from February 6 to 19.
It will then feature at the start installation and exit gate at all main ski jumping events at the Nordic World Ski Championships which next year will be held in Planica, Slovenia, from February 21 to March 5.
Würth was previously a main sponsor at the Nordic World Ski Championships 2021 in Oberstdorf, Germany, but this marks the first time the brand will feature at the Alpine World Ski Championships.
Michael Witta, Infront vice president of marketing sales, said: "I'm delighted to not only see Würth return as a main sponsor for the Nordic World Ski Championship but look to utilize the reach and exposure of the Alpine World Ski Championship.
"These events are going to receive wide coverage across a broad audience, geographically and in terms of the demographics. Würth's decision to leverage both will give its brand a huge presence on an almost daily basis during the most significant month for skiing fans."
Infront is the exclusive marketer of all media and commercial rights to most top-tier FIS competitions until 2025. It distributes worldwide media rights across all platforms and territories, as well as sponsorship and hospitality packages.
Meanwhile, the Switzerland-based agency has also secured Personalshop, the Austrian clothing retailer, as the new presenting sponsor of ski jumping's Four Hills Tournament.
The agreement will run from the 2022-23 edition until the conclusion of the 2024-25 tournament. It marks the first time the brand will sponsor a major sports event.
Personalshop will receive brand exposure across the whole venue, including on LED banners, at the start and exit gate, on the leaderboard, jump-off platform, coaches' stand, and warm-up area.
The brand will have a presence at venues in Oberstdorf, Innsbruck, Garmisch-Partenkirchen, and Bischofshofen.
Witta said: "Every year the Four Hills Tournament draws passionate and engaging crowds, both at the four venues in Austria and Germany and on broadcast. Personalshop, who is choosing the event to take its first steps into the world of sport sponsorship, rightly feel that the event provides a good foundation for it to grow its customers and, ultimately, gain the positive return on investment that many other partners receive."
Infront has been the exclusive marketing partner of the Four Hills Tournament since the 2010-11 event and signed a four-year extension in 2020, taking the partnership up until 2026.