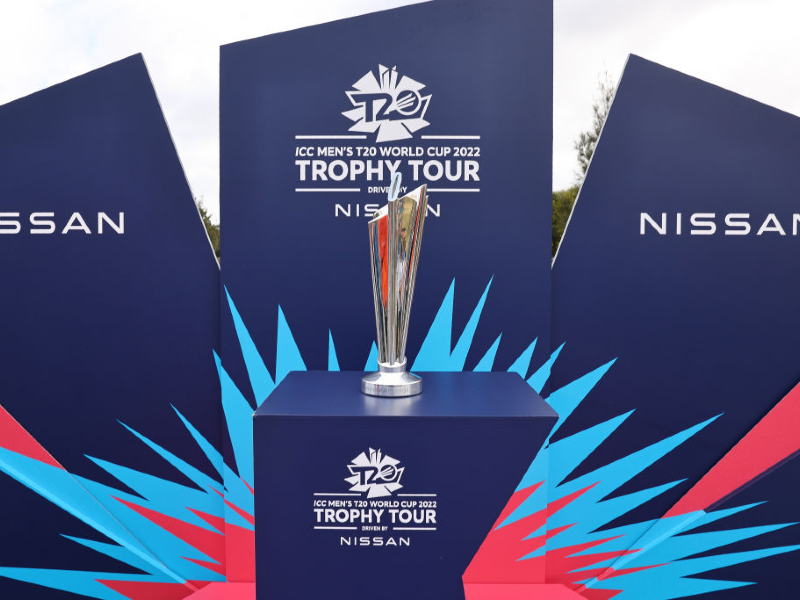 The International Cricket Council (ICC) has over the last 24 hours announced two significant but dissimilar partnerships – a commercial deal with major Saudi Arabian oil company Aramco and a global tie-up with Unicef, the United Nations' international children's fund.
The Aramco deal, announced today (October 14), will see the corporation sponsor all major ICC events from now until the end of 2023, including the 2022 ICC Men's T20 World Cup in Australia, the ICC Women's T20 World Cup in South Africa, the ICC World Test Championship Final in the UK, and the ICC Men's Cricket World Cup in India.
The Saudi oil heavyweight has been allocated naming rights for ICC player of the match awards from the aforementioned tournaments.
The ICC has said the tie-up is "rooted in both organizations' drive for excellence."
At the men's T20 World Cup, which begins in Australia tomorrow (October 15), Aramco recycling machines will be installed across all match venues, with the waste recycled from these machines to be "converted into clothing for future ICC events."
Geoff Allardice, the ICC's chief executive, said: "We are delighted to welcome Aramco into the family of ICC global partners. Our shared commitment to excellence is the foundation of the partnership and we are looking forward to working with Aramco on our major men's and women's events through to the end of 2023."
The major global ICC sponsors are Nissan, Oppo, MRF Tyres, Booking.com, Emirates, and Byju's.
Talal Al-Marri, public affairs general manager at Aramco Global, added: "This represents a significant addition to our network of global partnerships, and we are pleased to join forces with the ICC. Excellence is one of our core values and this is reflected in our support of cricket at the elite level."
Aramco adds the ICC deal to its sponsorship of Indian domestic T20 cricket's prestigious Indian Premier League.
It also has a long-term deal in place with motor racing's iconic Formula 1 series, and a tie-up with golf's Ladies European Tour.
The Unicef deal, meanwhile, was announced yesterday (October 13) and will feature gender equity initiatives and advocacy campaigns involving well-known players as the basis of the partnership.
The ICC has said it will use its global visibility to "drive greater awareness of the importance of empowering women and girls and gender equity …"
The various ICC media outlets, including its digital and broadcast channels, will be used to highlight and support this work.
The partnership will be activated at the same global events the Aramco deal covers, beginning in Australia tomorrow.
Karin Hulshof, deputy executive director at Unicef, said: "The partnership with ICC is fantastic and powerful. It reaches more than a billion cricket fans with the message to be a champion for girls. When girls do better, we all do better. We know that the benefits of gender equality go beyond their direct impact on children …"
In other ICC news, the body has announced that, for the first time, fans will be able to buy officially licensed digital collectible clips of moments from a major ICC tournament, at the T20 World Cup.
Through its partnership with non-fungible token platform FanCraze, fans will be able to purchase clips of in-game moments (called Crictos) from the Australian event.
The governing body has said that FanCraze is set to create Crictos from every T20 World Cup fixture, and that "every match ticket holder will be gifted a Crictos Pack …"
Finn Bradshaw, head of digital at the ICC, said: "We are delighted to be launching a world first for cricket in collaboration with FanCraze ahead of the ICC Men's T20 World Cup through the ICC's official digital collectibles program. Some of the biggest moments from every match at Australia 2022 will be made available to all fans to purchase as Crictos."
Elsewhere, StarHub, the telecoms and cable operator in Singapore, has launched a dedicated channel to broadcast the upcoming T20 World Cup, as well as future international cricket tournaments in its rights portfolio.
The new channel, Hub Sport 4, will house the rights to this year's T20 Men's World Cup, along with next year's ICC Women's Cricket World Cup from February 10 to 26 and the ICC Men's Cricket World Cup Qualifiers from June 18 to July 19, 2023.
Andrew Tan, Head of Content, StarHub, said: "Cricket is massively popular and is in fact the second most watched 'live' sports program in the world, only behind football.
"We want to galvanize this excitement, by launching a dedicated cricket channel which broadcasts the pinnacle of cricket competitions – the ICC Men's T20 World Cup Australia 2022.
"Customers can expect non-stop, nail-biting action between their favorite teams and players, along with a stunning viewing experience and the flexibility to stream anytime, anywhere, with StarHub TV+."
Image: Paul Kane/Getty Images