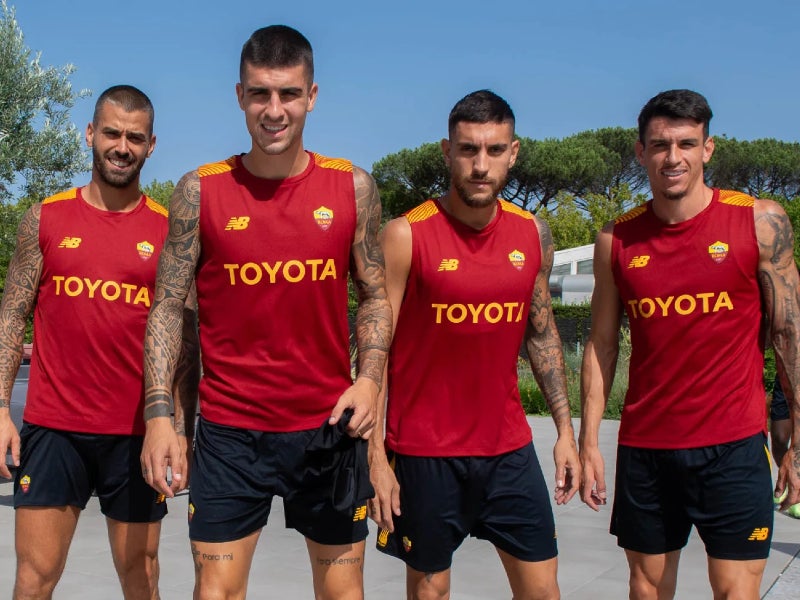 AS Roma, of Italian top-tier soccer's Serie A, have brought in Japanese automotive heavyweight Toyota as a main global partner.
Toyota, through a commercial deal announced earlier today (August 17), replaces Korean rival car manufacturer Hyundai as the club's sponsor in the car category.
The deal will see the Toyota Group's logo appear on the training kits of both the men's and women's Roma teams, effective immediately.
Toyota will also "provide the club with a fleet of electric Toyota and Lexus vehicles and a full range of mobility services," the club has announced.
This will see the Kinto brand of Toyota mobility vehicles become AS Roma's new mobility service provider.
Toyota will "provide AS Roma with a complete package of products and services to meet its evolving mobility needs, based on a more sustainable and environmentally friendly approach."
Pietro Berardi, AS Roma's corporate chief executive, said: "This is a partnership that allows us to face our upcoming challenges, both on and off the pitch, alongside a partner with whom we share not only values and principles related to sport and sustainability, but also the ongoing determination to ensure we always offer the best to those who put their trust in our brands."
Luigi Ksawery Luca, CEO of Toyota Motor Italia, added: "Standing at Roma's side from this season onwards is a further demonstration of Toyota's commitment to both the world of sports and to companies that are focused on sustainable mobility.
"It is a partnership that fits in seamlessly with our ongoing plans, which have identified sport as a sector with the principles and values in place to help promote a sustainable, safe and inclusive society."
AS Roma's front-of-shirt sponsor, as of July last year, is DigitalBits, a brand belonging to the Zytara Labs blockchain-based digital platform.
The deal, which runs until the end of the 2023-24 campaign, is worth a total of €36 million ($42.5 million).
Under the agreement, the logo of Zytara's DigitalBits network will feature on the front of all kits of the Roma men's, women's, and youth teams for all league, European, cup, and domestic and international friendly matches.
New Balance, the US sportswear brand, is the club's kit supplier, meanwhile.
AS Roma won their opening game of the 2022-23 Serie A season on Sunday (August 14) against Salernitana.