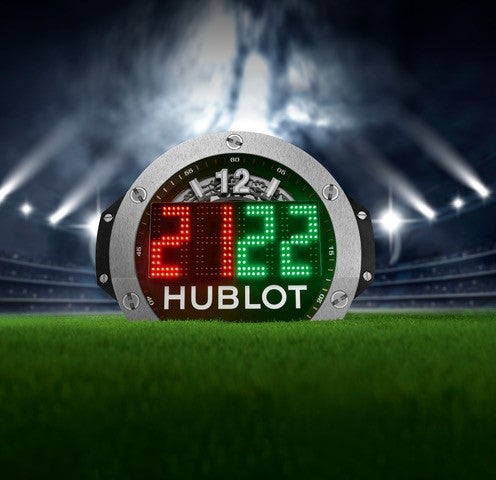 Hublot, the Swiss luxury watch brand, has today renewed its sponsorship deal with English soccer's top-tier Premier League for this season.
As part of the one-year extension, Hublot will continue to serve as the official timekeeper of the league.
The brand first partnered with the English top-flight last year, replacing TAG Heuer, another Swiss watch brand owned by the LVMH corporation.
TAG Heuer had been the league's timekeeping partner since 2016.
Hublot will again provide timing at every match, both pitchside and on TV screens through all broadcast partners.
In addition, its logo will continue to appear alongside the on-screen graphic showing the match time and score, throughout the season, which got underway last weekend.
Hublot watches will be provided to all referees for matches, while the watchmaker will continue to receive visibility on the electronic board used to announce substitutions, as well as on the league's various digital platforms.
The watchmaker is also the sponsor of the Premier League's Young Player of the Season award.
Will Brass, chief commercial officer at the Premier League, said: "We are delighted to kick off another season of partnership with Hublot as the Premier League's official timekeeper.
"Together we look forward to Hublot being at the heart of the action on the pitch, and bringing exciting new digital and matchday experiences to fans all around the world."
Hublot was a sponsor of this summer's pan-continental European Championships and has had a partnership with the tournament since 2008.
Last year, the brand signed up as a sponsor of the 2021 Women's Euros in England (subsequently postponed to 2022 because of the coronavirus pandemic).
The company additionally became a main partner of the Uefa Women's Champions League, Uefa Women's Under-19 and Under-17 Championships and the Uefa Women's Futsal Euros.