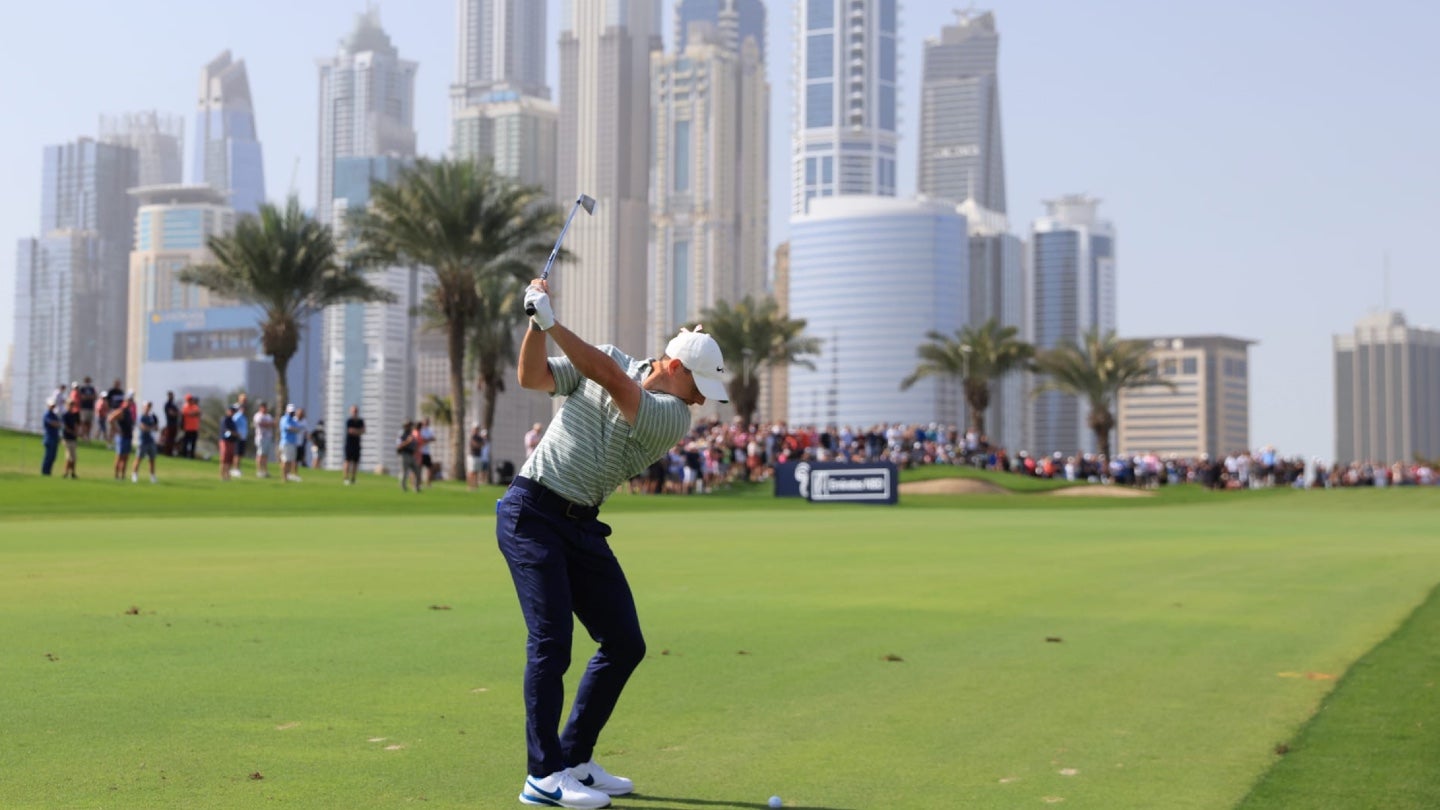 Hero MotoCorp, the Indian motorcycle manufacturer, has been announced as the new title sponsor of the Dubai Desert Classic event from European golf's DP World Tour.
The 2023 edition of the annual tournament will take place at Emirates Golf Club between January 26 and 29, and, thanks to the new agreement confirmed yesterday (January 5), will be called the Hero Dubai Desert Classic.
Hero takes over from Slync.io, the shipping process automation firm previously headed up by US businessman Chris Kirchner, as title sponsor of the Dubai event, after the contract between the DP World Tour and Slync.io (struck in 2021) was terminated last September.
The event was known as the Slync.io Dubai Desert Classic for only one edition, with the deal coming to an end after months of controversy surrounding Kirchner.
In striking this deal, Hero has ensured a clean sweep in terms of naming rights for the 2023 DP World Tour's international schedule. It is already the title sponsor of both the Hero Cup event in Abu Dhabi and the Hero Indian Open. These two events will this year take place from January 12 to 14 and February 23 to 26, respectively.
The relationship between Hero and the European Tour Group stretches back to 2015.
Keith Pelley, the DP World Tour's chief executive, has said: "It is my pleasure to welcome Hero MotoCorp as the new title partner of the Hero Dubai Desert Classic. We are proud to further develop our long-term relationship with Hero MotoCorp … January promises to bring yet another memorable edition of this historic event …"
Dr. Pawan Munjal, chair and chief executive at Hero MotoCorp, added: "We continue to have a long-term partnership with the DP World Tour, and the Hero Dubai Desert Classic is an extension of this engagement. We are delighted to be associated with this iconic event and will now be supporting two much-awaited marquee tournaments in the Middle East – the Hero Cup and the Hero Dubai Desert Classic – as part of the traditional Desert Swing. It promises to be an exciting start to the season, and we look forward to seeing world-class golf on display."
This year's Hero Dubai Desert Classic, which now forms part of the Rolex Series, will have a prize fund of $8 million.
In mid-December, the DP World Tour announced the extension of its commercial deal with the BMW German automotive giant until 2027.
The renewal means the car brand will maintain its position as title sponsor for the BMW International Open in Munich and for the BMW PGA Championship in London until 2027. The latter deal has been in place since 2005.
The collaboration between BMW and the DP World Tour (formerly the European Tour) stretches back to 1989, and the extension will also entail BMW staying on as the tour's official car for the next half-decade.