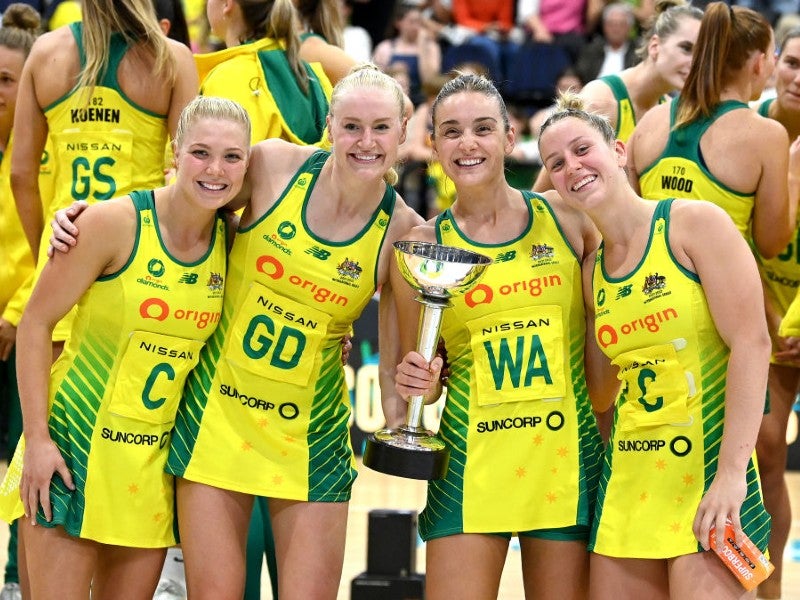 Mining company Hancock Prospecting has terminated its sponsorship deal with Netball Australia following a revolt by the national team's players.
The Australian firm announced on Saturday (October 22) that it would withdraw from the AUD15 million ($9.45 million) deal although it has instead offered short-term funding until the governing body finds a new sponsor.
Australia's players recently raised concerns about the partnership and showed support for teammate Donnell Wallam who opposed the sponsorship agreement due to the company's record on Indigenous issues.
Wallam is set to become just the third Indigenous player to represent Australia.
Despite this, Netball Australia released a statement last week confirming that it would retain its deal with Hancock but insisted it was an "absolute priority" to address and resolve the concerns raised.
In addition, team captain Liz Watson had also stated that all parties "wanted to make it work" and added that the sponsorship deal was "such a great investment for our program" and the players were "supportive of Hancock."
But Hancock has taken matters into its own hands and opted to withdraw from the deal which comes as a financial blow to Netball Australia which suffered losses of more than AUD7 million over the last two years due to Covid-19.
In a statement, the company said: "Hancock and Roy Hill do not wish to add to Netball's disunity problems, and accordingly Hancock has advised Netball Australia … that it has withdrawn from its proposed funding partnership effective immediately.
"Roy Hill, majority-owned by Hancock, will also be discontinuing its sponsorship arrangement with Netball WA … to be the principal partner of the West Coast Fever.
"Hancock appreciates Netball Australia's warm welcome and support, and because of this Hancock and Roy Hill have advised Netball Australia and Netball Western Australia respectively, that it will instead provide a four-month sponsorship should they and their players wish to accept it, to continue funding the athletes and to help netball as it arranges alternative funding and sponsorships."
Australia's national team, also known as the Diamonds, wore uniforms without the Hancock logo in their games in the Constellation Cup series against New Zealand, which prompted reports that the players had sided with Wallam.
However, NA claimed it had decided it was not in the "best interests" of the players to wear the branded uniform as it could prove a distraction.
The head of the Netball Player's Association, Kathryn Harby-Williams, said a compromise had been struck between the governing body and the Diamonds prior to Hancock's decision in which the players were willing to wear the company's logo on its uniforms during the Constellation Cup, which the Diamonds won on Sunday.
Harby-Williams told ABC: "We had come to an agreement with Netball Australia where everyone was comfortable that would happen and that Donnell and the players would not be required to wear the logo against England in the three-match series starting shortly.
"At no point in time did the players seek to have the deal fall off the table but we were certainly willing to come to a compromise and had agreed to that shortly after the players stood by Donnell."
Hancock also said that it considered it "unnecessary for sports organizations to be used as the vehicle for social or political causes" and that there were "more targeted and genuine ways to progress social or political causes without virtue signaling or for self-publicity".
The mining firm additionally claimed that its sponsorship deal would have increased the players' pay, an issue the players association has been taking up with NA.
Hancock added: "Hancock and Roy Hill were not made aware prior to the proposed partnerships, of the complexity of existing issues between Netball Australia and the players association.
"This includes the players association's endeavors to gain a very substantial increase in wages during a time the sport is reeling financially, and unable to provide such an increase.
"Hancock's proposed sponsorship would have enabled a generous increase in wages for the players which would not have otherwise been possible given netball's financial situation."
The mining company has several sports sponsorships in Australia and most notably signed a deal with the Australian Olympic Committee (AOC) in January to sponsor its teams competing at the summer and winter games until 2026.
This agreement was also scrutinized as the Queensland Conservation Council reportedly called for John Coates to resign as president of the AOC following the announcement of the partnership.
Hancock also sponsors Volleyball Australia, Rowing Australia, Synchronised Swimming Australia, and Swimming Western Australia.
Despite losing Hancock, NA's other key sponsors have denied reports that they are considering ending their partnerships with the national body.
Some reports in Australia today (October 24) suggested that other sponsors were considering pulling out but naming rights partner Origin Energy, insurance companies Suncorp and HCF, and Japanese car brand Nissan all came out in support of NA and insisted that they would continue their respective agreements.
Image: Bradley Kanaris/Getty Images