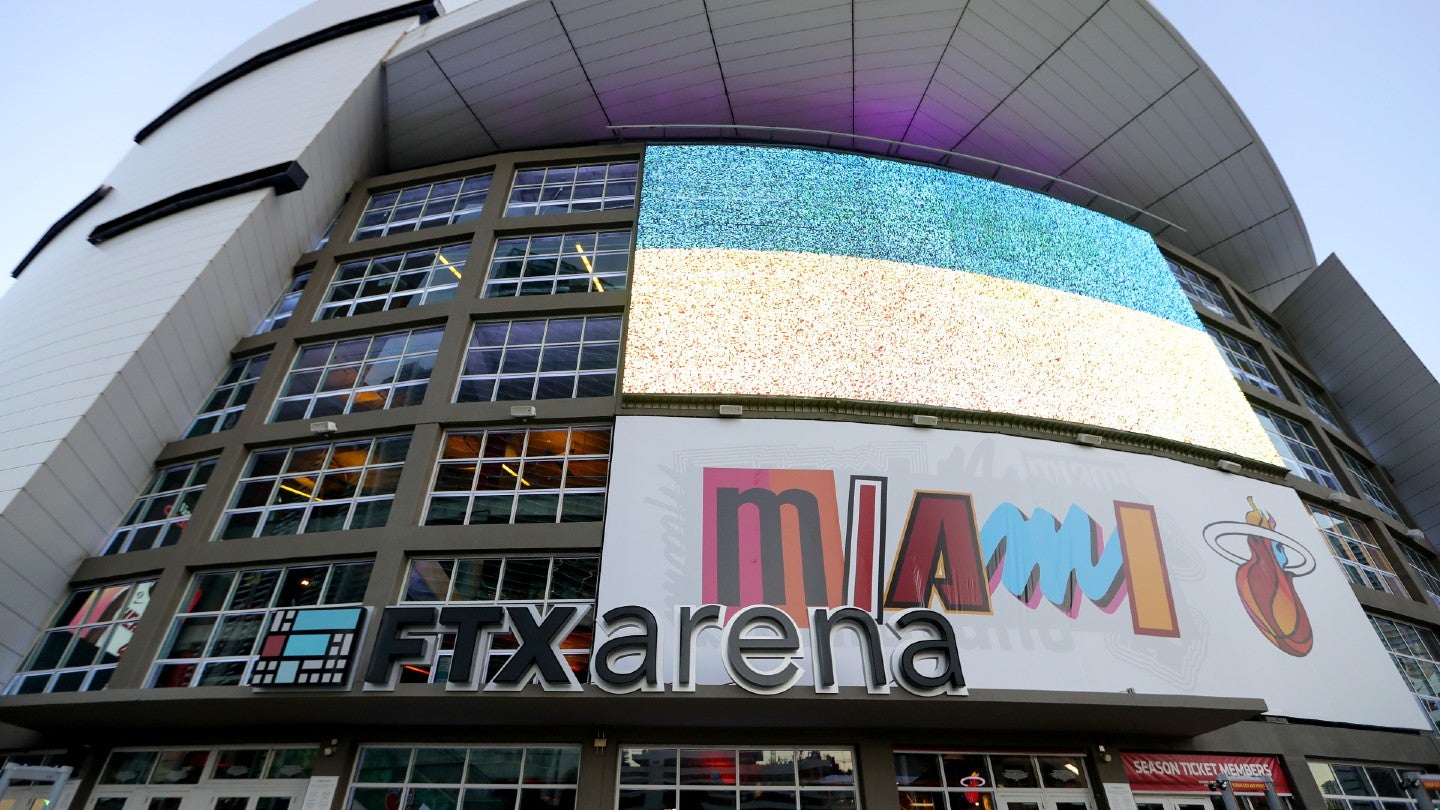 FTX, the beleaguered cryptocurrency exchange, has asked a judge to cancel its sponsorship deals as part of its bankruptcy court proceedings.
Lawyers for the firm filed a motion last week to cancel more than 23 marketing agreements with a federal bankruptcy court in Delaware, where the proceedings are taking place.
This includes FTX's biggest sponsorship deal, a 19-year, $135-million arena naming rights agreement with the Miami Heat, of North American basketball's NBA.
That contract was agreed with Florida's Miami-Dade County, owner of the venue which has commercially been known as FTX Arena since last year.
In November, the county made a request to the federal bankruptcy court to end its naming rights deal with the cryptocurrency exchange and have its logo immediately stripped from the arena.
It argued that continuing to be associated with the failed company would cause "significant hardship" for the county brought on by the collapse of the company and hamper its efforts to find a new title sponsor for the arena.
However, the venue continues to operate as FTX Arena with the company's branding still present at the NBA team's home.
Having now filed a motion, FTX is also keen to end the relationship, which should see its signage soon removed from the arena.
According to the Miami Herald, FTX has already paid $20 million on the deal with the county, with another $5.5 million payment due this month (January). The FTX motion has asked a judge to cancel all the deals retroactively to December 31, 2022.
Creditors have until Friday (January 13) to object to canceling the marketing deals, and a hearing on the request is scheduled for February 8.
As well as the Heat deal, FTX has asked for its partnerships with the Golden State Warriors and Major League Baseball (MLB) to be terminated.
The Warriors suspended its relationship with the company, while MLB was seeking legal advice on how to proceed.
The likes of the Mercedes Formula 1 team and Furia, the Brazilian esports organization, have also either suspended or terminated their deals with FTX.
FTX filed for Chapter 11 bankruptcy protection after a crypto price crash left the company unable to cover accounts as customers rushed to withdraw funds due to concerns being reported about its financial health. The exchange reportedly saw $6 billion of withdrawals in the 72 hours up to November 8.