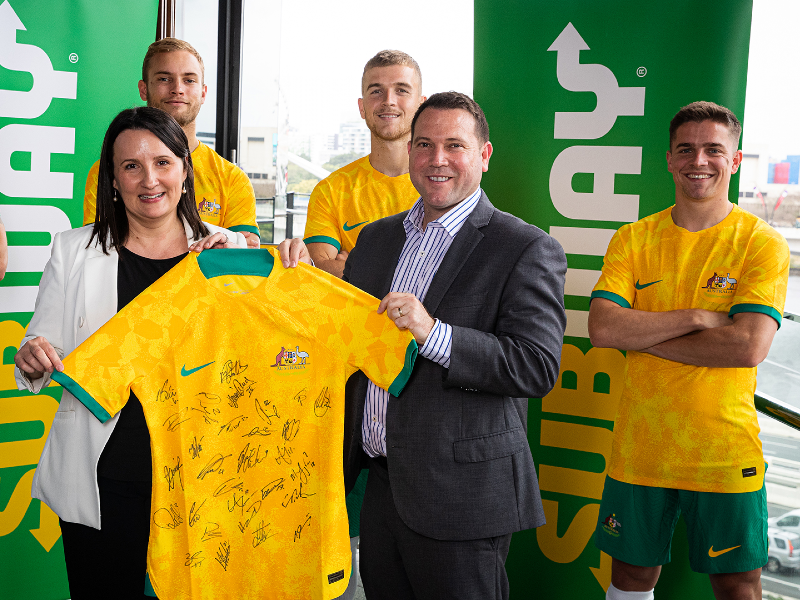 The Football Australia (FA) national soccer governing body has brought in Subway, the international sandwich outlet chain, as the new naming rights partner for the senior men's national team in a three-year deal.
The partnership, announced yesterday (September 21), has been described by FA as record-breaking and the "largest-ever national team sponsorship deal in Australian soccer history."
Through the tie-up, Subway has secured naming rights to the senior men's team, as well as to the various youth-group representative sides. The men's national team is now known as the Subway Socceroos, and Subway will receive front-of-shirt rights across all men's national team training and off-field apparel as another aspect of the partnership.
The tie-up comes into effect in time for the FIFA World Cup in Qatar later this year, at which Australia will be present.
The deal also extends to the national women's team (the Matildas), with Subway becoming an official partner of that side and securing associated category rights.
Sponsorship rights for the Australia Cup knockout competition are also included in the agreement between FA and Subway.
FA has said that Subway "will also collaborate on branded content, exclusive customer experiences and match day activations, and Subway will promote the partnership through heavy integration into their above-the-line marketing activities."
The first game covered by the partnership takes place later today (September 22), with Australia's men's side taking on New Zealand in Brisbane.
The women's side of the partnership, meanwhile, will cover the 2023 FIFA Women's World Cup next June and July, which will be hosted jointly by Australia and New Zealand.
James Johnson, chief executive at Football Australia, said: "The team at Football Australia has worked tirelessly to strategically position our iconic national teams in an increasingly competitive market and this record-breaking partnership, which follows a series of other commercial announcements over the past two years, demonstrates how deeply the Socceroos and Matildas resonate with the Australian public."
Other Socceroos commercial partners include Commonwealth Bank, Nike, Qantas, and Cupra.
In terms of its other sports sponsorships, Subway is also a partner of American football's NFL, through a multi-year deal struck in July 2020.