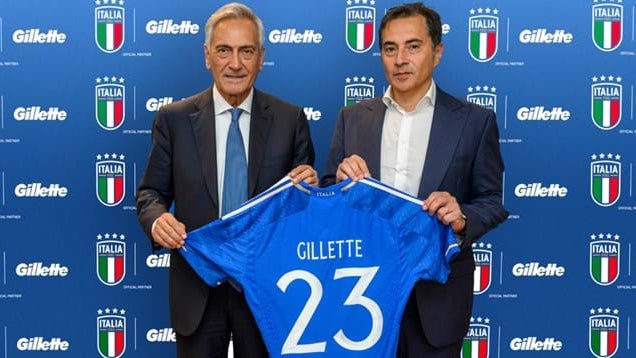 Italian soccer's FIGC governing body has brought in shaving products company Gillette as a women's soccer commercial partner, while the equivalent FFF body in France has extended its partnership with the international fast-food chain KFC.
The FIGC-Gillette tie-up, announced yesterday (May 2), will see the brand partnering with the Italian soccer body around the phrase 'Passion for football makes no distinction.'
Gillette plans to activate in the run-up to the FIFA Women's World Cup later this year, in Australia and New Zealand, at which Italy will be present, and is also now designated as the official partner for the Italian women's team.
It has also detailed activities based on encouraging more Italian girls to play soccer in school through a series of initiatives planned for September.
Gabriele Gravina, the FIGC's president, said: "We are happy that a global brand like Gillette has decided to contribute to the journey undertaken by the FIGC by supporting the national team, which represents the pinnacle of the movement, and directly involving families in this exciting and innovative project.
Paolo Grue, president and chief executive in Italy of Procter & Gamble, the multi-national corporation which owns Gillette, added: "Thanks to its popularity and relevance for millions of people, with Gillette we have chosen to support the Women's World Cup, siding with women to … support the full freedom of choice for all of the sports they want to play."
The FFF, meanwhile, confirmed over the weekend the KFC extension for another five years, until 2028.
The fast-food chain retains its status as the official partner of the men's, women's, and esports French national teams and also as an official partner of the domestic knockout cup competitions for both men and women.
The five-year renewal was announced ahead of the 2022-23 men's Coupe de France final on Saturday (April 29), in which Toulouse beat Nantes 5-1.
KFC has been an FFF partner since 2014, initially striking a four-year deal.
Isabelle Herman, managing director of KFC France, commented: "The renewal of our partnership with the FFF was obvious to us as we share common values: accessibility, sharing, team spirit, and the constant search for excellency. We are proud to anchor ourselves even more in the heart of French culture by being associated with major sports competitions such as the Coupe de France."
In mid-April, the FFF announced a new partnership with Fanatics, the digital sports platform and e-commerce company.
Fanatics is now the exclusive operator globally for both the official FFF online store and the official FFF high street retail store, located in Paris.