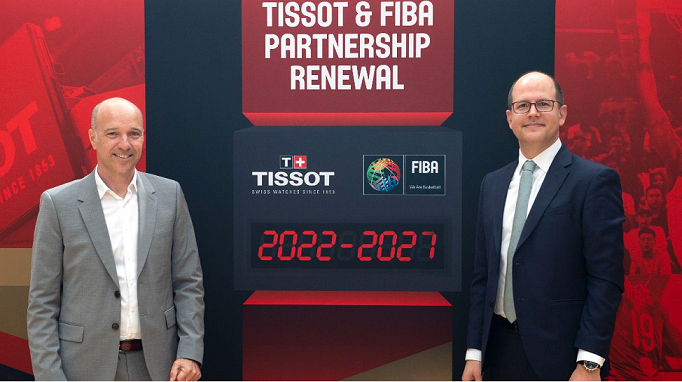 Fiba, basketball's international governing body, and Tissot, the Swiss watch manufacturer, have today extended their long-standing partnership for a further six years.
The renewal, which runs until 2027, will take the relationship between the two parties to almost two decades.
Tissot, part of the Swatch Group, has been one of Fiba's longest-serving partners, first teaming up with the federation as a sponsor in 2008, and then as a global partner from 2013.
The brand's current five-year contract was due to expire this year.
The extended agreement grants Tissot commercial rights across all Fiba competitions, including the men's and women's Olympic qualifying tournaments, Fiba Continental Cups for both men and women, Fiba Youth World Cups, the Fiba Women's Basketball World Cup and the flagship Fiba Basketball World Cup.
The new six-year deal will encompass the World Cups in 2023 and 2027, and the women's edition in 2026.
The extension was brokered by Fiba Marketing, the strategic partnership between Fiba and Infront, the international sports marketing agency responsible for securing multi-year deals for the federation's calendar of events.
Through the prolonged partnership, Fiba and Tissot said they will "aim to bring the partnership to new heights and set new standards within the sponsorship world".
As the governing body's official timekeeper, Tissot will continue to provide its precision timing technology in the form of shot clocks to Fiba's international basketball competitions.
As well as on-court timing, Tissot will continue to support Fiba's digital channels and platforms, including the organisation's mobile app and the 'Buzzer Beater' clips featuring the most spectacular baskets scored at the time expired buzzer.
Tissot also serves as the awards sponsor of all Fiba events.
In 2018, Tissot expanded its partnership with Fiba by adding a deal for the 3×3 format.
Fiba's other global partners are Nike, Molten, Ganten, Smart Communications, Tencent, TCL and Wanda.
Andreas Zagklis, Fiba secretary general, said: "We have worked closely with Tissot for over a decade now and are extremely pleased to continue our relationship with such an integral partner of the game. Fiba and Tissot are equally committed to creating the best possible products for everyone in basketball, and the length of this partnership allows for both sides to come up with innovative ideas to push the game to an even higher level".
Sylvain Dolla, Tissot chief executive, added: "We believe that timing is a key element of what makes basketball such an exciting sport. Our continued work with FIBA shows our commitment to the sport, the teams and the players on a long-term basis. We are proud to be the official timekeeper and that Tissot is the only name associated with timing in international basketball."
Tissot has strong ties to basketball and in October 2015 signed a major sponsorship deal with North America's NBA worth a reported $200 million over six years.