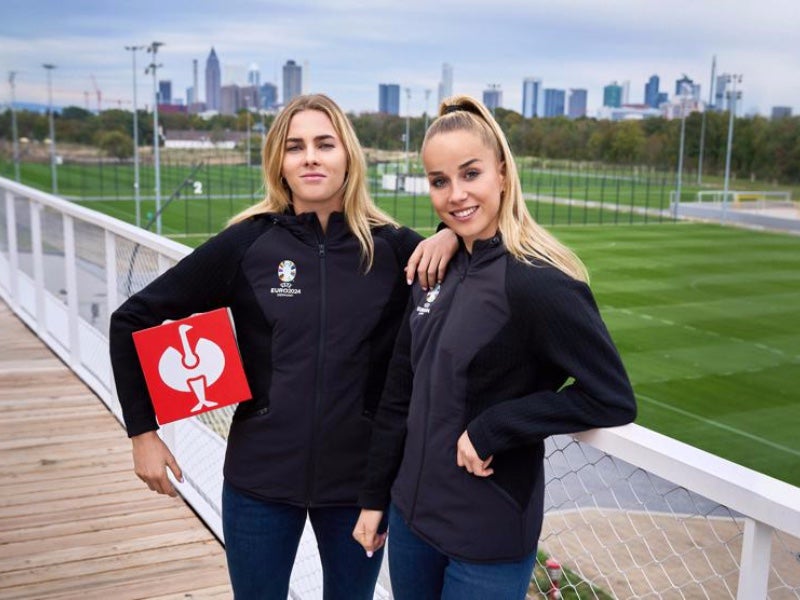 Engelbert Strauss, the workwear and safety equipment firm, has expanded its commercial relationship with European soccer's governing body UEFA by becoming a partner of the 2024 European Championships.
The brand adds sponsorship of the men's national team tournament to an existing deal with UEFA that has covered the Europa League and Europa Conference League club competitions since July 2021.
Engelbert Strauss also has "long-standing partnerships with the German Football Association [DFB} and Germany's national teams," with the 2024 Euros to take place in that country between June 14 and July 14.
The brand is now the official workwear partner of the 24-team, 51-match tournament, the 17th edition of the men's Euros.
To build awareness in advance of the tournament, Engelbert Strauss has partnered up with two German women's national team players, Giulia Gwinn and Laura Freigang. These players (pictured) have become brand ambassadors.
Guy-Laurent Epstein, marketing director at UEFA, said: "We are honored that Engelbert Strauss is building on its partnership with the UEFA Europa League and the UEFA Europa Conference League and is now becoming a sponsor of our flagship men's national team tournament … Supporting those who work hard is something UEFA and Engelbert Strauss have in common, and we look forward to developing our ever-expanding partnership even further over the coming years."
Engelbert Strauss joins the Chinese payment app Alipay and Chinese smartphone manufacturer Vivo as an official sponsor of Euro 2024.
Alipay is also designated as an official global sponsor.
In late September, UEFA extended its relationship with sportswear and equipment retailer Fanatics until 2028 in a deal covering the 2024 and 2028 Euros.
Fanatics said it will "create products or license the rights to category leaders in their respective fields to manufacture and distribute a significantly-expanded, real-time selection of UEFA branded products."
Henning Strauss, Engelbert Strauss' brand director and chief executive, added: "The UEFA European Football Championship makes the hearts of football fans beat faster worldwide. Strauss is the workwear partner of the tournament – of those working behind the scenes to deliver this global football festival. We're all working towards the next football festival in Germany in the summer of 2024."
The workwear brand extended its commercial deal with the Swiss Football League, that country's governing body for professional soccer, in July.
The renewal of a deal initially struck in 2015 covers the next two years, until 2024.
Engelbert Strauss also has a tie-up in place with German soccer giants Bayern Munich.