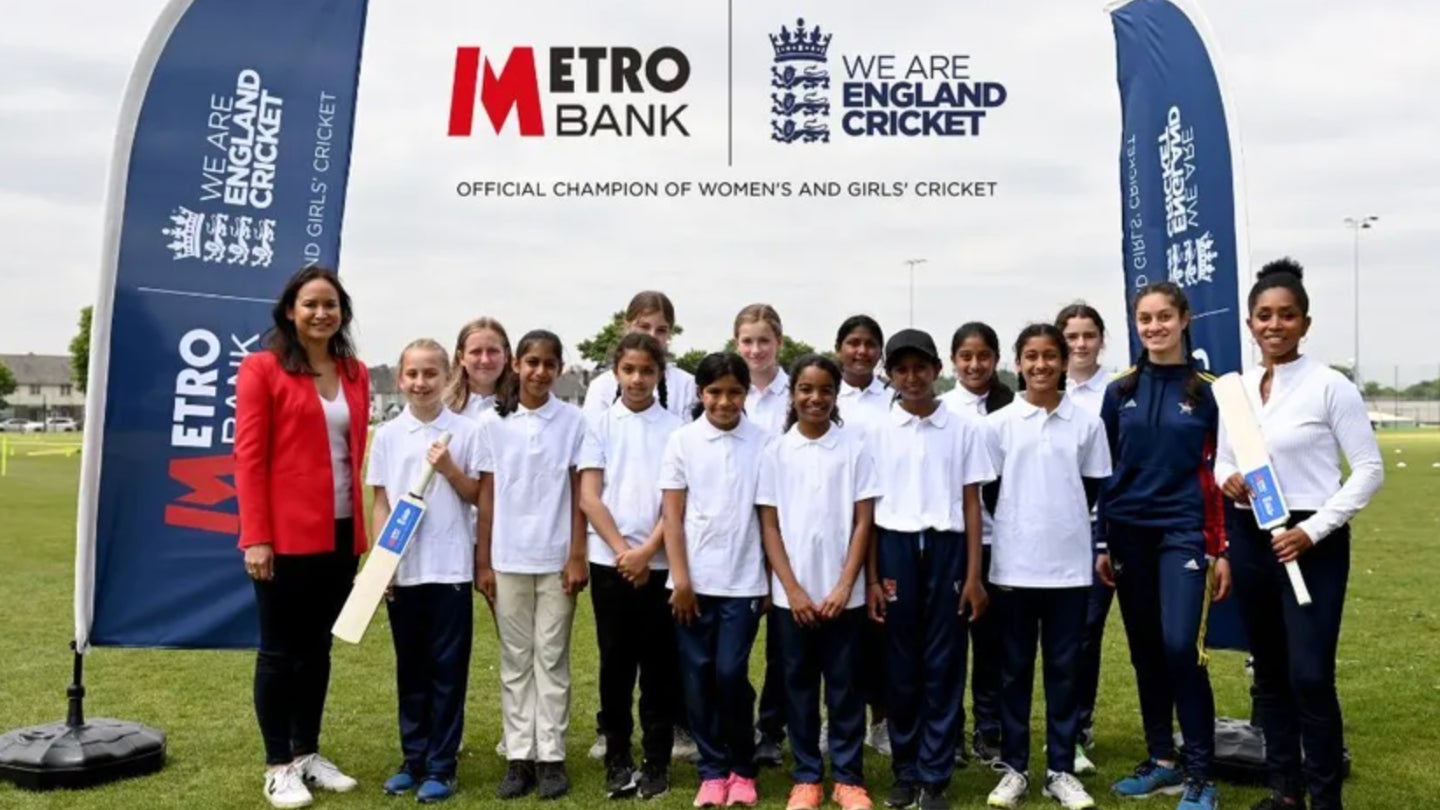 The England and Wales Cricket Board (ECB) governing body has brought in UK high street bank Metro Bank as its first-ever champion partner for all formats of women's and girl's cricket.
The long-term tie-up between the two was announced yesterday (May 31), with the much-anticipated home Women's Ashes series between England and Australia set to get underway toward the end of June.
The Metro Bank logo will adorn the sleeves of England's Women's shirts throughout the Ashes, and the brand will have a presence across the country's domestic and recreational women's cricket scene.
The ECB has said the partnership is designed to "help deliver transformational growth to women's and girl's cricket communities across England and Wales."
The tie-up also involves the launch of a fund, with equal contributions from the ECB and Metro Bank, to co-develop programs to "power the future of women's and girl's cricket."
Aside from the Ashes, England Women will play home internationals against Sri Lanka later this season, while the third edition of the women's Hundred, the city-based domestic teams' competition, will take place in August.
Clare Connor, managing director for England Women and the ECB's deputy chief executive, said: "Whilst we have seen a period of huge growth and increased profile across the women's game, we know there is still much more to do to make our sport truly gender balanced. By working together with partners such as Metro Bank who share our ambition for the sport, I am confident we will make it more inclusive and inspire many more girls from all backgrounds to pick up a bat and ball."
Connor was appointed to those roles in late March.
Danielle Lee, Metro Bank's director of brand and marketing, added: "This is a real partnership with purpose, built on Metro Bank's commitments to local communities and diversity and inclusion. Sport acts as a catalyst, helping to increase confidence and social skills, and together with the ECB we will use the fund to empower more women and girls to reach their full potential in cricket and beyond."
On Twitter, the ECB's director of the women's professional game, Beth Barrett-Wild, commented: "This feels really significant, as the women's game starts to realize standalone commercial value. And between us, it's a big [financial] number."
The first England Women's international of the cricketing summer begins on June 22 in Nottingham.
Over the last few months, the ECB has brought in wine merchant Laithwaites, Swiss watch brand Rado, and shower and bathing brand Radox, as commercial partners.
The governing body's principal partner is the online car marketplace Cinch.