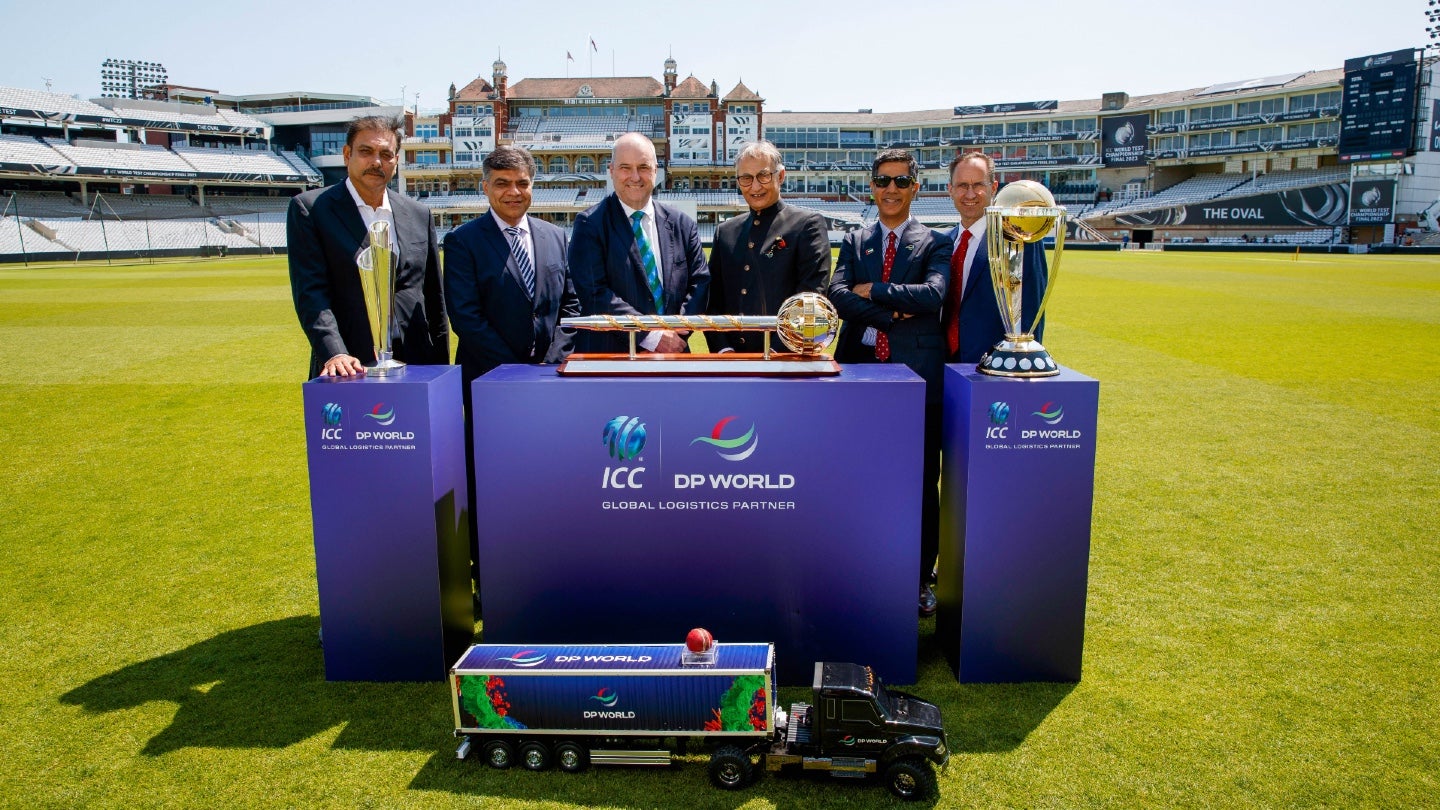 The International Cricket Council (ICC) global governing body has today (June 5) announced a multi-year commercial partnership with global logistics heavyweight DP World.
The Dubai-based brand becomes the first commercial partner confirmed for the ICC's next sponsorship rights cycle, which starts in January next year – although the tie-up begins immediately.
DP World, which already has cricket sponsorship deals in place covering the ILT20 franchise league in the United Arab Emirates and with the Delhi Capitals of the Indian Premier League tournament, now becomes the global logistics partner of the ICC (also headquartered in Dubai).
The deal includes all major events and World Cups in both women's and men's cricket, with DP World slotting into the second tier of ICC sponsors, underneath the body's six global partners.
Part one of the deal begins immediately and runs until the 2023 ICC World Cup in India, scheduled for October and November, while part two encompasses the next ICC commercial cycle starting next January. DP World will be a partner until at least 2027, it is understood.
DP World will provide the ICC's myriad of global events and tournaments with bespoke logistics solutions, and in return will "own the match ball delivery moment [when the ball is delivered onto the pitch at the start of each match through a miniature DP World truck] as its headline asset."
Anurag Dahiya, the ICC's chief commercial officer, told GlobalData Sport at the partnership launch: "DP World has had an introduction to cricket in the last few years [via the above tie-ups], it has increased its footprint in our sport so it's been able to start seeing the various similarities between our organizations.
"This is a partnership that goes beyond the sponsorship element and also covers the integration of products and services.
"What really stands out with DP World is the sharing of values around how we see cricket developing – we're very excited about its global footprint, that mirrors our sport's worldwide growth."
Daniel van Otterdijk, chief communications officer at DP World, also spoke to GlobalData Sport, saying: "This partnership is all about trying to progress our commercial objectives through cricket.
"We have big logistics infrastructure in some of cricket's key markets, such as the UK, South Africa, Australia, and India, therefore this allows us to reach our stakeholders and customers in a way no other sport can.
"The match-ball delivery will be fun and will also provide some relevance for us.
"For us, this is a great platform with which to build our brand … Five, 10 years ago, nobody had heard of us – we've now evolved to having millions of customers, so developing the relevancy of our brand is vitally important.
"We can also support the ICC in moving all their equipment and goods from one venue and event to the next, which gives us a great opportunity to showcase our platform."
One of the first major events during the ICC-DP World tie-up will be the 2024 ICC Men's T20 World Cup in the US and the Caribbean, in June 2024.
Both Dahiya and van Otterdijk said that this expansion into new markets (the US has never even part-hosted a major ICC event before) was an important element in the deal being brokered.
The ICC's commercial head said: "The World Cup in the US is absolutely attractive for brands and prospective partners – it's symptomatic of how we're looking to take the sport into markets and regions where it hasn't been a major player.
"It's not an easy part of the world to break into by any means, but certainly it's what our sport needs.
"For brands, that's very exciting, as they can see therefore that the sport is growing and providing them with new audiences.
Van Otterdijk, meanwhile, commented: "The ICC is now a truly global event organizer – the game is now going into countries where it traditionally hasn't had a presence.
"This is a great opportunity to build our brand in those cricketing markets that are new, like the US. That tournament is certainly an added benefit, the fact the ICC is now taking events to new markets and developing cricket there is certainly a benefit for sponsors.
"We see that as a great advantage for us."
Currently, DP World is active across six continents and 75 countries.
Dahiya also said that DP World's experience across a range of sports "gives us confidence that it has sport as one of its core strategies, it understands how to best activate partnerships in this sector.
"We want partners who are active and not passive. we don't want people just to write a check – although that never hurts – and sit back. That's not a sufficient condition, we want them to be part of what we're doing.
"DP World activates its partnerships really well, and that's what we need. It's a synergistic combination."
The logistics heavyweight has been the title sponsor of what was previously known as the European Tour in golf since November 2021 and also unveiled a partnership with UK-based motor racing outfit McLaren in February.
On this subject, van Otterdijk said that the ICC deal "complements our other partnerships, bringing in new markets. These different deals allow us to strengthen our brands in alternative ways.
"We're sports agnostic in that sense, so any platform that can help us advance our commercial and brand objectives, we'll look at for sure."
DP World joins the following seven brands as a second-tier official ICC partner: Bira91, Upstox, Polycab, Coca-Cola, Nissan, Nium, and Oppo.
The body's premium global partners for the remainder of the current commercial rights cycle, meanwhile, are MRF Tyres, Booking.com, Byju's, BharatPe, Aramco, and Emirates.
The partnership between DP World and the ICC was announced in advance of the 2021-23 World Test Championship Final between Australia and India, which will begin in London on June 7.