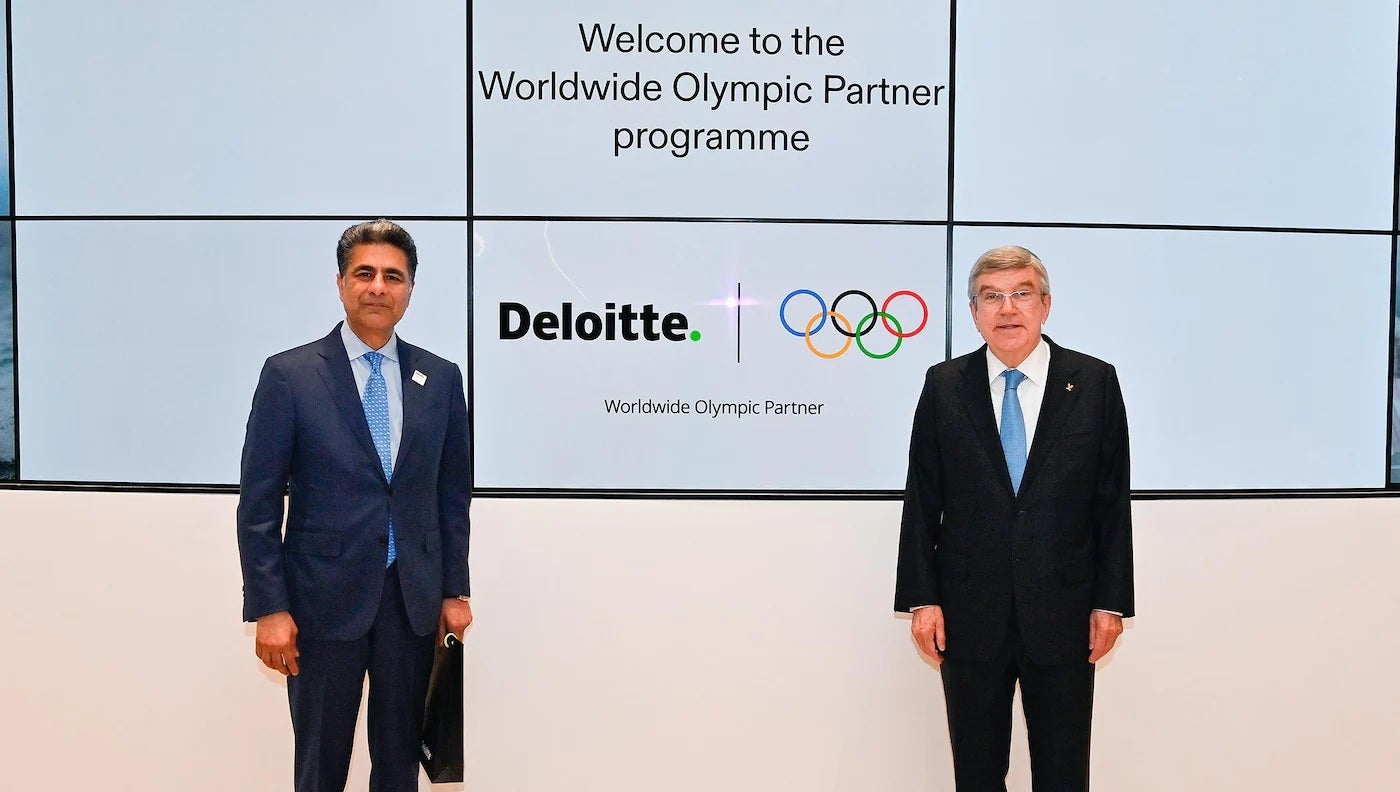 Deloitte, the international professional services firm, has joined the International Olympics Committee's (IOC's) TOP partner program in a 10-year deal covering five editions of the games.
The IOC says the "partnership with purpose" is aimed at helping it to achieve the goals of its Olympic Agenda 2020+5 strategic roadmap, which was launched last year.
Through the agreement, Deloitte is designated a worldwide Olympic partner and will provide the IOC with management and business consulting services, in particular focusing on digital strategy and transformation, and a global team for it to draw upon.
Among the other specific areas of provision will be environmental, social, and governance services; digital expertise to help with personalizing the fan experience, enhancing digital services, connecting fans around the world, and extending the appeal of the Olympics between editions; and work on initiatives for the likes of athlete support and mental health, diversity, equity and inclusion, sustainability, and carbon footprint reduction.
The partnership builds on Deloitte's work with other Olympic stakeholders, such as the Olympic and Paralympic Games Los Angeles 2028, the Canadian Olympic Committee, the German Olympic and Paralympic Committees, the Irish Olympic Committee, the Polish Olympic Committee, and the US Olympic and Paralympic Committee.
The editions of the Olympics covered over its course are the Paris 2024, Los Angeles 2028, and Brisbane 2032 summer games, and the Milano Cortina 2026 winter games and 2030 edition (for which no host is yet assigned).
Among Deloitte's other sporting partnerships are SoFi Stadium and Hollywood Park, the UK's Lawn Tennis Association, US soccer's National Women's Soccer League, and US basketball's WNBA.
Punit Renjen, global chief executive at Deloitte, said: "We are living through one of the most consequential moments in history. The Olympic Movement plays a vital role in uniting the world through friendship, solidarity, and fair play, and never has this been more important than now.
"Together, Deloitte and the IOC aspire to make an impact that matters – to strengthen, enhance and create a long-lasting and positive impact on society through the Olympic Movement."
Thomas Bach, president of the IOC, added: "We are delighted to be working with Deloitte and excited by the opportunity this partnership presents for the entire Olympic Movement. Deloitte's initiatives to advance the UN Sustainable Development Goals align with the IOC's philosophy of further change and transformation as expressed in the IOC's Olympic Agenda 2020+5 strategic roadmap for the future."