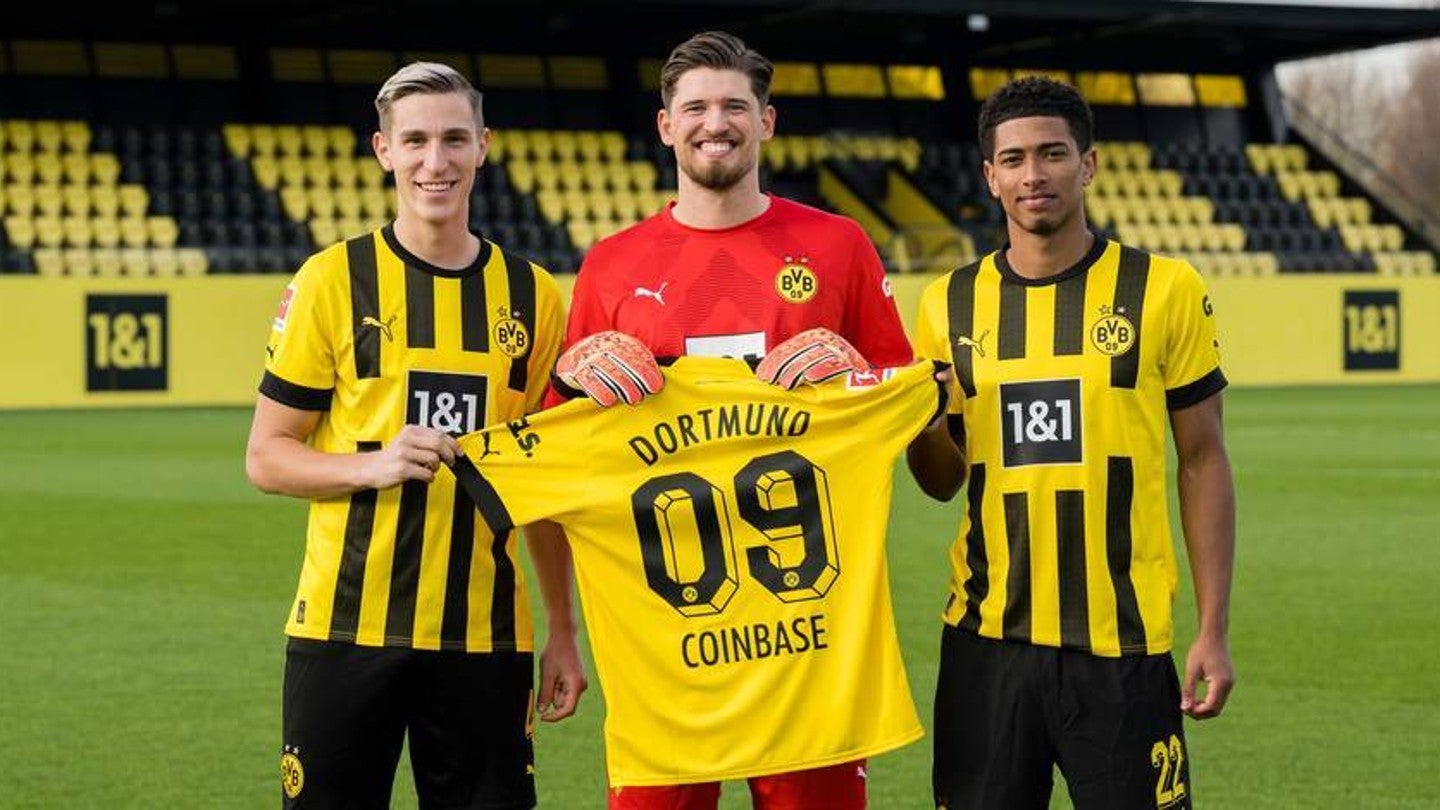 Coinbase, the US-based cryptocurrency exchange platform, has been named a premium partner of German soccer club Borussia Dortmund (BVB).
The expanded agreement, brokered by international sports marketing agency Sportfive, builds on Coinbase's original deal struck with the club in July 2022.
That deal was limited to Coinbase providing crypto education sessions to BVB staff and its ads running on screens at the club's home stadium, Signal Iduna Park.
Under the expanded deal, which runs until the end of the current 2022-23 season, Coinbase's logo will feature on the stadium's perimeter advertising boards and the platform will gain digital advertising and activations on the club's social media and digital channels.
Coinbase will also launch a sweepstake competition in February and March for VIP tickets to selected home matches, as well as the chance to the club's home match against Union Berlin in April from a hospitality box.
BVB managing director Carsten Cramer said: "The crypto world offers exciting opportunities and it's important for us to work with a trustworthy partner in this promising field.
"the granting of the license by the 'BaFin' [German financial regulatory authority] is the clear signal for us to now have such a partner at our side in a segment that is still very new and often unclear to non-insiders.
"We are there delighted to partner with Coinbase as the responsible, secure, and standards-compliant global platform for crypto trading."
Sportfive is BVB's official marketing partner via a tie-up that dates back to before the turn of the century.
As a premium partner, Coinbase joins BVB's third-tier sponsorship level, which includes Apotal.de, Atlas, L'oreal, Coca-Cola, Dew12, Eurowings, Tectake, Kettler Sport, Rugenwalder Muhle, Workday, Stiebel Eltron, Sorare, and Rewe.
Last year, Signal Iduna extended its stadium naming rights agreement with BVB until 2031, prolonging the pair's long-standing partnership that began in 1974. The team's iconic 81,000 stadium – the largest in Germany – has been known as Singal Iduna Park since 2005.
Along with Singal Iduna, other second-tier champion partners include Bwin, Rowe, EA Sports, Eset, Comdirect, Brinkhoff, Wilo, Hankook, GLS, Bybit, and Hector Network.
Daniel Seifert, vice president and regional managing director, EMEA and spokesperson for Germany at Coinbase, said: "Coinbase with its crypto platform and Borussia Dortmund in the sporting arena both stand for innovation, trust, and responsibility.
"We are very pleased to have a partner who believes in the crypto economy and is ready to shape the future with us."
In 2021, Coinbase became NBA basketball's first sponsor in the cryptocurrency sector, becoming the exclusive cryptocurrency platform of the NBA, Women's National Basketball Association, NBA G League, NBA 2K League, and USA Basketball.
The platform then strengthened its presence in women's basketball last year (May 20) by striking a renewed agreement with the WNBA, as well as signing new deals with its players' association WNBPA and the New York Liberty and Seattle Storm franchises.