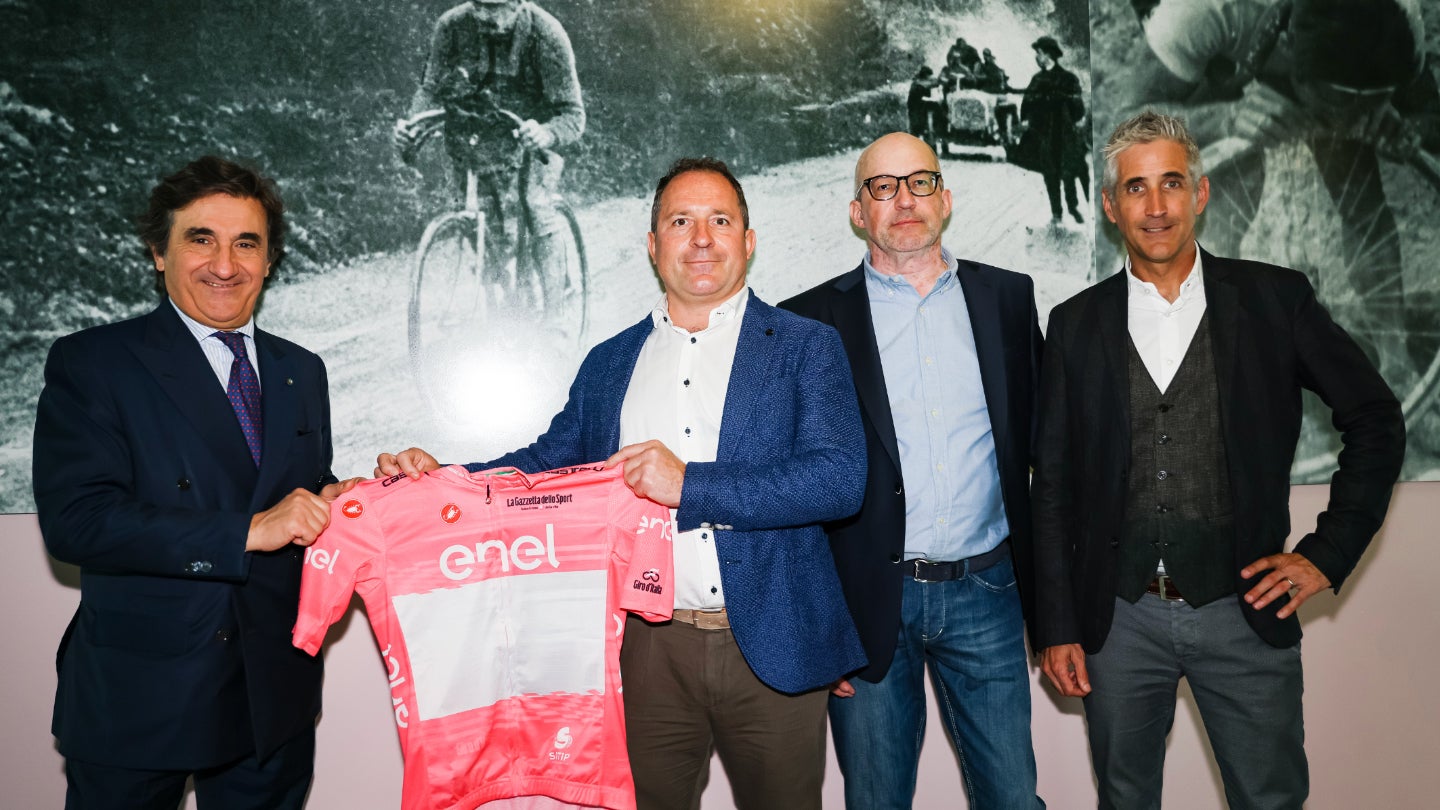 Castelli, the Italian cycling clothing manufacturer, has extended its commercial partnership with the organizers of cycling's Giro d'Italia for the next three years.
The renewal, struck with organizer RCS Sport, runs through the 2026 edition, with Castelli to continue supplying the classification jerseys for the event.
These include the race leader's Maglia Rosa, the pink jersey, as well as the Maglia Ciclamino (sprinter), Maglia Azzurra (King of the Mountains), and Maglia Bianca (best young rider) jerseys.
For these category leaders, Castelli "provides their performance-enhancing line of products, RossoCorsa, with their iconic aero race jersey and road speed suites."
For the mountain stages, meanwhile, Castelli "supplies their renowned Gabba and Perfetto foul-weather products."
The company has supplied the jerseys since 2018 having struck its original deal with RCS Sport in September 2017. Before that, rival Italian firm Santini had supplied the race jerseys for around two decades.
Alessio Cremonese, managing director of MVC Group, owner of the Castelli brand, said: "As an Italian company, partnering with RCS Sport in 'the toughest race in the world's most beautiful place' brings us great joy. This is a great occasion to showcase our innovative products, commitment to the sport, its long history, and our passion for constantly striving to push the boundaries of what is possible in the world of performance cycling clothing and shape the future for years to come."
Urbano Cairo, RCS MediaGroup's president, added: "The renewal of this partnership for the next few years witnesses this quality combination, which gives the right prestige to an Italian company that carries the values of 'Made in Italy' as high in the world as the Corsa Rosa."
The 2023 Giro d'Italia is ongoing, having begun on May 6 in Fossacesia and running through to May 28 in Rome.
Last month, RCS Sport renewed its partnership for the Giro d'Italia with Japanese automotive heavyweight Toyota until 2025.
The deal continued Toyota's position as the official car of the race and of all other cycling classics run by RCS.
Earlier this year, meanwhile, Crédit Agricole Italia, an arm of the French bank, was named the title sponsor of all RCS Sport cycling classics until 2025, while Italian bike manufacturer Colnago signed a partnership with Giro d'Italia to be its official bike.